KEEP WATCH
Rating the Church:
What is True Worship?
Jim Allen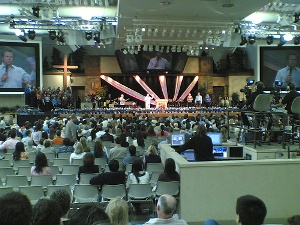 Does your church have an understanding of what attracts and keeps people in church? Does it know how to host a service that blesses God and provides an exceptional worship experience? A CBN article answers both questions by introducing a man with an interesting approach on how to attract and keep people by improving their overall worship experience.

The CBN article begins by introducing the man behind this approach as Thomas Harrison, founder of Secret Church Shopper.* Harrison adapted the method from a business model used by retail stores to evaluate and improve the customer experience during shopping. A "secret shopper," hired by the retailer, poses as a customer and interacts with the store to evaluate such things as customer service, cleanliness, and ambience. After completing the survey, the secret shopper sends the evaluation back to retail management for review.

Harrison acts as a "secret worshiper" at different churches. He attends the church as a visitor and makes notes on how they could improve the worship experience for visitors and members alike. At one church he suggested removing a poisonous plant growing in the flower bed next to the church entrance. Another church had a bug infestation that would surely sicken if not repel most visitors from the sanctuary. At yet another church, Harrison's improvement led to a discussion about the church's unfriendliness and the need for more hand-shaking. Of course, refusing to shake someone's hand does not always mean indifference.

We have all seen things in our own church that could be improved upon. During one service (several years ago), during the customary "meet and greet," a frail gentleman with a bad cold sneezed into his hand; and then, wiping his hand I do not know where, turned around to shake my hand. Needless to say, quick thinking placed my hand in the hand of a nearby parishioner to avoid the microbial handshake. My wife and children, witnessing the classic maneuver, commented later about the deed as questionable conduct. I have yet to resolve in my soul the rightness or wrongness of what I did. But, I digress.

"Harrison's attention to detail is exceeded only by his heart for helping churches improve and reach more people with the gospel...Harrison urges churches to make reaching people who are new to the church experience a top priority. So after every visit, he delivers a 30 to 50-page report to help the church improve. It's based on The Five Star Church, a book dedicated to Christian excellence."[1]

While Harrison's heart for helping churches improve the worship experience is noble, I am reminded of another type of worship experience that spins the reality of going to church in the opposite direction. According to Jan Hartley from Third World Church Builders, most of the remote villages in Honduras do not have church buildings to conduct worship. Most people in these villages live without hope for a job and a better way of life. They live by surviving day to day in deplorable conditions, often without the essentials in life.

These remote villagers worship in fields, poorly erected shelters, and dilapidated houses. They are immeasurably poor and isolated from the wealth of the world. In these out-of-the-way parts of Honduras, parishioners gather in humid and often sweltering dwellings without the benefit of personal hygiene and modern deodorants to ward off the reek of human perspiration.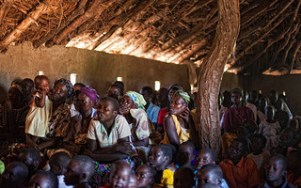 While hazardous plants mark the landscape and poisonous snakes slither about, the faithful walk the perilous pathways to church undeterred. Even though this country is known for its incapacitating mosquito-borne diseases, including dengue fever and malaria, the faithful come.

Some come with festering sores and illnesses from lack of proper nourishment. Some come blind, led by a family member in pain and barely able to walk. Some come crippled from injury and infectious disease. Still others come with tattered clothing and unremitting hunger, not having eaten for days. They come faithfully. They come often. They come in numbers. They come drawn by the inspired desire to learn more about this person named Jesus (John 14:6).

What a striking picture when comparing a remote church in Honduras to a five-star church in America. These lowly places of worship are soul-saving harbors. God is working there, transforming hearts in ramshackle dwellings amidst rodents and insects. I am amazed as the Holy Spirit moves indiscriminately among these mild manner souls ministering peace and truth (2 Peter 1:2). It does not matter where they pray nor in what language. They seek to know Jesus and Him alone because the promise of eternal life is to the faithful regardless of country and setting (John 16:33).

In closing, the faithful Hondurans have no need for a five-star church. If Harrison were to attend a church service in one of these remote Honduran villages, what recommendation could he possibly make? Any idea for improving the worship experience, in theses downtrodden settings, would fall by the wayside as a strange and unnecessary thing.

These faithful Hondurans already enjoy the perfect worship experience because of who they are in Christ Jesus (2 Corinthians 5:17). They are living epistles of true worship no longer bound to the cares of the world (Romans 12: 1-2).


---

*Thomas Harrison is the founder of Secret Church Shopper, a firm that travels to churches across the country to secretly evaluate worship experiences...Source CBN News

1. CBN News...US...Rating Church..."Secret Shoppers Helping Pastors"


Image credits:
Ori Neidich; "Megachurchtastic"; Creative Commons
Brian Wolfe; "A fine Ateso Church"; Creative Commons


---
comments powered by

Disqus
Published 8-26-13