KEEP WATCH
Standing in the Winner's Circle
Have you been called to do the unimaginable?
Jim Allen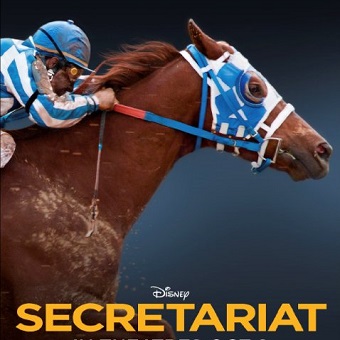 Every so often a story comes along that can be told again and again without ever losing its charm. The story about Secretariat is such a story. It is chronicled among one of the greatest horse racing stories of all time. It is a story about a horse and its owner who did what no one imagined.

Joan Clarke, a code-breaker during World War II, wrote, "Sometimes it is the people who no one imagines anything of who do the things that no one can imagine." The story about Secretariat and his owner is about doing just that, the unimaginable.

As the story unfolds, housewife and mother Penny Chenery "...refuses to go along with the plans of her brother, her husband, and the man who had offered to buy Secretariat for $8,000,000, and gambles that Secretariat will be able to win all three of the most competitive long-distance races in the country - something no other horse had been able to do for the last twenty-five years. If Secretariat lost even one of the races, his value would diminish to less than what was required to pay the taxes, leaving Penny, her husband and her brother in debt for millions of dollars they had no other way of paying." (Source)

But to Penny Chenery, none of their plans to save themselves mattered. She could not see defeat because she and the horse possessed uncommon resolve, a daring, and a spirit that would bring both together and head-to-head against incredible odds. Both had a race to run and had either failed, so too would the other.

Penny Chenery was of no reputation, living an unscripted life. She was a homemaker, a woman who loved her husband (Mr. Tweedy) and their four children. Though not much is said about her personal faith, the principle of faith was at work in her life even though she placed the need of her inherited ranch (saving it from foreclosure) over the needs of her family. Aside from that, her family managed and in the end supported her decision.

The story of Secretariat began with a coin flip between Penny Chenery and Phipps, owner of one of the horses that sired the colt. "Phipps won the toss and took the weanling filly out of Hasty Matelda. This resulted in Chenery getting the colt out of Something Royal." (Source) Secretariat's new owner (Penny Chenery) never imagined the colt would grow and develop into a Triple Crown winner; nor did she ever suspect this winsome colt would have an uncommon heart pulsing with a boundless resolve to win.

Skipping ahead three years, Secretariat (nicknamed Big Red and rode by Ron Turcotte) won both the Kentucky Derby and The Preakness Stakes, giving the horse a clean shot at winning the Triple Crown at the Belmont Stakes the same year. On race day at the Belmont Stakes in 1973, Big Red was first out of the gate and never looked back. He led the entire race, outpacing the competition by 31 lengths. Secretariat won his race and set a track record that stands unchallenged to this day.

This is a great story and even if you are not a fan of horse racing, the storyline carries the principle of unwavering faith that is uplifting.

I cannot say for sure if Penny Chenery was a Christian, though overtones of faith oozed from her story. Penny's decision to turn down the 8-million dollar offer to sell Secretariat was a huge gamble and required great faith.

Well-informed about Secretariat's heritage, impressed by his running performance, and swayed by Lucien Laurin (the trainer), the Triple Crown trophy became a sure bet in the mind of Chenery. As a result, she developed undaunted faith in the horse's ability to win and win big. She believed in him and never gave up hope even though she had fleeting moments of doubt and setbacks.

So, you might be thinking what does this story about a horse and its owner have to do with us? The story is about faith, great faith. Jesus ran our race 2,000 years ago. He won the Crown of Life for everyone who can believe the race has been won for them (John 11:25). Now, he invites each of us to stand with him in the Winner's Circle to share in this great victory as a gift to us (Ephesians 2:8).

In the Disney movie about Secretariat, Penny Chenery went to the stable after the banquet - on the eve of the Belmont Stakes — to see Big Red. Standing and placing her hand gently on his forehead, Penny whispered, "I've run my race...now you run yours." While this moment of soft whisper hints at biblical truth, it is nevertheless a profound truth.

Sometimes it is the people and animals that no one imagines anything of who do the things that no one can imagine. Jesus did what no one could imagine and we are the ones no one imagines anything of. I like that. I like it a lot because in Christ we can do all things as we abide in him (John 15:5; Philippians 4:13).

Today, Jesus is standing and placing his hand gently on the forehead of everyone who would dare to believe and is whispering, "I've run your race...now...will you join me in the Winner's Circle?" It takes faith and courage to walk into this circle but once you do, things change and are never the same again (John 10:28).

In closing, the race we run is the race of faith, that indefinable trust that challenges us to believe Jesus won the Crown of Life for us (James 1:12). Our challenge is to believe this race has been won and finished on our behalf (John 19:30). Our challenge is also to believe we have been set free (John 8:32) and to believe we can rest securely in this most holy of unimaginable truths (Matthew 11:29).


---
Tags
:
Biblical-Salvation
|
Biblical-Truth
|
Reviews-Critiques
---
comments powered by

Disqus
Published 3-3-15