ORGANIC FRUIT
Hope in Heaven
The Not Yet Perspective


By Stephanie Ismer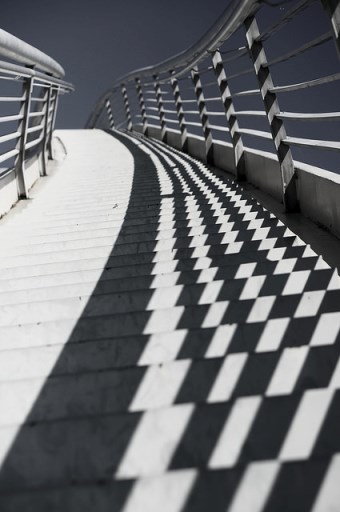 I have a great life. I have health, a wonderful family and many good friends. I have a job I enjoy, and I live in a beautiful place, in a free country. Most wonderful of all, I'm loved and protected by a gracious God.

So why do I so often feel disillusioned?

If I'm honest, my heart is full of discontented longings and idealistic fantasies about what my life should be. No matter how many good things God gives me, nor how thankful I am for his gifts, I still get the feeling that something is wrong with my life.

And when I look around I realize that I am far from alone. Creative or concrete, right brained or left brained, introvert or extrovert, rich or poor, everyone I meet seems to share this nagging feeling that life should be something that it's not.

What should life be like? It's a good question. Lately God has taught me that perspective is everything. I now think that sanity as a human being depends upon being able to make one simple distinction. What life should be like is not what life will be like.

If you take the Bible literally, you can find a good explanation for the human longing for the ideal. After all, according to Genesis, our origin is the Garden of Eden. Paradise is literally our natural habitat. There, humanity had perfect weather, perfect health, a perfect romantic relationship. Endless time to explore beauty. A perfect relationship with God. Peace, purpose, pleasure. Does any of this sound familiar to you? It does to me. It's what I'm always trying to get.

I don't condone resignation. But there is wisdom in acceptance. Satan is all too happy to fill your mind with fantasies about perfect scenarios — but have you noticed that those fantasies never include the things you actually have? The perfect job, the perfect relationship, the perfect vacation. Whatever it is you want, it's always out of reach.

Of course it's out of reach. It doesn't exist on earth. Perversely, Satan tempts us away from God using the very template that God created us to exist within: perfection.

So, my goal now is to fall in love with two little words: not yet. The joy God provides us in this life is primarily a joy of wanting, not of having. I think that's why having is often so unsatisfying. I think it is why most human poetry and art is centered around the desired rather than the obtained.

I would argue that God does not want us to obtain perfection or ideal joy — not in this life. He wants us to anticipate. Anticipate what? Heaven. Christ in us (the Holy Spirit) is "the hope of glory" (Colossians 1:27). The Holy Spirit is a guarantee of our promised inheritance (Ephesians 1:13-14). Do we have glory now? No, but we have the hope of glory. Do we have our inheritance now? No, but it is promised.

Not yet. Hang on, God is saying. Keep hoping. Keep following.
Set your minds on things that are above, not on things that are on earth. For you have died, and your life is hidden with Christ in God. When Christ who is your life appears, then you also will appear with him in glory. Put to death therefore what is earthly in you: sexual immorality, impurity, passion, evil desire, and covetousness, which is idolatry. Colossians 3:2-5
Paul is saying that Christ is a believer's life. Our very life — that ideal life that we long to live — is hidden with Christ in God. And we will appear with Him someday. But not yet. Right now, our job is to fight the good fight of the faith (1 Timothy 6:11-12). To believe that God is leading us right. To kill the desire to fall for the false oasis of perfection on earth — the oasis that Satan tells us is available anytime, if we'll only give in to sexual immorality, passion, covetousness and the rest.

That's why I want to listen to, and fall in love with, these words: not yet.


---

Image Credit: Gervasio Varela; "Stairway to heaven"; Creative Commons


---
Tags
:
Biblical-Truth
|
Christian-Life
|
Eternity-Forever
|
God-Father
|
Personal-Life
---
comments powered by

Disqus
Published 13-3-12; Revised on 9-14-15