ORGANIC FRUIT
Jesus Wept
What's behind our emotions?

By Stephanie Ismer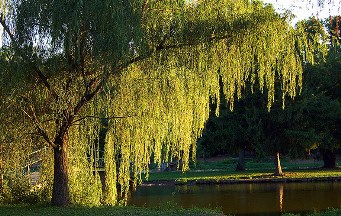 Jesus wept. It's a strange thing to consider, isn't it? God shedding tears.

Back in college, I had a discussion with a med student about emotions. He told me, "Your feelings are just a series of chemical reactions within your body." I had no way to refute this statement, and it upset me. I just couldn't understand how it could possibly be true that all the things we feel are nothing more than chemical reactions. What about the soul?

Honestly, I still have no way to refute what he said. It's probably true — at least as far as science can tell. Something sad happens, and the chemicals in our brain start firing, telling our eyes to cry. We hear something funny, and involuntarily, the laughter comes. Our chemicals know what to do, and when.

But Jesus wept. Even though Jesus was sinless, knew that God had everything under control, and had perfect peace in the will of God, he still wept. When Lazarus died, and when Jesus saw a lack of faith in people, he wept. Why? Simple. It hurt. The reality of a fallen world, perceived through the sinless perfection of his soul, produced a physical reaction: tears.

This should tell us something about our emotions. When we cry, those tears tell us something about who we are and what we value. Same for when we laugh, or feel anger, or elation. The realities we see in the world, perceived through our souls, produce physical reactions.

Jesus wept, and so do we. His humanity felt and expressed emotion, but his reactions were sinless and divine because of his sinless soul. If we take a good look at our reactions, they may tell us something about what's going on in our souls. This might be a frightening exercise. Emotion can tell you a lot about your sin. But the good news is that whatever we find in ourselves can be brought fearlessly before a God who loves us and has promised to heal us, and conform us into the image of His Son. Then, the things that made Jesus cry — faithlessness, the lost souls of men, and the results of the fall — will make us weep too.


For we do not have a high priest who is unable to sympathize with our weaknesses, but one who in every respect has been tempted as we are, yet without sin. Hebrews 4:15

For those whom he foreknew he also predestined to be conformed to the image of his Son, in order that he might be the firstborn among many brothers. Romans 8:29

The sacrifices of God are a broken spirit; a broken and contrite heart, O God, you will not despise. Psalm 51:17
---

Image Credit: Art G.; "Weeping Willow At Sunset"; Creative Commons


---
Tags
:
Biblical-Truth
|
Christian-Life
|
Jesus-Christ
---
comments powered by

Disqus
Published 6-7-12; Revised on 2-9-15