ORGANIC FRUIT
God's Love and the Regretting Soul


By Stephanie Ismer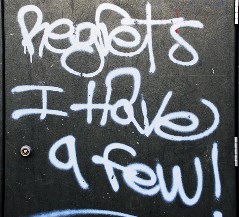 Regretting hurts. It is also one of the enemy's most frustrating and annoying methods of paralyzing us Christians. He knows that we are weak and that we make bad choices. He knows we have a hard time trusting God's love. Tempting us to focus on our past mistakes is a great way to immobilize us.

God is still there. Even when we make an unwise decision that hurts someone, or when our past sins affect our present marriages or our present health. He is still on his throne when we fail to speak up for what's right, or chicken out of sharing the gospel. He still loves us when we get ourselves into a pile of debt, or when we make one tiny mistake that leads to a whole mess of trouble.

But that's not the answer we want, is it? The secret prayer of our hearts is "Oh God, please just put the clock back and let me do it over again." No, impossible. "But God, you did it for that one guy in the Old Testament!" Sorry, that was different.

At this point, what do we do? Keep regretting? Keep praying? The answer depends not on what we know about God's sovereignty, but what we know about His love. Whether that bad decision falls inside or outside of God's sovereign will, or His moral will (or both) doesn't matter to a person who is regretting. All that matters is whether God loves, forgives, and helps him or her to move forward.

God tells Israel, in Jeremiah 29:11 "For I know the plans I have for you, declares the LORD, plans for welfare and not for evil, to give you a future and a hope." I think we can all agree that Israel made a lot of mistakes. But does God cast them off or tell them He's done with them? No. He says "I know the plans I have for you." If you are His, you can be sure that God has plans for you.

God's plans to give Israel a future and a hope obviously did not materialize immediately. But we worship a Lord who keeps His promises. Every last Old Testament promise about Jesus Christ was fulfilled. Why would we doubt Him about future things? Israel's future is glorious (Revelation 21:2), and so is the future of every believer. No matter what this brief, dark life brings, your hope and treasure is eternally intact, in Heaven. The Word commands us to do good and be generous in this life (1 Timothy 6:18-19) because it's part of the plan to give us a hope and a future. As we do His will here, just as Jesus did, even to the point of suffering, our future and eternal happiness increases (Hebrews 12:2).

"Blessed be the God and Father of our Lord Jesus Christ! According to his great mercy, he has caused us to be born again to a living hope through the resurrection of Jesus Christ from the dead, to an inheritance that is imperishable, undefiled, and unfading, kept in heaven for you, who by God's power are being guarded through faith for a salvation ready to be revealed in the last time" (1 Peter 1:3-5).

God is guarding a believer's salvation. The presence or absence of human mistakes and regret cannot change that fact. His power is what matters, and that is comforting. And if you are worried that you'll make more disastrous mistakes in your life, well, you probably will. But neither those future mistakes nor the regrets of the past will ever change God's plans for you. Plans for welfare and not for evil. Plans to give you hope, and a future.


---

Image Credit: Philippa Willitts; "Regrets, I Have a Few"; Creative Commons


---
Tags
:
Biblical-Salvation
|
Biblical-Truth
|
Christian-Life
|
God-Father
---
comments powered by

Disqus
Published 6-19-11; Revised on 2-16-15