ORGANIC FRUIT
You Too Can Learn to Walk on Water!


By Stephanie Ismer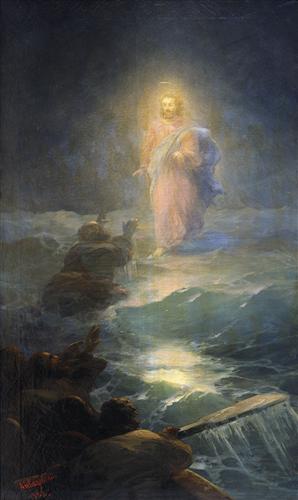 Ever thought deeply about that story in the Bible where Jesus asks Peter to walk on water? I mean, that's hard core, right? How could Jesus ask Peter to do that? Doesn't He understand physics? Sure, but it's not about physics. It's about obedience. When Jesus says "follow me," He means us to follow Him, even to the point of doing what seems entirely impossible.

Recently my spouse and I made a decision to follow God in a scary way. Life changed overnight. The days of sleepy prayers were suddenly over as we landed in the middle of an overwhelming flood. Resistance from within. Resistance from without. Doubt and fear and little faith.

When the cloud of anxiety rolls overhead and I ask, for the millionth time, "Lord, is it our fault we're in this situation? Did we sin against you? Did we not hear you correctly? Is this a consequence we could have avoided?" I open the Bible and get, for the millionth time, a patient reassurance that He loves us and we should just trust Him and keep on following.

Jesus had no place to lay His head, but He could walk on water with no problem. Even more amazing, Jesus walked straight into Jerusalem knowing what waited there — death on a cross — simply because His Father asked Him to. Jesus walked into the homes of sinners, and turned them into saints. But me? I do have a place to lay my head, but I'm hesitant to trust His call to me over the water. I'm so busy walking towards what I want that I don't hear God's voice, and I often don't want to. I walk into the homes of saints and tempt them to sin.

And yet, I continue to see that He watches my wayward steps. Life feels like a pitching sea — I'm up on the wave of faith, and then I'm sinking like Peter. But through all this, God's responses to my prayers have been so real, and so touching, that I'm starting to understand why James associates trials with joy (James 1:2).

The fact is, we can walk on water if He says we can. Jesus wouldn't say "follow me" if He wasn't going to provide for us. We really do only need a roof, clothes, and nourishment — all of which God has promised to provide as we seek first His kingdom. You can actually do the crazy thing and follow God. You can actually sell all your possessions and help the poor. You can do whatever it is He's asking of you. You too can walk on water.
Fear not, little flock, for it is your Father's good pleasure to give you the kingdom. Sell your posessions, and give to the needy. Provide yourselves with moneybags that do not grow old, with a treasure in the heavens that does not fail, where no thief approaches and no moth destroys. For where your treasure is, there will your heart be also. (Luke 12:32-34).
---

Image Credit: Ivan Aivazovsky; "Jesus walks on water"; c. 1888; Public Domain


---
Tags
:
Biblical-Truth
|
Christian-Life
|
Personal-Life
---
comments powered by

Disqus
Published 11-27-11; Revised on 5-3-15