THE ABIDING LIFE
Politics and Salvation


By Gwen Sellers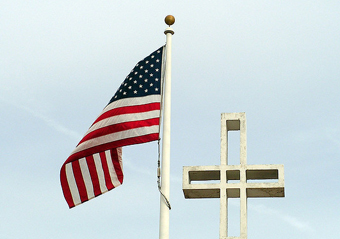 Discussing the current political situation in the U.S. the other day, my boss reminded me that nations can't be saved, only people. I've realized for some time now that the U.S. is in trouble. But the solution is not political. Certainly I am in favor of governmental reforms and I absolutely think that Christians should vote. However, the real battle is not at the polls. "For we do not wrestle against flesh and blood, but against the rulers, against the authorities, against the cosmic powers over this present darkness, against the spiritual forces of evil in the heavenly places" (Ephesians 6:10). The real battle is spiritual.

My boss pointed out that when there are enough saved people, a nation can be changed. The hope for the U.S. is that people will turn back to God. Here I must pause and examine my own heart. Do I want people to know God so that I can live a more comfortable life in this nation, or because of who God is? Am I more concerned with the spiritual state of those walking in darkness, or with my ability to live the way I want? I pray that my heart is more concerned for people than it is for my personal comfort.

And then I must ask what I am doing about the situation. Prayer is of utmost importance. God has given His people the privilege of prayer. It is our means of communication with Him and the means by which we fight spiritual battles. If we do not pray for our nation, how can we bemoan what has become of it? We need to play our part, not only in fulfilling our civic duties, but also in calling on the One who is truly in control.

And we also need to do our part in sharing God with others. My pastor recently mentioned how we often think of our testimony as our story about how God has changed our lives. But the real power of the gospel is the gospel itself. It's God's story that changes people; not ours.

So, if you've not heard the gospel, please allow me to share it with you. All the blogs I write about freedom in Christ, the importance of obeying God, the process of transformation, the spiritual weapons God has given us, etc., have no meaning apart from Jesus. Salvation is the very first step. Then comes developing a relationship with God because of the forgiveness you've received in Him.

The gospel is good news. In fact, the word used for "gospel" in the New Testament implied a news that sounds too good to be true. This is the best news we can hear; and it is true! First, we need to understand our need for salvation. God is holy and perfect in righteousness. Any time we fail to meet His standards, we sin. And any sin makes us eternally guilty. Ever been less than loving toward someone? That's a sin, and the result of that sin is death (Romans 6:23).

No amount of "good works" can ever outweigh our sin. In fact, "We have all become like one who is unclean, and all our righteous deeds are like a polluted garment" (Isaiah 64:6). Judgment is coming. On our own, we can never stand. Romans 3:23 tells us that "all have sinned and fall short of the glory of God." John 3:18 says, "whoever does not believe [in Jesus] is condemned already, because he has not believed in the name of the only Son of God." Apart from Christ, all that awaits is eternity in hell. But...here's the good news: While, "the wages of sin is death...the free gift of God is eternal life in Christ Jesus our Lord" (Romans 6:23). "God did not send his Son into the world to condemn the world, but in order that the world might be saved through him. Whoever believes in him is not condemned" (John 3:17).

Jesus, who is both fully God and fully man, was born of a virgin and lived a sinless life. He was pure and perfect, with no need to pay for any sin of His own. On the cross, He took on our sin and died the death we deserved to die. He took on the penalty we deserve so that we don't have to. Then, three days later, He rose again — victorious over death and sin! He offers us new life in Him. By faith, which means believing and relying on Him, we can be saved. "In Christ God was reconciling the world to himself, not counting their trespasses against them, and entrusting to us the message of reconciliation. Therefore, we are ambassadors for Christ, God making his appeal through us. We implore you on behalf of Christ, be reconciled to God. For our sake he made him to be sin who knew no sin, so that in him we might become the righteousness of God" (2 Corinthians 5:19–21). "For by grace you have been saved through faith. And this is not your own doing; it is the gift of God, not a result of works, so that no one may boast" (Ephesians 2:8–9). We do not need to pay the price for our own sin. All we need to do is trust Jesus and rely on Him. When we do, we are made new (2 Corinthians 5:17). In fact, Jesus gives us His Holy Spirit to live in our hearts (Ephesians 1:13–14) and transforms us to become more like Christ. In this way, sin and death no longer rule in our lives. Instead, we can live an abundant life in Jesus (John 10:10).

If you have never heard this good news before, if you have questions about it, or if you have made a decision for Christ today, please visit GotQuestions.org for more information.

If you are already a believer in Christ, will you join me in praying that many in our nation will come to know Him? And will you consider how you might share His good news with others?


---

Image Credit: concep007; untitled; Creative Commons


---
Tags
:
Biblical-Salvation
|
Biblical-Truth
|
Current-Issues
|
Political-Issues
|
Witnessing-Evangelism
---
comments powered by

Disqus
Published 3-7-16