THEOLOGY & APOLOGETICS
Demon Possession and Exorcisms

By Brian Marcum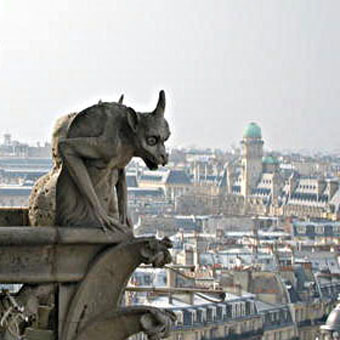 Single Page/Printer Friendly
Continued from Page One




In light of this, when Satan attacks us (and he will attack those who have been born again), it is true that demons must obey those who wield the name of the son of God (if they have believed), as Mark 16:17 has shown us, however there is a better formula prescribed to follow in His Word for resisting Satan and his demons. If believers submit themselves and draw close to God, He will draw close to us, and the Devil will flee from us, for "...God opposes the proud, but gives grace to the humble. Submit yourselves therefore to God, resist the devil, and he will flee from you. Draw near to God, and he will draw near to you" (James 4:6-8). This example is also provided for us by narrative, when Christ repeated to Satan in the fourth chapter of Matthew three different times "...it is written," making reference to God's word, which Satan flees from. We draw near to God by wielding his Word as our sword to attack back, and Satan flees. Ephesians 6:17 tells us that "...the sword of the spirit...is the word of God." For the outcome of using the formula that repels Satan and his minions results in him leaving us, as it did for Christ at the end of his temptation recounted in Matthew 4:11 "...and the devil left him."

While we as Christians can use the name of Jesus and demons will flee, it is important to keep perspective on the overall understanding of the concept. It is quite possible to be a believer and use the name of Jesus to repel satanic attacks (oppression, not possession) that we have brought on ourselves through sin, while not drawing near to God. Romans 6:16 points out, "Do you not know that if you present yourselves to anyone as obedient slaves, you are slaves of the one whom you obey, either of sin, which leads to death, or of obedience, which leads to righteousness?" If this is the case, that we are not walking in the light, but walking in disobedience, then repelling Satanic forces by Christ's name would only give us temporary victory, if that. But if we are instead walking in obedience then "...if we walk in the light, as he is in the light, we have fellowship with one another, and the blood of Jesus his Son cleanses us from all sin" (1 John 1:7). So on this principal Christ is our example for repelling satanic attacks as shown in Matthew chapter four, and the formula His brother James gives us in chapter four of his epistle. This is not to say that at times, using the name of Jesus to repel Satan as we walk in obedience, is the wrong move; we must be aware that even when we are in close fellowship with God, Satan can still attempt an attack and we can use our Lord's name to repel him.

After everything has been taken into account, it can be deduced that directly repelling a possession of a demon, or Satan himself, in a human being is unnecessary (in the form of an exorcism) due to the fact that placing one's faith in Christ expels all demons for all time, which is far more beneficial than any temporary victory. Rather than to expel Satan by the name of Jesus, we do the greatest charity towards an acquaintance, stranger or friend to lead them to take Christ as their personal savior whose "...yoke is easy and my burden is light" (Matthew 11:30). Anyone without Christ struggles needlessly, because Christ has won a final victory over death, for our spiritual struggles against darkness are insurmountable without Him and we will certainly be defeated, consistently, until answering His invitation to "Come to me, all who labor and are heavy laden, and I will give you rest"(Matthew 11:28). God gives us the invitation into Christ our Lord, and to leave the dominion of "...the ruler of the kingdom of the air..." (Ephesians 2:2) and to be forever seated "...with Him in the heavenly places in Christ Jesus" (Ephesians 2:6). We answer that invitation by believing with heartfelt trust and praying, in our own faith-filled words, to believe in Christ. "...For with the heart a person believes, resulting in righteousness, and with the mouth he confesses, resulting in salvation" (Romans 10:10).


---

Image Credit: Stacie Morris; "Gargoyles of Notre Dame"; Creative Commons


---
Tags
:
Biblical-Salvation
|
Christian-Life
|
Jesus-Christ
|
Satan-Demons
---
comments powered by

Disqus
Published 1-18-16