THE TAKE AWAY
The comfort of the Trinity


By Kersley Fitzgerald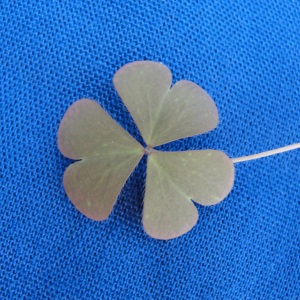 That's got to be in the running for the strangest blog post title, yeah? I readily admit, I don't get the Trinity. It's one of those things I gloss over in my mind because it doesn't make sense. Spend too much time on it and the whole Bible gets twisted around in your head. Some stuff has been happening, though, that really points out to me the personalities of God as Father, Son, and Holy Spirit. It's cool how He interacts with us differently depending on which part of Him you're talking about.

It started Friday night. We had a new guy at our small group—Brad. He's early-20s, super-sincere, and a bit more charismatic than I'm used to seeing. I mean, some of my dad's family is charismatic, but I don't see them often, and never in a religious setting.

After study, Brad said to me that he's been learning more about the Holy Spirit. About how He's both a tongue of fire and the river of life. He said he wanted to follow what the Bible says and be like the Holy Spirit.

First of all, I thought, Holy Spirit-oriented? Why's he coming to ourchurch? I mean, we like the Holy Spirit. But we're Evangelical Free—"Baptist for Norwegians: all the theology, none of the emotion." That's cool he seems to be getting fed by a church that has to be reminded to occasionally clap. And then reminded how.

Second of all, I thought, I wonder if he speaks in tongues. Things are going to get interesting if he starts up in the middle of study. I don't think he will.

But finally I parked on this: I don't remember the Bible ever saying we needed to emulate the Holy Spirit. We're supposed to be like Jesus. Many times the New Testament says we're supposed to act like Jesus. And that gets me thinking: how cool is it that Jesus came and lived as a human so we could get a first-hand account of how it's supposed to be done? The Holy Spirit is awesome and holy and God, but I don't think we can really be like Him. We can just allow Him to work through us. But Jesus showed us what that looks like—loving people, teaching them truth, seeing to their needs. I didn't get that for a long time, but I'm starting to now. The whole "a disciple is someone who listens to and tries to emulate a teacher" thing.

Two days later, it was Father's Day. I mentioned before how I am learning to let God be my Father, and so I spent Father's Day with Him. In my time with Him, He taught me about the Holy Spirit.

I read my Bible. I read Donald Miller. And I watched a lot of Warehouse 13 (I think every character on that show has daddy issues!). In the Bible, I read John 11. It's the story of Jesus resurrecting Lazarus. Something struck me as I was reading it, though. Verse 5-6 say, "Now Jesus loved Martha and her sister and Lazarus. So when He heard that he [Lazarus] was sick, He then stayed two days longer in the place where He was."

Huh? Jesus loved His friends so He waited to come. Yeah, I know all about the grand picture and how He needed to wait so many days to convince the Jews that Laz was really gone. But the two thoughts juxtaposed together hurt my head.

But it reminded me of another passage, John 16:7. I don't understand the role of the Holy Spirit while Jesus was on earth, but I do know this: Jesus could only be in one place at a time. I'm sure His physical presence was the most comforting, warm, alive experience ever. But Jesus left the earth so that the Holy Spirit could come and be present to all believers at all times in all places. Jesus couldn't be in Judea and still be in Ireland and China and Milwaukee.

It is to our advantage that He left so that the Holy Spirit could come. There's a lot of drama in the world right now. Our youth pastor lost his house in the fires. A friend's sister is seriously ill. Another friend was betrayed and forced out of the church she loves. My mom is sick (again). JT is fighting fear when he goes to bed.

If Jesus were still here, He could only be with one of these people at a time. Instead, the Holy Spirit is able to reach each one of them in the exact way they need. It's true we don't get to touch or speak face-to-face, but we do get to speak heart-to-heart. That's pretty significant.

Like I said, I really don't get how the Trinity works. I'm glad it does, though. I'm glad that the character of God is such that it covers all our needs. And it's interesting how each side of the Trinity teaches me something more about the others.




---
comments powered by

Disqus
Published 6-25-13