THE TAKE AWAY
From Blind Beggar to Anointed Eyes


By Kersley Fitzgerald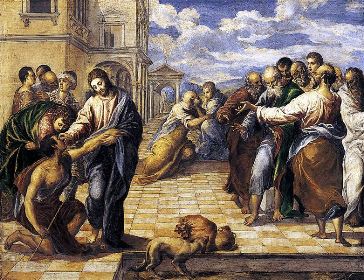 I read John 9 recently — the passage where Jesus heals the man born blind and then the man totally takes the Pharisees to school. Something stopped me short this time. In verse 11, when asked how he regained his sight, the formerly-blind man says Jesus "anointed" his eyes.

That's such a strange way to put it. When I think of anointing, I think of Samuel pouring oil over David's head to make him king, not Jesus making dirt poultice for some guy's eyes. It's such a specific word, and in the NASB it's only used once in the entire Bible — in verse 11. It's the Greek epichrio. It's a compound word made up of epi, which is kind of a general-use preposition that can mean against or onto for our purposes, and chrio, the consecrating anointing we're more familiar with.

Chrio is used in several other places in the New Testament:

• Luke 4:18: "The Spirit of the LORD is upon Me, because He anointed Me to preach the gospel to the poor..."

• Acts 4:27: "For truly in this city there were gathered together against Your holy servant Jesus, whom You anointed..."

• Acts 10:38: "You know of Jesus of Nazareth, how God anointed Him with the Holy Spirit and with power..."

• Hebrews 1:9: "You have loved righteousness and hated lawlessness; therefore God, your God, has anointed you with the oil of gladness above your companions."

Three passages out of four talk about anointing as a formal declaration of consecration and authority. Why would this word be applied to some beggar's eyes, though?

Check out the rest of the passage. The "Jews" (intellectual hotshots like Pharisees and Scribes) call him over to ask what happened, then they call his parents, then they call him again. Verses 24-34 are my favorite part:
So for the second time they called the man who had been blind and said to him, "Give glory to God. We know that this man is a sinner." He answered, "Whether he is a sinner I do not know. One thing I do know, that though I was blind, now I see." They said to him, "What did he do to you? How did he open your eyes?" He answered them, "I have told you already, and you would not listen. Why do you want to hear it again? Do you also want to become his disciples?" And they reviled him, saying, "You are his disciple, but we are disciples of Moses. We know that God has spoken to Moses, but as for this man, we do not know where he comes from." The man answered, "Why, this is an amazing thing! You do not know where he comes from, and yet he opened my eyes. We know that God does not listen to sinners, but if anyone is a worshiper of God and does his will, God listens to him. Never since the world began has it been heard that anyone opened the eyes of a man born blind. If this man were not from God, he could do nothing." They answered him, "You were born in utter sin, and would you teach us?" And they cast him out.
The blind beggar got it. He had the clarity to understand what was happening. That the Jews were jealous; that his Healer was worth risking everything to defend. That no prophet had ever given sight to a man born blind, so this had to be from God.

Jesus spells it out in 35-41:
Jesus heard that they had cast him out, and having found him he said, "Do you believe in the Son of Man?" He answered, "And who is he, sir, that I may believe in him?" Jesus said to him, "You have seen him, and it is he who is speaking to you." He said, "Lord, I believe," and he worshiped him. Jesus said, "For judgment I came into this world, that those who do not see may see, and those who see may become blind." Some of the Pharisees near him heard these things, and said to him, "Are we also blind?" Jesus said to them, "If you were blind, you would have no guilt; but now that you say, 'We see,' your guilt remains.
Jesus didn't just literally heal the beggar's blindness. He spiritually consecrated his eyes so he could see the truth. From that point on, his understanding was dedicated to the truth of Jesus.

Which makes me wonder: what defect or injury has Jesus anointed in my life that He chose to consecrate to Himself? In what way did He heal me for the purpose of using that health (physical, mental, spiritual) for Him? How can I boldly use that health when faced with opposition to witness to His gospel? I hope I can be as bold as that beggar.


---

Image Credit: El Greco; Christ Healing the Blind; Public Domain


---
Tags
:
Christian-Life
|
Hardships
|
Jesus-Christ
---
comments powered by

Disqus
Published 4-15-2014