THE TAKE AWAY
Assisted Suicide and Dignity


By Kersley Fitzgerald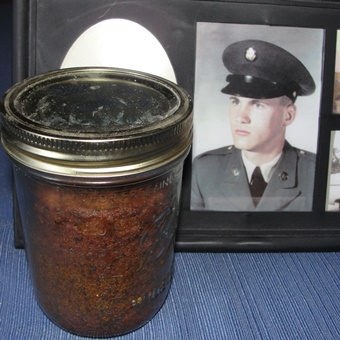 I remember my mom sitting on the couch in our living room, softly crying. My mom never let us see her cry. Maybe that's the strongest emotion I have related to his death. No...I don't think it is.

His parents were good friends of our grandparents and pillars of the church. His dad was so skinny his nickname was "Skelly" — the skeleton. Actually, I don't know what Skelly's real name is. Dorothy played pipe organ every Sunday. There were few older people in the church who didn't scare the crap out of us kids, and they were definitely on the list. His sister was cool, and we liked it when our parents went away for the weekend and she watched us.

My strongest memory of him was 6th grade Sunday School. He got mad because we wouldn't sing "Oh Little Town of Bethlehem." Do you know how high that song is? But I also remember one Sunday he brought candy canes, and it gave us the idea that maybe he liked us just a little.

But on this day, a few months later, my mom sat crying on the couch. A couple of miles away, his mom tried not to go into her kitchen. The kitchen door was between the dining room table and the built-in hutch filled with hundreds of salt and pepper shakers. Through the door, most of the small kitchen was to the right. I guess he'd been eating dinner with his parents and his wife. He excused himself, passed the salt and pepper shakers, walked through the door, and quietly closed it. He crossed over to the cabinet and opened the drawer. Were his hands shaking with weakness? Or fear? Did he know which knife to choose? Or had "chemo-brain" muddled his thoughts? Whatever his choice, it was effective. It slid easily between his ribs to his heart.

I guess my strongest emotion is betrayal. He was a seriously grouchy Sunday School teacher, but he was still charged with teaching us about God and the Christian life. His biggest lesson turned out to be that when life is hard and leukemia ravages your body, it's okay to quit. Because you know best and the pain is too hard and God isn't enough. I felt betrayed thinking about the blood splattered all over that cluttered kitchen. Who cleaned away his life dripping off the walls and cabinets and cooking stuff lying around from when his mother had made him dinner? And I felt betrayed because one of the nicest couples in our stodgy church was now "oh, that's poor Skelly and Dorothy you know their son had cancer and went into his mother's kitchen and stabbed himself in the heart with a knife."





Words are weird. As I typed the filename for this article, it struck me. Did I assist a suicide? Because I knew what he was doing, even if no one else apparently did. He never called me out of the blue, especially a couple of times a month like he'd been doing. He talked about going to see his birth father and calling old friends and did Dev want his watch? I was 1000 miles and a life away. My mom had left him, and I'd supported that decision. The church had abandoned both of them, and he wouldn't accept help, anyway. There was no one to call.

So I assisted. I let him know we were fine. Colorado was fine. I was starting a new job. Dev was working on getting promoted. The puppy was nuts. No, we didn't really need a ship in a bottle. Where was his birth father now? He was dying anyway, from thirty years of alcohol, but he was also using it to kill himself. It was years before I realized I was the only one who knew. If I "assisted" (By not calling someone? By letting him know I'd be okay without him?), it was to give him a small bit of peace in something he'd already decided and I couldn't change.

Funny that both of those stories happened in Oregon.





Last night, I asked Dev if he'd cleaned out the pantry. Turned out we'd just eaten that much. He pulled out a glass jar with a slowly-shriveling loaf of bread inside with "NO NUT" scrawled on the lid. Dev grimaced as he showed it to me.

"No!" I said. "That's from Granny. You can't throw it out."

Granny didn't actually belong to me. She was a friend's grandmother. A Southern lady who went to one of those super-stodgy churches where the preacher got mad about low attendance and took it out on the people who actually showed up. Granny's last few months were spent in bed with a TV remote, a potty chair, and a granddaughter who felt blessed to see to her every need as the cancer quietly spread. Granny told me she had no reason to complain. She had everything she needed. And even while her granddaughter fed her and washed her and wiped her, she felt blessed to live one more day. And, as hard as it was, I know her granddaughter felt blessed, too.





We are called to love God and love others. We're to be a blessing to others. Sometimes that means helping others avoid pain, but sometimes it means inviting them into it. God uses pain. He uses the long game to mold us into His image. There was nothing in my former Sunday School teacher's act that blessed those around him. My Dad? It was a blessing that he was finally at peace and, as my sister says, we were free to heal, but knowing he had an intentional hand in it didn't make it better. He was giving up. And it wasn't dignified.

For dignity, I turn to Granny. Her humility and vulnerability and joy were such a blessing. It's rare you get to celebrate a life as it's leaving.

Not all get to go quietly into that dark night. For some, it's really, really hard. There doesn't seem to be any possible way God could redeem the situation. But even in the suffering, there is truth. As Denise Spenser, the wife of the late Internet Monk, said after his hard death:
I realized that the hardness of Michael's death was a reminder that it is not supposed to be this way. Ever read the first three chapters of Genesis? Man was created for life, not death. But we live in a fallen world, and the cherubim still guard the tree of life with white-hot swords. Our only hope is a Redeemer who has conquered death itself and has risen as he said. He will deliver us to a new world, a world where "there shall be no more curse," for "...on either side of the river [is] the tree of life...
As his death grew nearer, Paul said he was being "poured out like a drink offering" (2 Timothy 4:6). May we serve Christ to our last drop.
For to me, to live is Christ and to die is gain. Philippians 1:21
---

Image Credit: Kersley Fitzgerald


---
Tags
:
Christian-Life
|
Controversial-Issues
|
Current-Issues
|
Hardships
|
Personal-Life
|
Personal-Relationships
---
comments powered by

Disqus
Published 10-16-2014