THE TAKE AWAY
Boring Sermons


By Kersley Fitzgerald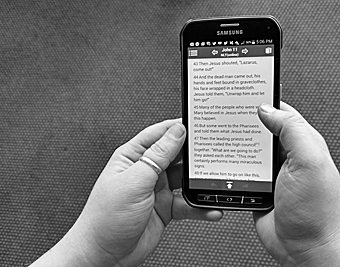 Confession time.

JT doesn't sit with us at church. Dev often has sound, and I'm on the worship team and sometimes don't know where I'm sitting until after the first set. So when I glanced down the row and saw JT messing around with a Rubik's Cube instead of paying attention, there was nothing I could do. No amount of mom-staring got him to look up. I resolved to talk to him after service and turned back to the Bible on my phone. Which wasn't there. Because my phone was opened to Facebook. It was then I realized, this sermon is sooooo borrrring!

It was on 2 Timothy 1. A lot of it was on verse 6 — "For this reason I remind you to fan into flame the gift of God..." We have to fan the flame. What does that even mean? Don't be ashamed that Paul is a prisoner. Okay. I am not ashamed that 2000 years and half a world away, Paul was a prisoner. God called us to a holy calling. Uggghhhh. Could he be more vague and generic?

My friend, a PK, once quoted her dad who said we can learn something from any preacher. Those words came back to me as I contemplated the vanilla sermon later. Maybe we could, but maybe some teachers require more effort on the part of the listener than others. I like context, exegesis, and application in my sermons. But if the preacher doesn't provide them, maybe it's my job.

And it's easy to do, even sitting in the sanctuary. On my phone is the NKJV Life Application Study Bible, Kindle Edition, from Tyndale (it also comes in NIV, KJV, and NASB among others). It has introductions to all the books of the Bible, a harmony of the books of Kings and Chronicles, a harmony of the Gospels, maps, character studies, and a lot more.

If all that didn't provide enough context, I could always go to the GotQuestions app for Apple, Windows, or Android. There I could find a survey on 2 Timothy, and articles on Paul, Timothy, our calling — even what the Bible says about being in prison.

As far as exegesis goes, I love BibleStudyTools.com's Interlinear Bible. There, I can find the Greek for "fan the flame," its definition, and where else in the New Testament the phrase is used. (Turns out it's anazopureo and roughly means to be in the midst of a fire that's alive like an animal.) GotQuestions is also working on an online commentary site, BibleRef.com. Eventually we'll have pages on every book, chapter, and verse of the Bible. With over 30,000 verses, though, it's going to take a while!

That leaves application, which should be our responsibility anyway. I mean, as frustrated as I get with generic sermons about sin, the pastor doesn't necessarily know what I struggle with — and if he does, I'm grateful he doesn't announce it in church! When he says we need to serve, I'm the only one who can say where God wants me to. And, although I don't know anyone in prison, I do know someone who's bed-ridden. Maybe this is a nudge to talk to her more.

I suppose that all of this is a variation on inductive Bible study. The twist is, between tablets and phones, we don't have to wait to do it at home. I can break away from the passage for a moment to look up the background in the Study Bible, or search the GotQuestions app, or go online to BibleStudyTools to find out the meaning of a word. I can even write down what I've learned in a notebook app or as a note in the Bible itself.

Sermons are to be respected, but they're not sacred. Pastors are commissioned by God to teach the people in the church, but it's the people's responsibility to learn. If that means using other resources while sitting in the pews, I say go for it. Even the most boring, generic, and vague sermon can be a jumping off point for something significant. We just may have to work a little to get there.


---
Tags
:
Christian-Life
|
Church-Issues
|
Ministry-Church
|
Personal-Life
---
comments powered by

Disqus
Published 3-14-16