THE TAKE AWAY
Holy Jeans


By Kersley Fitzgerald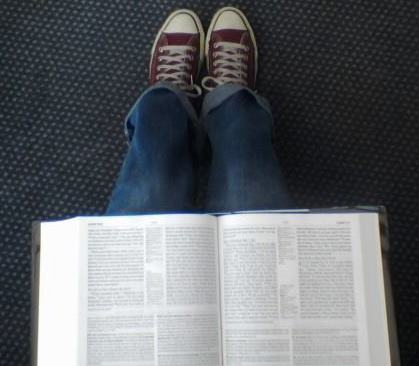 I recently interacted with a gentleman who lamented the lack of formal wear in church. He requested biblical support for his argument that his children should not be allowed to wear jeans and t-shirts. My response, an article from GotQuestions.org, was unsatisfying, as I warned him it would be.

Sunday morning, I thought vaguely about what he said. Not that I had any inclination to dress formally for a Colorado church that meets in a gym on a Sunday that isn't Easter (not least of which because everyone would ask me what was wrong). But I did think about it. It's still summer here, so my usual attire is capris (jeans are for winter). I do occasionally wear a skirt, but when you have to set up and tear down sound equipment every week, skirts can be...problematic. So I picked out some of my nicer capris (the ones with three cargo pockets) and a nicer-than-usual shirt.

That didn't work. I got the shirt a couple of years ago, before I lost a bit of weight. It's fine for those who go to church and stand and sit upright and generally behave like adults. But not so much for me. If the suede strap of my electric guitar wouldn't catch on it and pull the collar down, I'd at least flash everyone as I bent down to disconnect sound cables from direct-boxes. No matter where you fall on the modesty spectrum, that would definitely not be a good idea!

So I put on a t-shirt.

I went to church and, in the freedom of capris and a tee, was able to set up with no problem. And I was reminded why I rarely wear skirts. It takes real talent to crouch and fasten curtains around the running track railing without either stepping on your hem or mooning the gym below.

During the sermon, I looked around. Not very many women were in jeans — but then, as I mentioned, it's still summer here. But most of the men were in our church's unofficial uniform — jeans (occasionally chinos) with Aloha shirts. Including the pastor. And three of the guys on the worship team. While the other two were wearing shorts. (The other woman is a pastor's daughter and rarely wears pants.)

"Whether, then, you eat or drink or whatever you do, do all to the glory of God" (1 Corinthians 10:31). Sounds familiar.

What was the message on? Haggai 1. How putting God first is the only way to do things. We cannot work hard enough or be smart enough or have money enough that we will be able to live independently of God. There are churches where formal dress is appropriate. And we do have people in our church who dress in skirts and dresses. For the rest, somehow, in our habit of grabbing jeans and cargos and tees, we are equipping ourselves for God's service just as much as the people who grabbed slacks and skirts. All to His glory — and by His glory, even jeans can be holy.


---

Photo credit: Kersley Fitzgerald


---
comments powered by

Disqus
Published 9-9-13