THE TAKE AWAY
Love and Friendship


By Kersley Fitzgerald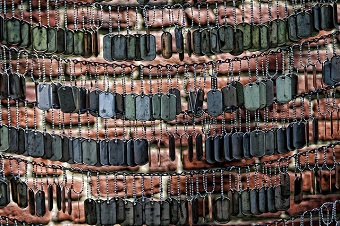 Valentine's is upon us — the season of love. Greeting card, chocolate, and diamond companies will do their best to show us their version of love expressed. Rings and truffles and cards that play music when you open them don't really say "love" to me. Personally, I feel Dev's love when he comes up with a new high-maintenance dinner I can eat. This weekend, I found an example of fierce love in a place I didn't expect.

Chris Kyle is known for being the most effective sniper in US history. I went to see American Sniper with my old friend E.D., recently-retired lieutenant colonel and veteran of several deployments to the Sandbox. She left the movie pensive; I left inspired.
Greater love has no one than this: to lay down one's life for one's friends John 15:13
If you want to talk about the language a Navy SEAL used to describe enemy combatants — or the language every man in green used — I'm not interested. (Plugged-In Online counted over 100 uses of the F-Bomb, and a scene with a little boy and a drill should be well enough to keep many viewers away.) I want to talk about the character, who friends and family say was an accurate representation of the man. He joined the military before 9/11, although the events of that day strengthened his resolve. He was deployed as a sniper in the Middle East four times. Every time he had one mission: protect Marines. But in doing so, he was living out love — for his family, his country, and "his boys." As his wife said:
Chris was out there fighting for his brothers because he loved them. He wanted to protect them and make sure they all got to go home to their families. (Source)
His actions and choices showed a sacrificial love that we're called to have. But as the years progressed, his understanding of that agape love was refined.

How to Love

In the movie, it took Kyle a long time to understand that you can't love others without considering what they need and want. Kyle knew how to show love to those he protected in the war — shoot the guys trying to shoot his boys. At home it was more difficult. He went to war in part out of love for his family, but when he returned home, all he could think about was loving them the way the SEALs had trained him. That doesn't work too well with a wife and two little kids. Kyle had to learn how to love others by filling their needs. Realizing he didn't know his wife and kids, and knowing the divorce rate for SEALs was over 90 percent, he got out. (Source)

Kyle left the military after ten years and found a way to show love to the men he wanted to protect and his family at the same time. In the movie, he tells a counselor that he's haunted by the men he couldn't save in combat. The counselor takes him to meet those who still needed saving from the combat inside them — returning veterans with physical and mental wounds.

My son's good friend has severe ADHD, sensory processing disorder, and anxiety. His mother has gotten glares and more when she interacts with him in public. What people don't understand is that she loves him according to his needs. She can't push him as hard as most kids if she doesn't want him to go into a full-blown anxiety attack. For him, the Renaissance Faire is beyond overwhelming, but he could stay on the lazy river at the water park for hours. She knows that stretching him is good, but there is a limit that others can't see.

Loving or a Season

I'm going through Stasi Eldredge's book Becoming Myself (good book; hokey title), and was struck by the chapter on friendships. She talks about how women need women friends, even though it can be really hard to be friends with women. But she also talks about seasons. How we're not usually meant to remain close friends with the same people our whole lives:
Friendships do change. People change. You change. You are supposed to. You may still be walking in the same direction in life as a dear friend, but your paths may no longer cross...Perhaps it [the friendship] is meant to continue. Perhaps it isn't. Some friends we are called to fight for and some we are called to release. (Pg. 127)
She then goes on to say she learned that most friendships only last three to five years. Huh. That's about the length of a military assignment.

Kyle had to learn this, too. He learned there was a season for taking care of his boys in combat and a season for loving those at home. That it is okay to walk away when your time is done. In the movie, after he's left the Navy, he says, "Now I'm willing and able to...be there but I'm not. I'm here. I quit." I can't imagine what it was like to leave when you knew if you stayed you could save more lives. But God gives us seasons in our relationships. We have to trust God enough to take care of those we leave behind. And trust Him with our own hearts when we have to leave those we've depended on.

Love Hurts

Something the movie didn't get into but I found on other sources is that while he was deployed, Kyle was shot two or three times, involved in six different IED explosions, and crashed in a helicopter twice. It reminded me of something I heard at a meeting for the sex trafficking restoration ministry I volunteer for. Our new residential treatment facility director was talking about finding and keep good staff. How difficult it would be because the work would be emotionally draining and the pay wasn't that good. Thinking of the ways the girls would act out of their own wounds, he said, "We're basically paying people to be abused."

When we think of John 15:13, we usually think of jumping on a grenade or standing in front of a bullet. But loving others often means volunteering for pain — physical or emotional. We have to lay down the control we have over our lives and the comforts we enjoy. Maybe every day, several times a day. Learning every day that we can't properly love unless we are a conduit for Christ's love.

This is not an easy life to live. As Paul was "poured out as a drink offering" (2 Timothy 4:6), Kyle was killed by a veteran he was trying to help. With his last breath he was showing love for another. That inspired me. How he learned self-sacrifice and presence in the moment. I hope I can show that kind of love to others. That I don't get selfish and put too much value on my own agenda. Friendship isn't easy. It's not convenient to love others in the way they need. And it's difficult to recognize when a season of friendship is drawing to a close. But, for me, the hardest part of John 15:13 is that you have to do it even while you're still breathing.


---

Image Credit: Dixie Lawrence; "War memorial"; Creative Commons


---
Tags
:
Biblical-Truth
Christian-Life
Controversial-Issues
Current-Issues
Personal-Relationships
---
Published 2-9-2015