THE TAKE AWAY
Into India — and then back out again


By Kersley Fitzgerald


For me, there are few easier ways to learn about another culture than through film. Even when we went to Thailand, we didn't speak with many locals about their lives. Film is story made convenient for consumption. And culture is often easiest to understand when compared with something foreign. The Best Exotic Marigold Hotel and The Hundred-Foot Journey open up India, but also England and France.



The Best Exotic Marigold Hotel

TBEMH (PG-13) is an ensemble movie that follows seven British pensioners to a half-finished hotel in India where old age has been outsourced. Since the cast includes Judi Dench (James Bond's "M"), Bill Nighy (Davy Jones from Pirates of the Caribbean), Jean Ainslie (Doctor Who's Harriet Jones, Flydale North), and Maggie Smith (if you need me to tell you she's Professor McGonagall I just don't know what to do with you...), it wasn't too hard to get Dev to the local indy theater. Evelyn Greenslade (Judi Dench) is there because her recently deceased husband wasted all their money. Tom Wilkinson's (Latham Cole from The Lone Ranger) Graham Dashwood is returning to the land of his childhood — and his first love. Douglas (Bill Nighy) and Penelope (Jean Ainslie) have invested their life savings in their daughter's internet scheme with nothing to show for it. Madge Hardcastle (Calendar Girls' Celia Imrie) and Norman Cousins are looking for love. And Dame Maggie Smith's Muriel Donnelly is in need of an economical hip replacement.

The owner of the hotel is Sonny Kappor (Dev Patel; Slumdog Millionaire), a fast-talking, enthusiastic, more-optimistic-than-capable 20-something with a tiger mother and an illicit girlfriend.

The movie is adorable. Evelyn learns to take care of herself for the first time in her life — even getting a job at Sonny's girlfriend's telemarketing firm, teaching the call staff how to speak with older customers. Madge learns to be content single while Norman finds true love. Tom finds his first love and, with it, the peace he'd really been looking for. Douglas and Penelope find honesty. And Muriel accidentally befriends a Dalit woman before dramatically shedding her prejudice and helping Sonny save the hotel. All to the backdrop of busy, colorful, overwhelming Jaipur.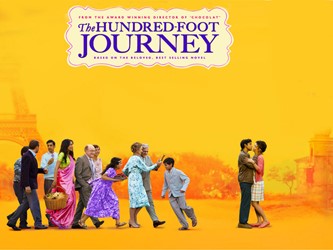 The Hundred-Foot Journey

The Hundred-Foot Journey takes the journey in reverse. The Kadam family — father, three sons, and two daughters — flee to England after watching their restaurant and beloved matriarch burn in a random political riot. After ten months in the damp, they head off to Europe proper in search of food that has soul. A brake failure lands them in Saint-Antonin-Noble-Val, France. After being rescued by sous chef Marguerite, Papa decides to stay. Against the strong objections of his eldest son, he buys the abandoned restaurant across the street from Madame Mallory's (Helen Mirren) Michelin-starred Le Saule Pleureur. Hassan, the second son, takes over the cooking, combining French classics from Marguerite's cookbooks with the Indian recipes his mother taught him. The restaurant does well, despite serving Indian food to a small French town, and Madame Mallory declares war.

Sadly, her chefs take it literally. The head chef and two cohorts vandalize "Maison Mumbai" and set the dining area on fire. Hassan is burned, and Madame Mallory is horrified. She fires her head chef, personally hand-washes the graffiti, and invites Hassan to cook for her — in part to teach him classical French cooking and in part to earn a second Michelin Star. He agrees, despite the wedge that comes with Marguerite's jealousy.

The Hundred-Foot Journey is a sweet movie. Rated PG, it has almost no swearing, one subtle off-screen maybe-sex scene, and the fires were the only violence. Although the children disagree with Papa's decision to buy the property, and his escalating war with Madame Mallory, they respect him and his decisions made, and work hard to fulfill his dream. After the fire, he and Madame become more than friendly, and she becomes their advocate.

Culture Mash

The two movies have a marked difference. In TBEMH, the Indian locals adopt the freedom and confidence of the Europeans as they break with tradition to follow their dreams. The Europeans learn to appreciate Indian culture, but their personalities don't become more Indian. In fact, there's a little bit of "white man's burden" as Muriel saves the hotel where Sonny couldn't (although it also included Muriel's need to be needed). In The Hundred-Foot Journey, the only significant change to the Kadam family is geographical. Besides Hassan, they still cook the same, they live together, they even drag people off the street into their restaurant as they did in India. Madame remains French, although she softens, learning that she doesn't have to be a tiger to earn her stars. Hassan's journey is the most complicated as he gets caught in the French food culture and, like Madame, learns to create on his own terms — terms that bring him joy.

It's very possible The Hundred-Foot Journey idealizes the experience of easterners immigrating to the west. The Kadams knew English already and learn French quickly. Family solidarity remains intact, as well as humor and their identity in food. Despite the restaurant war, their new home quickly accepts them and their offering of their homeland. The townspeople reminded me of Americans — anyone's welcome as long as you try to fit in and you can cook.

In TBEMH, the young in the east more willingly absorb western culture. Sex and homosexuality — even emotional infidelity — are celebrated. TBEMH is more western, also, in that in the end, the parent is proved wrong, shamed, even, by the forward-thinking of the child. In The Hundred-Foot Journey, Papa is the steady, stabilizing center of the family and the story — not perfect, but respected and respectable.

Still, both movies are worth seeing. TBEMH is a funny and inspiring story of older Brits who have to travel thousands of miles to an exotic culture to find freedom from their stuffy lives. In The Hundred-Foot Journey, the Kalam family brings their freedom and identity with them, adapting both to their new environment, offering themselves as a gift to their new home. Even better, The Second Best Exotic Marigold Hotel is coming out next year.


---
Tags
:
Current-Issues
|
Reviews-Critiques
---
comments powered by

Disqus
Published 9-24-2014