THE TAKE AWAY
A Risk Worth Taking
Muslim Christian Conflict

By Kersley Fitzgerald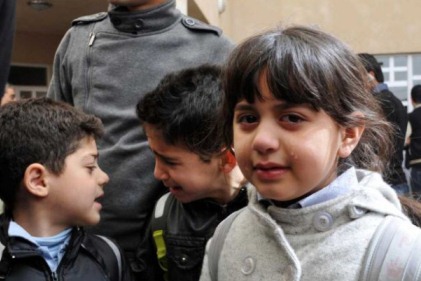 You might have heard that on March 1, an Iraqi high school student shot and killed his American instructor and then shot himself. I don't know what judgment calls immediately snapped to your mind, but I know my first thought:

God, please don't let it be Jerry or Angie.

This is, as they say, the rest of the story.

Once upon a time, there was a young Chaldean woman named Alia who lived in Kurkik, her ancestral hometown in Iraq. As are most Chaldeans, she and her family were Eastern Orthodox. Her brother went away to university in England. When he returned, he was no longer Orthodox. He was a Christian. In time, Alia, and then her husband, Yousif, followed suit.

Years passed, war came, and the couple grew increasingly frustrated with not only Islam, but the entire Middle Eastern mindset. When their hometown became too dangerous, they moved to Northern Iraq where they opened a school. The Classical School of the Medes, with Iraqi Muslims working class-by-class with American Christians. They teach fluent English, Christian principles right out of the Bible, and a Western way of thinking. What they do not do was proselytize. Instead, they emphasize critical thinking about long-held beliefs — in any context. If a student becomes a believer because of this critical thinking, that's fine. But they do not encourage the Christian instructors to lead the kids to Christ.

Some Muslims tried to stop them. But it became increasingly difficult as high-ranking government officials, yearning for a relevant school for their children, supported them more and more. Before long, Yousif and Alia had several schools and a good relationship with the locals in peaceful Kurdistan.

I don't remember how, but at some point this brave couple got in touch with a church in Tennessee. In that church was another interesting couple. Angie's a cancer survivor, a Latina, with a strange way of ignoring the current conversation and telling you a story that's completely irrelevant but just as completely thought-provoking. Jerry was an Army officer with about a million degrees including electrical engineering and radiology. We met them in Hawaii, where he was the head radiologist at Trippler, the Army hospital. Then, one day when Dev was deployed, they introduced me to their amazing friend and one of her daughters.

I don't have room here for the stories Alia told me. Story after story of God showing up. The insane risks. Their incredible faith. The rioters, turning into monkeys.

The stories kept coming long after we — and Jerry and Angie — moved from Hawaii. Yousif was on a trip to Sulaimaniya to one of their schools. The school has a guest house, but the electricity had been iffy. He decided that he and his daughter would stay at a hotel. But the electricity worked, they stayed in the guest house, and that night the hotel went up in flames.

Once Jerry and Angie were free from the Army, they decided sporadic, yearly trips to Iraq weren't enough. They moved there where Angie was in charge of the school paper and Jerry taught history. Jeremiah Small had been teaching English and world history for seven years, and was very much loved by the students and the staff. In time, he recommended then-17-year old Bayar to Angie, and she took him on as editor of the paper. Bayar was nothing but respectful to Angie, always trying to please.

Word isn't out yet as to why Bayar shot Jeremiah. Contrary to reports, a teacher auditing the class said there was no argument, although there had been a heated discussion between students the day prior. Jerry was across the courtyard, helping students with homework, getting ready for his next class, when he heard the shots. He ran toward the noise as panicked students rushed out. Jeremiah was already gone, and Bayar's wounds were obviously fatal.

I'm sure there is going to be plenty of feedback. A Muslim kid in Iraq killed a Christian, American teacher. But here are a few things to think about. Jeremiah's family flew from Washington to Iraq to attend the joint memorial service in a mosque. Muslim students are mourning a beloved teacher (caution: video is graphic). Jeremiah's father wants this to be for peace. Bayar's father said Jeremiah was like a son to him. And my friend Angie loved her student Bayar.

When I heard the news, my first thought was God, please don't let it be Jerry or Angie. I now know that it very easily could have been Angie who was shot. I bet, though, that they don't leave. The kids need them. Iraq needs them.

In one of Jerry's first updates, he quoted Psalm 62:1-2:
Truly my soul finds rest in God; my salvation comes from him. Truly he is my rock and my salvation; he is my fortress, I will never be shaken.
I leave you with John 15:13:
Greater love has no one than this: to lay down one's life for one's friends.
---
comments powered by

Disqus
Published 4-25-12