THE TAKE AWAY
Persecution of the Saints
Our Best Defense


By Kersley Fitzgerald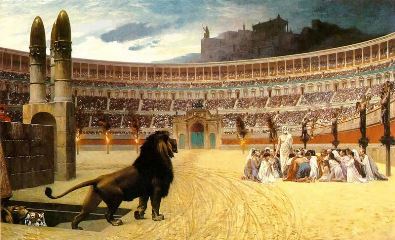 Meriam Yahia Ibrahim is currently in a prison in Sudan with her infant daughter and her toddler son. She is scheduled to remain there for about two years, until her daughter is weaned. She is then to be executed. Saeed Abedini has served one year of a ten-year sentence in prison in Iran. It is possible that the government will release him once his sentence is filled — it's even possible they'll release him early. But his health is poor, conditions are horrible, and he has to endure regular beatings from guards and other inmates.

The response among many Christians has been swift, relentless, and fierce. But much of it has also been misguided. There is a petition on change.org with over 877,000 signatures calling for the release of Meriam Ibrahim. That's great that she's gotten such support around the world. But here's the problem.

A government that has endorsed and caused 400,000 deaths and 2.5 million displacements is not going to care about a "signature" on a website.

So is the situation helpless? No. But there are some things Christians absolutely need to bear in mind.
Some trust in chariots and some in horses, but we trust in the name of the LORD our God.
— Psalm 20:7
As Gini Barney so eloquently commented on the article on Meriam, the only hope is prayer. Petitions will not work. Political pressure will not work in Sudan! There are a lot of people blaming President Obama for Meriam and Saeed's plight. But politics will not save us — and that includes the "power" of the leader of the free world. The President is not Santa Claus. And he's certainly not God. But why don't we admit that and go to God with our petition (Philippians 4:6)? Spreading the word is good, and signing an on-line petition at least encourages us and the families as we see how many people are hoping for the same thing. But in the end, those signatures are worthless if they are unaccompanied by prayer.
And Mary said, 'Behold, I am the servant of the Lord; let it be to me according to your word.'
— Luke 1:38
"Meriam" is a variant of the Hebrew Miryam, which is an older version of "Mary." I find this incredibly poignant. As Mary, the mother of Jesus, submitted to God's plan, so does Meriam who said, "If they want to execute me then they should go ahead and do it because I'm not going to change my faith." Likewise, Saeed wrote "Some times [sic] we want to experience the Glory and resurrection with Jesus without experiencing death with Him. We do not realize that unless we pass through the path of death with Christ, we are not able to experience resurrection with Christ — A Glorious life with Christ starts only after a painful death (to self) with Christ."

Christians around the world need to fully accept what Meriam and Saeed already have: it may very well be God's plan that they die in prison. It may be that their deaths will bring the greatest glory to God and reach the world in a way that could never happen otherwise (Philippians 1:12-14). If this is the case, will we still consider God worthy of following? And would we be willing to follow their example?
...Praying at all times in the Spirit, with all prayer and supplication...and also for me, that words may be given to me in opening my mouth boldly to proclaim the mystery of the gospel, for which I am an ambassador in chains, that I may declare it boldly, as I ought to speak.
— Ephesians 6:18-20.
On one of the articles about Meriam Ibrahim, a commenter said that she should just tell them she reverted to Islam and then go back to living as a Christian when she got out. Besides the fact that this would be impractical (as far as I know, she still doesn't have clearance to immigrate to the US), it's unbiblical. The church was built on the tombs of martyrs (literally) who refused to bow down to pagan gods.

Of course, we pray that God's glory would be best served with their freedom, but our first prayer should not be their release — it should be their continued faithfulness to the hope that lives within them. In 2 Timothy 1:8, Paul tells Timothy, "Therefore do not be ashamed of the testimony about our Lord, nor of me his prisoner, but share in suffering for the gospel by the power of God." I don't know of anyone who would admit they are "ashamed" of Meriam and Saeed for being in prison, but there are subtle shades. For one, we dishonor their calling when our hearts insist on their release or when we grovel at the feet of politicians for their freedom. It is not honoring to rely on a single specific outcome as the only possibility of their fulfillment as God's servants. And it's not honoring to consider their freedom higher than the gospel.

I know that's horrible to consider. But the truth is Saeed's kids may grow up without a father. And Meriam may be whipped and hanged, her kids taken to be raised by a Muslim relative. And if we do not seriously accept that this may be necessary to make a real and good change in the world, we dishonor their faith and their sacrifice.

God delivered Peter from prison one day (Acts 12:1-19) and allowed him to be crucified upside-down the next. God protected Paul from the poison of a viper (Acts 28:3) but not Nero's madness. As my pastor explained, God allowed John Wycliffe to challenge the Catholic Church and live, but not John Hus who spread Wycliffe's teachings.

It is a believer's faithfulness until whatever death they experience that matters; not the length of their lives or the manner of their deaths. Pray for Meriam and Saeed, that they will be freed and able to rejoin their families. But pray first that no matter what happens, they will leave a legacy of faith for their families and for us.


---

Image Credit: The Christian Martyrs' Last Prayer; Jean-Léon Gérôme, 1883; Public Domain


---
Tags
:
Current-Issues
|
Hardships
---
comments powered by

Disqus
Published 6-11-2014