THE TAKE AWAY
Running the Race


By Kersley Fitzgerald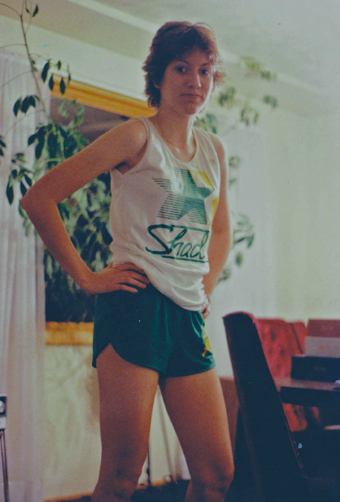 Therefore, since we are surrounded by so great a cloud of witnesses, let us also lay aside every weight, and sin which clings so closely, and let us run with endurance the race that is set before us. Hebrews 12:1
Thanks to the movie McFarland, USA and, I suspect, the subtle brainwashing of a favorite teacher, JT has decided his first year of high school will include cross country. Dev is disappointed, as we both expected him to sign up for golf. But running is my sport. I'm not good, and I'm not fast, but it's been a part of me since I was about 9 and could outrun any kid in the neighborhood — any kid riding a bike.

This Saturday is JT's first road race. I expect we'll be walking at least a third of the 5k, but that's alright. I want him to get a feel for the distance as well as the camaraderie of a large group run. Hopefully he'll also start to understand why Paul (1 Corinthians 9:24) and the mysterious writer of Hebrews compared the Christian walk to running.

Running is an individual sport. Like Lucy, the only one of the group who could see Aslan, we are called to our own race, and no one else can run it for us. JT's going to find that out when he's on his first race and finds himself running alone. He'll have to push himself if he wants to do well. No one else can make him run. Every Christian has their own circumstances, trials, and opportunities, and we need to be as prepared as possible for what's coming ahead. The church is there to give support, but we have to do the running (Ephesians 2:10).

Running is a team sport. Seven months after we picked up JT, I ran my one and only marathon. (Okay, "run" may be an exaggeration of what I was actually doing the last eight miles.) Long, loooong training runs in the Alabama heat every Saturday wouldn't have been possible without Dev and his friend Bud taking JT to Barnes and Noble to drink coffee and play trains. Marathoners at our church gave tips and encouragement. And then there was my physical therapist. The church does the same. Training and support happens in the group. Wounds are treated and bad habits are addressed. It's possible to be a successful and competitive runner on your own, but it's not easy or recommended (Hebrews 10:25).

Equipment is important, but not complicated. One of the reasons I like running is that the equipment, while not cheap, is simple. Shorts and tees are easy to come by. The bucks come with the shoes and...foundation garments. If you want to go all out, you can get a heart monitor and an MP3 player and shoes with springs in the heel. But remember, the first running shoe was made with a waffle iron. Likewise, the Christian life doesn't have to be complicated. The Gospel is Christ and Him crucified (1 Corinthians 2:2). The text is the Bible (2 Timothy 3:16). The characters are the Trinity, the church, and the world. While there are extras that can certainly be beneficial, adding too much runs the risk of including something that causes more harm than good (Galatians 1:6-9).

Training before racing is important. I have always been prone to shin splints, and now I'm fighting stress fractures in my foot. JT will need to build mileage slowly so he won't get injured before he's started. We won't be setting any records Saturday. Plus, I'm going with him. The church often misses this when it comes to discipleship and ministry. "Go witness!" we say. "Here's a class!" A friend of ours has a different tactic. He does witness at malls and the skate park, and he invites others to join him. But he'd never let someone start cold. He mentors them, brings them along, lets them see how it's done. That's important to ward off discouragement and keep someone going for the long haul (Philippians 4:9).

Wounds need to be dealt with. I have awesome ankles. I can scamper down a rocky, rooty trail, my awesome ankles adjusting for hazards that would bring a lesser being crashing down. It's my feet, shins, knees, hips, back, and shoulders that need work. So I know what exercise to do for shin splints. And I know when my knees need to push through and when they need a break. Foot stress fractures are new to me (age; ugh), but I've already learned that not dealing with them can lay me up for weeks. In the Christian race, we also need to be aware of when we need to slow down and deal with an issue and when we need to press forward. There are times that we'll need to ask for help and back out of ministry in order to not let the enemy get a foothold (Ephesians 4:27). And there are times when we're just tired and whiny and need to suck it up and get it done. Experience helps with that, as does living in a community of others who have been through the same thing.

Enduring leads to joy. I was about 18 miles into a training run, and I just wasn't feeling it. The wall had crashed into me. I knew I could keep going, but I wasn't sure if I should. I was scheduled to do 22. It was hot. I still had a lap around the golf course to go. I prayed for guidance and wisdom and all that — should I keep going? Or could I take a break? Around one hole, along the rough (it was a walking trail; I wasn't going through the golf course proper), down the hill toward the river. And all of a sudden — all the dragonflies in Alabama. They'd congregated in a field of flowers. I'd never seen so many. I stopped and took it in. And realized that in the end it didn't matter. I'd decided to do this marathon thing because I knew adopting would be really, really hard, and I wanted to learn to trust God with something more familiar. I felt the dragonflies were a note from God, that He was pleased with my endurance and just wanted me to have a small moment of joy.

Joy is an integral part of endurance. Hebrews 12:2 continues the thought: "...looking to Jesus, the founder and perfecter of our faith, who for the joy that was set before him endured the cross, despising the shame, and is seated at the right hand of the throne of God."

And that's my hope for JT. That running will be a lesson in endurance. That it will translate to his walk with Christ. And that with the pain he'll also find strength, community, perspective, and most of all joy.


---

Image credit: The author in the regalia of her high school glory days; photo probably taken by her then-10-year-old brother.


---
Tags
:
Biblical-Truth
|
Christian-Life
|
Hardships
|
Personal-Life
---
comments powered by

Disqus
Published 4-29-15