THE TAKE AWAY
Science Fiction Part 5
Daughters and Gifts

By Kersley Fitzgerald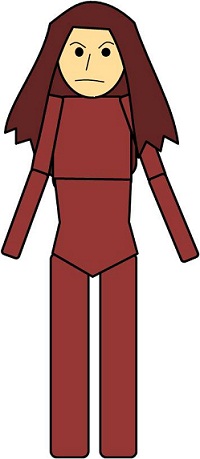 Sci Fi the Series
The Eternal God
Free Will and a Blue Box
Calvinism and Vincent
Faith of Dragons
Sins, Souls, and Sentience
Daughters and Gifts


Raising Daughters

I have an e-quaintance who escaped from a family that had fallen into a patriarchal cult. Christian patriarchy is a hard thing because it looks so good and holy. Children are disciplined and controlled, dad is the spiritual head, exposure to the outside world is extremely limited. Some kids thrive in this environment. Some girls love helping take care of younger children and learning how to care for a home. Some have no desire for college, and are perfectly content to have their father intimately involved in choosing their husband.

And many, too many, find themselves completely lost when their husband leaves, and they're home alone with a houseful of kids and no way to feed them all.

There are two movies that remind me of patriarchy. The first is Tangled, which isn't exactly sci fi. It's the story of Rapunzel, who has been locked in a tower her entire life by a woman she thought was her mother but was really a witch, imprisoning her for the restorative power of her hair. The second is X-Men: The Last Stand. When Professor Xavier found Jean Grey, she was the most powerful mutant in history. But she was out of control. To mitigate the potential damage, Xavier blocked her. He put shields in her mind so she couldn't even remember her power, let alone use it. She became the moderately-talented, biddable assistant he needed instead of a volatile living force of nature.

It's the story of too many girls caught in patriarchy. By the beginning of the third movie, those shields have slid away. Jean Grey is even more powerful, and even more out of control. She was never given the opportunity to explore who she was in a safe environment. She was never encouraged to present her heart to the world. When she's finally released, all she does is cause damage and pain, to herself and others. Like too many daughters, she was never taught how she fit in with the world around her.

This is the opposite of Jesus. Jesus wasn't afraid of strong, fierce women. Not when they fought for their kids (Matthew 15:21-28), their beliefs (John 4:4-42), or even themselves (Luke 8:43-48). He embraced their passion (John 12:1-8), even if He occasionally needed to redirect their efforts (John 20:17). The women who followed Jesus were not perfect, but they were strong. And while they submitted to His teaching, they were powerful co-workers in His ministry, not powerless fools to be controlled and sheltered.

Spiritual Gifts

But X-Men has a positive metaphor, too. Every mutant has a specific alteration in their DNA that gives them particular weaknesses and strengths. Wolverine can heal, Professor Xavier has telepathy, Kitty can pass through solid objects. They spend a lot of time together training — figuring out how each person's strength can aid the group and how to protect each other against their weaknesses. That's exactly what the church is supposed to do (1 Corinthians 12:7). We're supposed to know each other, our spiritual gifts and weaknesses, and work toward a common goal (1 Corinthians 14:12). Those who are the most harmful, like Rogue who can take the life force out of anyone who touches her skin, are given more protection but still accepted for who they are (1 Corinthians 12:22-24).

I wish that was the way it is in every church (Ephesians 4:1-6). As likely as not, Wolverine is fighting with Cyclops, Mystique is poisoning Xavier, and Storm is whining that nobody likes her.




Some see science fiction as an evil influence. Really, it's just a literary genre. But the inherent fantastical elements can lead us to see more in our world. A far-out setting can show us spiritual truths that are right in front of our noses.


---
comments powered by

Disqus
Published 11-1-11