THE TAKE AWAY
Who are you?


By Kersley Fitzgerald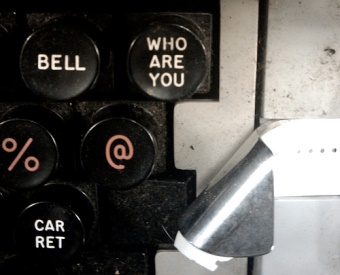 So, I'm out at lunch with the boss and his wife, and he asks me if I want to change my job title. "You do more than just administrative assistance stuff. What would you like it to be?"

I log donations, do a couple of monthly reports, assign questions, approve answers, write, build foreign pages, edit Blogos, stock paper towels and tissues, and help assemble furniture if we get new stuff.

"What would it be?" his wife asks. "Blogos editor?"

"I dunno. I do more than that." I think about all the copying and pasting that goes on when I build foreign pages. "How about 'Chief Vice Executive, Copying and Pasting, International Division'?"

She laughed. "Well, that covers one job."

"But how am I going to fit everything on a business card?"

Dev and I have been hit by this identity thing a lot over the last couple of weeks. Those same friends can't decide if I'm more like his sister or hers. Or maybe she's Dev's sister, since they were both born in Iowa. A young friend came to Bible study the other night, grouchier than I had ever seen him, and snidely called me "mom" when I offered to feed him dinner. The boss's father-in-law has a habit of ducking his head into my office and saying, "How's JT's mom?"

The one that really got me happened years ago. I brought cinnamon rolls into work. My boss started calling me "Mrs. Cleaver."

Dev and I were talking about this a few days ago while JT rode his bike and neurotic-dog tried to pull Dev's arm out of its socket. I brought up a conversation we'd had last year. It was about sex trafficking and how organizations were finding success in explaining the situation to men when they reminded them the girl was someone's daughter.

I'd told Dev that there were a few women upset about this. Why do women have to be defined by their relationship to men in order for men to see them? Dev explained that when a man sees a scantily-clad young woman, he takes it at face value—her intended relationship to him is obvious. The "she's somebody's daughter/sister/wife" method reboots the man's perspective on who she is. He sees her identity in Christ (1 Timothy 5:2).

This led to a bigger discussion that covered a lot of different aspects of identity. Who am I? Who do people think I am? Do their opinions matter? If so, how? How do I let others define me? When should I ignore them and be myself?

We're walking into a holiday season where we will see both families. There's a lot of past defining to overcome. We are not the same people we were when we lived with our parents, and neither are they. How do we break out of old patterns and respectfully live out of who we are now?

How does Dev live out of an identity that provides for his family but doesn't involve full-time work? How do I define who I am at work when my job won't fit on a business card? And how do I stop bringing up past accomplishments when I start to feel marginalized?

We realized that we really, really need to just live out of our identity in Christ. We have to see ourselves as He sees us. We are new creations in Christ (2 Corinthians 5:17). We are children of God (Romans 8:15-16).

We are not responsible for fulfilling the ideas of what others think we are. We aren't even responsible for defending ourselves against their misconceptions. We are responsible for living out the gifts He has given us to help others (Romans 12:6-8).

Even more difficult, we are not to live out of who we've made ourselves out to be. Even as Jesus said He came to do God's will, not His own (John 6:38), we are here to do works God has prepared in advance for us (Ephesians 2:10). I am not my own (1 Corinthians 6:19).

After my former boss called me Mrs. Cleaver for bringing in cinnamon rolls, I never brought them again. I felt defensive about how he had defined me, and my reaction was to rebel. While JT raced to the corner and the dog pulled at the leash until she choked, I admitted to Dev that that was the wrong reaction. Nothing my former boss—or anyone—could say can define who I am. If I want to bring in cinnamon rolls, I should bring in cinnamon rolls. If I want to offer a friend a sandwich because he looks hungry, his grouchy "No thanks, mom" shouldn't stop me. I can't properly serve people if I let them define me. God defines me, and He knows how who I am will fit in the world.

Although, sorry, I'm not bringing cinnamon rolls anymore. You know—allergies and all.


---

Image source: psd; Some rights reserved


---
Tags
:
Christian-Life
|
Personal-Life
|
Personal-Relationships
---
comments powered by

Disqus
Published 11-21-13