THE TAKE AWAY
A Woman's Greatest Role
It's not what you think...


By Kersley Fitzgerald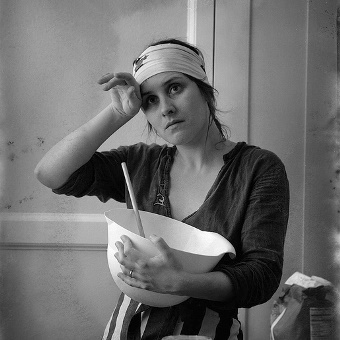 At the same conference in which I did not meet one of my favorite authors, there was another guest speaker, Carolyn Custis James. She's a writer, Bible-lover, and speaker who talks a lot about leadership and the need for women leaders in the church.

Her latest book, Half the Church, was written after she read Half the Sky, a book (and now film documentary) that discusses the hardships women endure throughout the world because of their gender. Half the Church builds on this theme, mostly to say, "People are hurting—where is the church?"

The conference was a gathering for Freedom Climb. Freedom Climb is an off-shoot of Operation Mobilization, comprised of women who climb mountains to draw attention to the oppressed, enslaved, and exploited women and children in the world. The 2011 climb was Kilimanjaro; 2012 was Pike's Peak, right outside of Colorado Springs. Next year: Everest base camp.

James was drawn to the subject from an interesting place. She grew up believing that part of American Christian culture that says a Christian woman's greatest role is to get married, have babies, and stay at home. She was all ready to follow in the footsteps laid out for her—until something happened.

Or rather, nothing happened. There was no one to marry. She had graduated from college without an engagement ring. She was flummoxed. Other Christians were telling her how it worked, so why wasn't it happening?

In her late 20s, she did find the love of her life at last. Okay. Late start, but here we go, onto the next step: babies. But there was no going. She was infertile. If God had really planned out her life like this, why was He throwing up so many road blocks?

That got her thinking. She didn't stay unmarried because of sin. She wasn't infertile because of sin. So if there wasn't something wrong with her spiritually, maybe there was something wrong with the instructions. People had told her that "get married, have babies, stay home" was the God-given mandate to women. But it didn't work for her.

So it must not be the whole God-given mandate for women.

That led her to think more globally. What about single moms? What about wives with disabled husbands? Was the Gospel big enough for them? Was it big enough for her?

She realized it was. God and the Bible and the Gospel are so much more than societal norms—even when that society is the Christian culture. Family and kids are important, but they are not the woman's Gospel. If they were, they would be equally available to all women. God must have something bigger in mind.

After the conference, I downloaded James's book, Half the Church. Her main theme is that women make up half (or more) of the church, but aren't utilizing their leadership skills. I read in tension for seven chapters of empowerment and conviction and example until I came to the issue everyone always thinks about: women pastors. Egalitarian or complementarian? Her point was, perhaps, somewhat unsatisfying to both sides: "Come on, people! Even the experts can't figure it out from the text. I am not going to affirm either position. Why are we arguing about this when there is so much work to be done?"

I wanted to jump up from my chair and pump my fist in the air. Yes! Do you know how much work there is to do? Do you know how many young women need mentors and chaplains and teachers? Do you know how many ministries need administrators and writers and speakers? Complaining that a woman can't be a senior pastor is like everyone complaining they can't carve the Thanksgiving turkey while the fixings for stuffing, rolls, sweet potatoes, and that salad with pistachio pudding, marshmallows, and pineapple lay untouched on the kitchen counter.

There is too much to do to fight about this! Do you realize how many women work at your favorite ministries? Got Questions Ministries is about half and half—both the writer of this article and the editor of Blogos are women. Too tame? International Justice Mission is desperate for women (and men) to sacrifice one year to do really hard work fighting for justice around the world. I'm currently reading Amy Carmichael's letters, and the issues are the same: Where are the workers?

But James wasn't talking to a roomful of women who needed to be told how to lead in the church. Looking out over the tables of mountain climbers (and others, like me), she nervously said, "I'm afraid what I have to say may be just pouring gasoline on the fire." She then went on to park on a theme I don't remember ever hearing before:

Women, we need to join with our Christian brothers to tackle these issues and declare freedom for the captive.

There was not one word of male-bashing from her mouth. Conversely, there was not one word telling women to be demure and unassuming. The message was simple: we need to look around the world, follow Christ's heart for the down-trodden, and jointly use our spiritual gifts to help others. When we don't, we are the steward who buried his talent.

God did not design us to hide at home, but He also didn't design us to do this alone. God designed this whole thing so that men and women would work together. Not just those who are married to each other, but all of us. The saying used to go, "For every good man, there is a good woman standing behind him." It isn't that clean. It's more, "For every good deed, there's a gaggle of men and women standing together."

I'm not saying that the issue of what roles women can play in ministry shouldn't be discussed or resolved. I just don't think it's a very good use of time. From Mary and Martha to Lydia to Amy Carmichael to Carolyn Custis James, many women throughout history have already answered the more relevant question: Where is my place in ministry? To ask anything less is, frankly, boring.


---

Image Credit: Jay DeFehr; "Juliet cooking old TMX 4x5"; Creative Commons


---
comments powered by

Disqus
Published 10-31-12