THE TAKE AWAY
Worship Babe
Thoughts on Women in Ministry

By Kersley Fitzgerald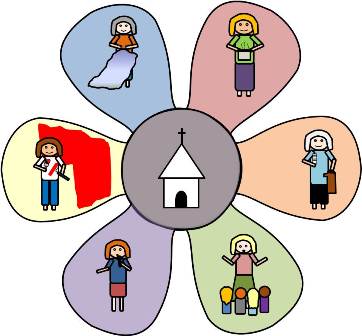 One Sunday morning, I strapped on my red guitar, looked out over my little local body of Christ, and saw them. Bakers and home-schoolers and children's ministry workers. And a thought came to me: our church has cliques.

Hi. My name is Kersley and I am a worship babe.

Sorry, that's a term from the late, great Internet Monk. There're five "worship babes" at my church. We practice on Wednesdays, get to church early on Sundays to set up, and celebrate each others' birthdays — usually several months late. One of us is a high schooler, one has grown kids (whom she homeschooled), and the other three send their kids to public school.

Nearly a year ago, we lost our longest-standing worship babe. She was the pastor's wife, and he got a job elsewhere. Her daughters went to public school, too.

A few months ago, we got a new pastor & family. His wife is not a worship babe. And she homeschools. And I honestly didn't realize our church had cliques until she showed up and I realized that she wasn't a worship babe — she's one of the other...

Waitaminute. There are worship babes, and then there are "others"? That's not very Christlike. But all the worship babes do public school and all the others with grade-school kids — all the others with grade-school kids — homeschool.

And a goodly portion of them work in children's ministry/AWANA.

And go to knitting class on Wednesday nights.

There it is. Two cliques. Of course there are outliers who don't really fit into either, but cliques? Really? In a small church filled with mature Christians?

And how do I feel about the non-worship babes? The ones who don't come early every Sunday to set up? The ones who don't invite me out for my birthday (nor I them)?

I adore them! I am grateful beyond words for Becky who nearly single-handedly takes care of Children's Church and leads singing at AWANA. I hope to Pete that I can raise JT as well as Ginger has raised her three oldest sons and is raising her youngest. I'm amazed that Meryl can sew a skirt in an afternoon and get vegetables to grow in Colorado. And I'm overwhelmed that MeLissa and Robin knit me a scarf and hat for my birthday last year.

I think the key is that we don't identify ourselves primarily by how we raise our kids or serve our church or spend our free time. When service ends and everyone's gaggled around talking, we're not knitters or singers or chefs — we're just devoted parts of the same church. As Ephesians 4:15b-16 says, "...we are to grow up in all aspects into Him who is the head, even Christ, from whom the whole body, being fitted and held together by what every joint supplies, according to the proper working of each individual part, causes the growth of the body for the building up of itself in love." And I think we're mature enough in our faith (and, frankly, our lives) that we really understand 1 Corinthians 12:14-27. We know we need each other. Some of us don't have the skills to teach kids and make it interesting. Some of us can't make coffee and have it taste good. Some of us don't have time to make meals, and some of us can't sing. "I want you to think about how all this makes you more significant, not less. A body isn't just a single part blown up into something huge. It's all the different-but-similar parts arranged and functioning together" (1 Corinthians 12:14, MSG).

Different parts, same body. Different roles, same church. It is because of these amazing women that I can stand up front and croon like a duck, knowing how much of church life they've already taken care of. And I hope that when they take those precious breaks from service, I have a small part in encouraging their worship of our same God. To all the homeschooling babes and knitting babes and coffee babes and emergency meals babes, and to my fellow worship babes, thank you for all that you do.


---
comments powered by

Disqus
Published 5-13-12