CHRISTIAN LIFE & GROWTH
A Blanket for Someone Else's Baby


By MeLissa LeFleur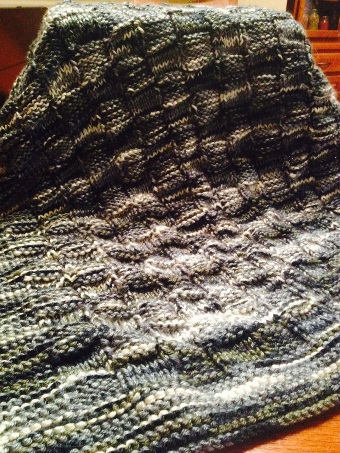 A few months ago, I started knitting a baby blanket. I've knitted several over the years, but this one was different.

Back in October, God orchestrated an amazing set of events. Our neighbor placed a dresser next to the curb and when some of our friends visited our home, they asked us to put it in our garage. A young woman was living with them and needed a dresser, so we stored it overnight until the young woman and her boyfriend came to pick it up. Little did we know, God would use that dresser to set in motion an exciting 5 months. We had no idea that the young woman and her boyfriend were looking for someone to adopt their unborn child. A few weeks after they picked up the dresser, they asked our friends, "Do you think the people who gave us that dresser would want to adopt our child? They seem legit." (Yes, I am very excited that we are considered legit by 19-year-olds!) Later that month, the birthparents met with us and asked us point blank, "Will you adopt our child?" After we got over the stunned feeling, we said YES!

Throughout the coming months, we started the adoption process. We took numerous classes, completed medical tests and drug screens, filled out what seemed like hundreds of forms, took every freelance project that came our way to try and earn as much money as possible to pay the fees. We met with the birthparents often and enjoyed our time with them very much. We tried to soak up as much information about them as possible, knowing that the information would be so important in the future.

For Christmas, we received a little blue pacifier from themů their way of letting us know it was a boy! We selected a name with them. When we started the process, several friends encouraged us to guard our hearts. We did the best we could to follow that advice, always knowing that the birthparents could change their minds at any time.

Seven weeks before the due date, we met the birth parents for lunch and found out they had changed their mind. The news was devastating and we all cried together. They explained that they wanted to commit to each other as a couple and wanted to raise their son together. The couple was shaking, scared to tell us the news. It was a hard day for them and for us.

It has been four weeks since we heard the news. As the birth draws closer, I know there is a young woman about to embark on a journey she is unprepared to undertake (aren't all first time moms?). She's scared. There is a young man out there who is committing to raise his son and stay with his girlfriend. While severely disappointed, I'm proud of the decision they have made and I will be praying for them.

The last four weeks have been filled with healing. I have grown closer to God and have realized each day that I can trust God even while not understanding Him. I can cry out to Him for comfort and He responds. I am anxious to learn why He took us on this journey and I'm excited to see if we are to continue down the adoption journey and wait for another set of birthparents to select us. At this point, we're not sure of God's plan.

Yes, I still grieve. Yes, I'm disappointed. Yes, I still wake up startled from sleep, having dreamed about the baby. But, God has been healing my heart.

Over the last four weeks, I've continued knitting the baby's blanket, and it has been good therapy for me. I have one row left and it has been the hardest to knit. In fact, the blanket has sat unfinished for a couple weeks. I guess to finish it is to put a last stitch in a journey I don't want to end. I'm trying to remember that an ending for me is a new beginning for two young adults and a little baby boy.

So, I'll sit down and knit that final row. There will probably be a few tears, but also some prayers for that precious little boy. I'll mail the blanket to his mom as a gift from me. She gave me a special gift. It was the closest to being a mom I've ever been and it was a time I'll never forget. I want to thank her for that precious gift.


---

Image Credit: MeLissa LeFleur


---
Tags
:
Christian-Life
|
Family-Life
|
Hardships
|
Personal-Life
comments powered by

Disqus
Published on 4-15-2014