CHRISTIAN LIFE & GROWTH
Broken Promises


By Don Balbieran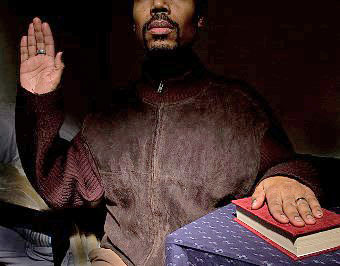 We often see or hear about people, or sometimes we ourselves make promises to God. In fact, in every religion — Christianity included — we see people performing countless devotional rituals as a sort of vow to God. But what happens when we fail or become inconsistent? Will God smite us or strike us with lightning when we fail to keep a promise? Will we lose our salvation? Will we lose our relationship with God? Will we diminish our "merit account"? Does "bad luck" strike us? If we had expected to get some "merit points" during a fast and failed halfway, does God reset our credits to zero so that we need to start over? To what extent does God keep track, if He keeps track at all? Will He withhold a blessing from us?

These questions arise from a blurred understanding of God, salvation, relationship, and grace. It somehow superimposes the image of some sore, capricious, petty, and needy deity on Him. In Christianity, God did it all for us, and gave us the privilege of a relationship with Him. Having a scriptural understanding of 1) our relationship with God, and 2) how much Jesus has done, will help us answer our question. The Bible says that we become God's children when we accept Christ (John 1:12). Jesus says that when we pray, we should address God as our Father (Matthew 6:9). Jesus' word, and the witness of the Holy Spirit (Romans 8:15) assure us of this relationship. While maintaining a reverent awe of Him, we can truly say then that we have a relationship with a true (divine) person that is based on free will. Think about our earthly fathers for instance, when we mess up: yes, they get hurt and offended (and will discipline us), but they won't deprive us of our privilege to come home, or use the family name. It is very important for us to understand God's fatherly character towards us, as Jesus amply taught.

The Bible also teaches that Jesus is able to save completely those who come to God through Him, and intercedes for them (Hebrews 7:25), and that we have been forgiven of all our sins (Ephesians 1:7, I John 1:7). Romans 8:32 also tells us, "He who did not spare his own Son, but gave him up for us all — how will he not also, along with him, graciously give us all things?"

We can therefore view all our efforts in regard to God as a response in order to nurture our relationship with Him and as an expression of our gratitude. From this paradigm, we observe sacraments, tradition, and spiritual disciplines, which include reading the Word, prayer, fasting, and other personal commitments. We go to church not to be saved but because we are saved; we fast and pray to commune with God, not to get Him to give us what we want; we give Him our devotion not to earn favor, but because His favor goes before us. He is pleased with us and He sees Jesus every time He looks at us, and there is nothing we can ever do to add to or subtract from what Jesus has done.

We need to examine our personal commitments though, as they may be promises made in haste, desperation, over-zealousness, or perhaps we just copied them from someone else. There is nothing inherently wrong in making promises to God, but the Bible warns us against making rash promises to God which we are unable to keep. Ecclesiastes 5:2-6 says it is better to not make a promise at all if we can't keep it. We should also consult God Himself on what sorts of things we can do and/or abstain from for Him. The Holy Spirit is there to guide us every step of the way so that it won't be a mere exercise in suffering and so that we can be certain He wants us to do it. If we are to abstain from something like Facebook or video games, we should not forget to "fill the void" by doing something positive like reading the Bible, or praying. A good way of looking at fasting is that one has skipped meals unknowingly while praying and reading the Bible. Just think of how time flew when you had your last TV series marathon and how it did not feel like a chore.

What then shall we do when we fail or slack off? Repent immediately, having assurance of His forgiveness (1 John 1:9)! Ask for His grace and move on (Titus 2:11-12), and don't let procrastination drag you into further regress. Will he count it against you? Hebrews 6:10 says "God is not unjust; He will not forget your work and the love you have shown him..."

The apostle Peter made a very strong vow not to deny Jesus even if he had to die (Matthew 26:35). We all know he failed miserably, but he got up, moved on in God's grace to become one of the founding fathers of the church!

It couldn't have been better stated: "For God so loved the world that He gave His one and only Son, that whoever believes in him shall not perish but have eternal life" (John 3:16). God's motivation is love. Love makes a world of difference such that the smallest thing we do is transformed from a mere ritual into an expression of love for our Savior — against which there is no law.


---

Image Credit: malik ml williams; "I do solemnly swear..."; Creative Commons


---
Tags
:
Biblical-Salvation
|
Biblical-Truth
|
Christian-Life
|
Sin-Evil
---
comments powered by

Disqus
Published on 10-21-14