CHRISTIAN LIFE & GROWTH
Can a Christian have a gay friend?


By Jennifer Waddle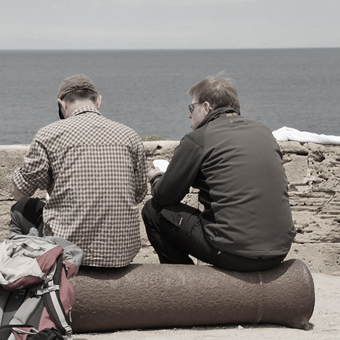 Friendships become very complex when they involve things that are contrary to the Word of God. Many of us are facing the reality of how to relate to those who have chosen the gay lifestyle. People we work with, those who live next-door, and even some in our own families have decided to embrace it.

But is it wrong for us to have gay friends?

Have you ever heard the phrase, "love covers over a multitude of sins"? The actual verse in the Bible says this: "above all things have fervent love for one another, for love will cover a multitude of sins" (1 Peter 4:8; NKJV).

The word fervent, in this passage, means without ceasing, strained, or stretched out. This indicates a love that is steadfast and longstanding, even in difficult circumstances — even toward gay friends. But how can we love them without approving of their choices?
But you, beloved, building yourselves up on your most holy faith, praying in the Holy Spirit, keep yourselves in the love of God, looking for the mercy of our Lord Jesus Christ unto eternal life. And on some have compassion, making a distinction; but others save with fear, pulling them out of the fire, hating even the garment defiled by the flesh. Jude 20-23; NKJV
Discernment is key. Praying for wisdom, remaining in the Holy Spirit, loving with God's great love, and having compassion mixed with holy fear, are essential in our relationships.

Here are some important things to keep in mind as we navigate through the complexity of this issue:

We do not have to participate in gay-related events. Yes, it will be awkward to decline the invitation, but it will be even more awkward to attend and feel like we are compromising our beliefs.

We can encourage, support and interact with gay friends so long as we remain steadfast in the truth. If we are tempted to be swayed, it would be wise for us to re-evaluate the friendship. We must hold everything to the light of Scripture. The Holy Spirit will guide us.

It's ok to disagree. Our friends may try to convince us that their lifestyle is loving and good. We should gently remind them that they were created in the image of God and for the purpose of bringing Him glory. We should seek opportunities to share the Gospel.

If they walk away from the friendship, we shouldn't take it too personally. We should continue to pray hard for them. Pray that we have planted a seed and that someone else will water it. Most of all, we should pray that they will come to know Jesus as Lord and Savior.

This is a tough issue, but it has become more and more a reality for a lot of us. Jesus himself reached across the lines many times, to defend the prostitute, heal the leper, and offer Living Water to the Samaritan woman. Remember, every sin that Jesus died for was just as ungodly as the homosexual's sin — including our own.
For when we were still without strength, in due time Christ died for the ungodly. For scarcely for a righteous man will one die; yet perhaps for a good man someone would even dare to die. But God demonstrates His own love toward us, in that while we were still sinners, Christ died for us. Romans 5:6-8; NKJV
We can humbly and fervently love our friends caught up in the gay lifestyle. We may even have a lasting impact on them, ultimately leading them to the Savior. In fact, we may be their only friend who loves them enough to speak the truth.

A word of caution: It is imperative, in this type of relationship, to guard our hearts and minds against the lies of the enemy. He would like for us to believe that homosexuality is not a sin, but an expression of love. In today's culture, we are bombarded with this declaration. However, let's always remember what the Bible clearly says:
Therefore God also gave them up to uncleanness, in the lusts of their hearts, to dishonor their bodies among themselves, who exchanged the truth of God for the lie, and worshiped and served the creature rather than the Creator, who is blessed forever. Amen. For this reason, God gave them up to vile passions. For even their women exchanged the natural use for what is against nature. Likewise also the men, leaving the natural use of the woman, burned in their lust for one another, men with men committing what is shameful, and receiving in themselves the penalty of their error which was due. And even as they did not like to retain God in their knowledge, God gave them over to a debased mind, to do those things which are not fitting; being filled with all unrighteousness, sexual immorality, wickedness, covetousness, maliciousness; full of envy, murder, strife, deceit, evil-mindedness; they are whisperers, backbiters, haters of God, violent, proud, boasters, inventors of evil things, disobedient to parents, undiscerning, untrustworthy, unloving, unforgiving, unmerciful; who, knowing the righteous judgment of God, that those who practice such things are deserving of death, not only do the same but also approve of those who practice them. Romans 1:24-32; NKJV
These words may seem harsh, but God makes it very clear that approval of the gay lifestyle is truth exchanged for a lie. Remember, "There is a way that seems right to a man, but in the end it leads to death" (Proverbs 14:12).

As with any friend bound by sin, we must remain faithful to God and His Word so that we will be able to discern what is right and good and fair.

It isn't wrong for a Christian to have a gay friend. But what kind of friend will we be?


---

Image Credit: cocoparisienne; untitled; Creative Commons


---
Tags
:
Biblical-Truth
|
Christian-Life
|
Controversial-Issues
|
Current-Issues
|
Personal-Relationships
|
Sin-Evil
---
comments powered by

Disqus
Published on 7-28-15