CHRISTIAN LIFE & GROWTH
Go be Jesus


By KJM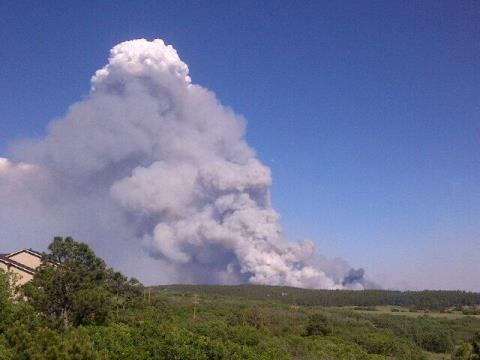 As I sit down to write this evening nothing can fill my mind beside the three – or is it now four? – fires burning along the Front Range here in Colorado. The second largest is in and around the Royal Gorge and threatening Canon City, a beautiful area and important tourist attraction. The worst, according to structures burned and acreage, is in an area called Black Forest, northeast of Colorado Springs, that is full of homes, history, and beautiful forest land.

Words such as "mandatory evacuation area," "containment: 0%," "fire mitigation ratings," and shelters are painfully familiar to Coloradans, and especially those in the Front Range and Colorado Springs area. Just last summer, 346 homes were destroyed in Colorado's most destructive fire on record. I had friends who lost their homes, and are still devastated financially and emotionally as they try to put the pieces back together. My father specializes in a part of his industry that was sorely needed by the emergency responders there, and he spent most of the week arranging equipment and traveling back and forth across the Front Range. He watched firsthand as the command post responded in shocked gasps and then a frenzy of activity when the fire suddenly changed directions and began engulfing homes.

Fires are a force of nature that must simply be gotten out of the way of. We love and support our firefighters, but in part because we know they fight a battle in which they have no chance until wind, temperatures, and fuel simply begin to run their course. A billow of smoke on the horizon is a horrific sight – and everyone within 50 miles can see it.

But you know what else I see during and after a fire or other natural disaster? I see people stop trying to be "properly Jesus centered" by saying blandly that "God is still good," but instead trying to become Jesus to the people around them. Offers of places to stay, food, clothing, a shoulder to cry on, a place to have a little normalcy for an evening, registries of who is safe and accounted for, churches just being open and available. There is nothing so beautiful to me than a community, especially the Christian community, dropping the platitudes, Romans 8:28, and simply acknowledging that people are hurting and have real physical and emotional needs.

As you pray for those affected by the fires here in Colorado, or as you evacuate your family and a few irreplaceable possessions, store this truth in the back of your mind for later: The beautiful reaction you have or receive during that worst 1% of the time really ought to be how you respond during the rest of the 99%.

Go be Jesus.


---
comments powered by

Disqus
Published on 6-12-13