CHRISTIAN LIFE & GROWTH
What's in a name?
Satan's names and Jesus' truth

By Denise M. Kohlmeyer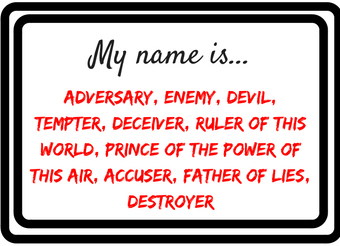 Single Page/Printer Friendly
Continued from Page One




Victory — He was victorious over Satan's attack in the wilderness, and He shows us by way of example how to overcome the tempter with the Word (Matthew 4:1-11).

Power and Authority — He is the Sovereign Creator of this visible world in which we live (though Satan has control of it for a time) and the invisible world which we cannot see (Genesis 1).

Peace — He alone restores peace between us and God through salvation, and peace between each other through reconciliation (Isaiah 9:6, Romans 10:13).

Advocacy — He pleads our sinful cases before the Father, who graciously forgives the repentant ones (Romans 8:34; 1 John 2:1).

Truth — He only speaks truth, with love and grace, into our wounded, sin-sick hearts, whereas Satan only speaks lies and deceit, with hate and malice, which further wound us (John 14:6).

Salvation — He alone saves us from our sins and has established a home for us in heaven, while Satan only seeks to keep us ensnared and thus destined for eternal damnation (John 10:10).

But how do we live in this power on a continual basis, and overcome the evil one? Through prayer. Pure and simple. We often live in defeat and discouragement because we don't utilize the power that is so readily available to us through prayer, prayers that are prayed "in His name."

By knowing and believing in the power, authority and character behind Jesus' names, we are more than amply armed to go into battle against our enemy; for in Jesus' name, we have the most devastating war-time weapon available to us. "Whatever you ask in My name, this I will do," Jesus promised. Why? "That the Father may be glorified in the Son" (John 14:13)

Jesus wants us to live victoriously, and He knows that the victory lies only in the power of His name. Not in Satan's!

Think of it this way:



Living under the power of Satan's names = defeat, discouragement, and despair.

BUT...

Living under the power of Jesus' names = salvation, abundant life, joy, peace, and victory!


Asking for help in Jesus' name — help to overcome "the flaming arrows" of Satan's schemes of lies, deceit, despair and disablement — is a prayer that God will always answer, because defeating Satan brings Jesus the greatest glory. And God the Father likes nothing better than to see His Son highly honored and exalted!

So, what do we ask for "in His name" practically, biblically, and specifically? We ask for:

His Strength — So that we can "stand firm" during the vicious onslaughts of our adversary (Ephesians 6:10).

His Truth — So that we can combat the deceit and lies Satan speaks to us (Ephesians 6:17).

His Power & Authority — So that we can overcome the evil one, for greater is He — and His name — who is in us than he who is this world (1 John 4:4; John 14:13).

His Grace, Comfort & Peace — So that we are sustained through our times of discouragement and despair, when we are at our weakest and most vulnerable to Satan's attacks (2 Corinthians 1:3-4).

His Deliverance & Forgiveness — For the times when we have succumbed to the sinful temptations of Satan (Matthew 6:13; 1 Corinthians 10:13; 1 John 1:9).

So, what's in a name? In Jesus' name, EVERYTHING: immeasurable and infinite power, power to deflect and defeat the flaming arrows of the evil one, power to live eternally and victoriously.

And it's all just a prayer away!


---
Tags
:
Biblical-Truth
|
Christian-Life
|
Hardships
|
Jesus-Christ
---
comments powered by

Disqus
Published on 9-12-16