CHRISTIAN LIFE & GROWTH
Handwriting the Bible


By Dillon Burroughs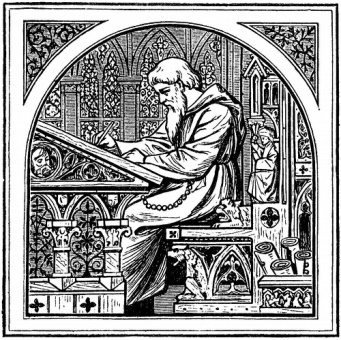 With the invention of the printing press, the ancient practice of copying the Scriptures by hand slowly faded from the traditions of the church. One of the last individuals to write the entire Bible by hand was Thomas a Kempis, a monk famous for authoring the devotional work The Imitation of Christ. In reading his devotional, I realized that page after page flowed with the words of Scripture. Why? He had devoted twelve years of his life to writing out every single word of it.

At the end of 2010, I had been praying about what to do next to help grow in my own personal life. I had read through the Bible several times and studied it in a variety of ways, yet when God began placing the idea of writing out the Bible in my mind, I quickly wanted to say no. My only handwriting seemed to consist of signing my credit card receipts. Almost everything I did involved typing rather than writing by hand. Yet this calling to focus my time in God's Word by writing it out would not go away.

I began in late December of 2010 with a simple plan. There are 260 chapters in the New Testament and 260 weekdays in the year. One chapter per weekday and I could complete the New Testament in one year. I even launched a blog to help provide accountability that I would post something about what I was writing each weekday. I simply called it the Holy Writ Project.

The results? First, I got a bit carried away. Instead of twelve months, I finished in nine months. While there were moments I thought I would never finish, the impact of so much time in Scripture, reflecting on every word, was overwhelming. When I faced temptation, a verse was quickly there. When I needed an answer in talking with someone about a spiritual question, the words were already on my tongue. I often did not know the exact chapter and verse, but I knew the words of Scripture relevant to the topic.

And now there's the Old Testament... unlike the New Testament, there are more than 900 chapters. After a few weeks of rest from completing the New Testament, I began in Genesis with the goal of keeping the same pace, giving myself three years to complete the entire project.

Currently, I'm on track to finish by the end of 2013.

I'm not sure if anyone else out there has completed a similar project, but my goal is not to compete or seek any awards for crossing the finish line. Instead, the goal is that of the apostle Paul who wrote, "Brothers and sisters, I do not consider myself yet to have taken hold of it. But one thing I do: Forgetting what is behind and straining toward what is ahead, I press on toward the goal to win the prize for which God has called me heavenward in Christ Jesus." (Philippians 3:13-14).

To read more about this effort or to share comments, see HolyWritProject.com.


---

Image credit: AJC1, Some rights reserved


---
comments powered by

Disqus
Published on 10-25-13