CHURCH & MINISTRY
Mercy To The Least Of These
A Spiritual Warfare Challenge

By Jonathan Fashbaugh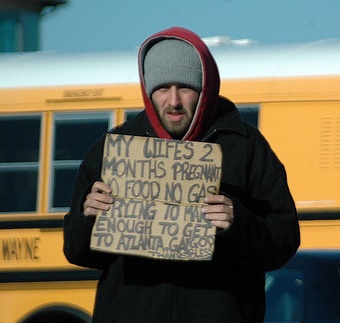 I had a cool thing happen this morning after my Tuesday morning men's group at church. I went to McDonalds to pick up some breakfast and I came across a guy who was kind of odd-looking. He looked like maybe he had a rough night; possibly hung over. His hair looked like he rarely cared for it and was nearing afro proportions in its volume and poofiness. He had a body odor problem, tattoos and a black beard that made the scowl on his face particularly off-putting.

My flesh wanted to move on, but I felt a gentle prod in my spirit to buy him a breakfast sandwich. I decided that whether this prodding was from God or not, the worst that could happen is that he would refuse the sandwich, so I followed the prod and bought the sandwich even though I was short on time, already had my food in hand, and was ready to get on about my day.

I gave it to the guy in sort of a matter-of-fact way, saying, "Hey, this is yours if you want it," and I set the bag with the sandwich on his table.

He said, "Sure," and immediately opened the bag to get to the sandwich. I think he was really hungry.

God spoke to me then and brought this scripture to mind"
While Jesus was having dinner at Matthew's house, many tax collectors and sinners came and ate with him and his disciples. When the Pharisees saw this, they asked his disciples, "Why does your teacher eat with tax collectors and sinners?" On hearing this, Jesus said, "It is not the healthy who need a doctor, but the sick. But go and learn what this means: 'I desire mercy, not sacrifice.' For I have not come to call the righteous, but sinners." Matthew 9:10-13
And this passage:
"Then the King will say to those on his right, 'Come, you who are blessed by my Father; take your inheritance, the kingdom prepared for you since the creation of the world. For I was hungry and you gave me something to eat, I was thirsty and you gave me something to drink, I was a stranger and you invited me in, I needed clothes and you clothed me, I was sick and you looked after me, I was in prison and you came to visit me.'

"Then the righteous will answer him, 'Lord, when did we see you hungry and feed you, or thirsty and give you something to drink? When did we see you a stranger and invite you in, or needing clothes and clothe you? When did we see you sick or in prison and go to visit you?'

"The King will reply, 'Truly I tell you, whatever you did for one of the least of these brothers and sisters of mine, you did for me.'" Matthew 25:34-40
The Challenge

Folks, if we're looking for breakthrough in our lives, one of the greatest forms of spiritual warfare that we can wage is to be obedient to the Holy Spirit and to look for opportunities to bless "the least of these."

When I walked out of that McDonalds and got into my car, the Spirit washed over me and brought me to tears with his joy, peace and affirmation. My Papa hugged me and said, "I'm proud of you."

I said, "I love you, God." And he said, "I love you too."

I've felt this kiss from God one other time. It was under similar circumstances, and in that instance, God healed me of Bipolar Disorder. I can't wait to see what comes about this time (although I may have to wait until I get to Heaven to see).

If you want to feel the touch of God, touch his heart by blessing his beloved children. By doing things that don't make sense in the natural, we make room for breakthrough!

So there's the challenge! Let's rise up and bless the heart of God this week!


---

Image Credit: Steve Baker; "Why Atlanta, just somewhere else to beg?"; Creative Commons


---
comments powered by

Disqus
Published 6-28-12