CHURCH & MINISTRY
The Love Of The Father


By Jonathan Fashbaugh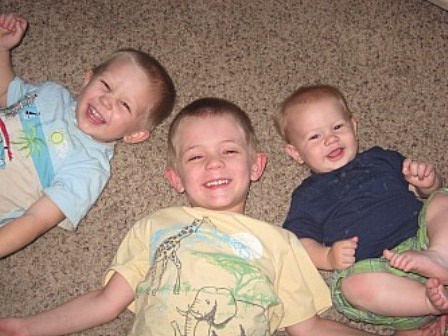 I am the father of three beautiful sons. Recently, I was looking lovingly at my boys and was just overwhelmed with the love of God. He showed me in that moment that the way I was looking at my sons was exactly the way that he looks at me only he loves me even more perfectly than I love my boys!

Not too long ago, I received another revelation from a Bible verse that we're all probably very familiar with:
John 3:16 — For God so loved the world that he gave his one and only Son, that whoever believes in him shall not perish but have eternal life. (NIV)
I used to operate under the subconscious impression that God the Father sent Jesus to this Earth to save us because Jesus loved us so much and wanted to do this thing, and the Father sort of humored him and might have said something like, "Oh son, if this is important to you, okay. You can go."

I really didn't think of God the Father as a loving God. I felt, again just sort of subconsciously, that God was that angry God in the sky that was ready to smite me with a lightning bolt if I screwed up and the only reason he hadn't done so yet was because I had accepted Christ.

But if we look at John 3:16 again, that's not what it says. It says that because God so loved the world, he gave his one and only Son, and he did that because he wants us to live with him forever. God loves us and has done incredible things to ensure an eternity with him.

When God looks at us, he looks at his sons and daughters and is overwhelmed with love just as I am when I look at my kids. I feel sorry for people who never have kids of their own because I don't know how they can possibly grasp how much parents can love their kids.

We were all born to a mother, but not everyone grew up in a loving home where they had a father who lavished them with love (1 John 3:1). Many of us had abusive fathers or cold fathers who never showed affection; others had altogether absent fathers.

My own father was never abusive, and I enjoy a good, loving relationship with him today, but I still never had any idea of the depth of love that he has presumably felt for me, much less the way that God loves me, until I had children of my own.

My Babies

I would do anything to protect my baby boys. I would certainly lay my life down no matter how painful the death. It takes restraint not to buy them every little toy, animal, or whatever that they say they want because I just want to see their faces light up. I know I shouldn't spoil them, but I just want to do everything in my power to express to them how much I love them.

Obviously, there are other ways to show my kids that I love them. They each have their own love languages. My 4 year old, Gavriel, definitely has touch as one of his love languages, and so I am careful to spend extra time hold him, kissing him, and caressing his little, angelic face. This kid is a powder keg of a boy, but he loves his father's touch. So do I...

I Am A Child Of God

It's written in black and white in the Bible, that we are children of God:
1 John 3:1 — See what great love the Father has lavished on us, that we should be called children of God! And that is what we are! The reason the world does not know us is that it did not know him. (NIV)
I used to sort of roll my eyes when people brought up Romans 8:15 when it talks about us crying out "Abba, Father," but now I can't help but talk to my Papa God. I love The Father's touch. He caresses me with his love. He showers me with blessings and his favor. He shows me and tells me how much he loves me every day if I will just slow down and watch and listen.

If you don't feel loved by God the Father, and especially if you don't have children of your own that you are head-over-heels in love with, quiet yourself right now and ask God to show you how much he loves you. You may not have an earth-shattering encounter with him right here and now, but if you pray that prayer and maintain a spiritual alertness for the Father's love, he will show you just how much he loves you.

A Word Of Encouragement From The Father

The other day, I was getting some ice from the freezer and God gave me a word of encouragement that just blessed my socks off. I have a handicap: I can't get ice out of the refrigerator, no matter how I go about it, without dropping ice on the floor. Before this day when God spoke to me, I used to get frustrated or sometimes just plain angry when I would be so careful grabbing a handful of ice out of the ice bucket and still, a cube would pop out of my fist and land on the floor. This particular time as I was bending over to pick up the stray piece of ice, God whispered to my spirit, "You try to grab hold of so many of my blessings that, just like this ice, some of them are bound to slip away. I like that about you."

Wow! I was so blessed by that. He didn't have to say that to me, but he did. Out of pure love for me, he took something that used to frustrate the tar out of me and turned it into something that now puts a smile on my face multiple times a day. I look at ice now and I see not just something that makes my drinks extra tasty, but I see the love of the Father.

That's my prayer for you too: that the Father would show you aspects of your life that he has anointed with his Father-God love for you, his son or daughter.


---
comments powered by

Disqus
Published 5-9-12