COMPELLING TRUTH
Rob Bell and "Love Wins"
Part 3: Universalism and the Truth about Hell


By Robin Schumacher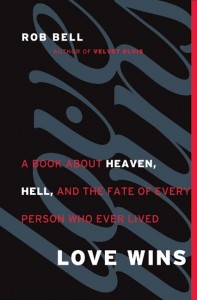 A recent poll taken by Barna of supposed born-again Christians showed that a full 25% believe in Universalism, the teaching that everyone will ultimately be saved and spend eternity with God. Even more people (40%) believe that Christians and Muslims worship the same God.

It's surprising how many web sites and forums are devoted to the teaching of Universalism. From a theological standpoint, Universalism can be a supported doctrine unless one limits the atonement of Christ. If Christ died for everyone, and all the sins of the world were placed on Him, then what stops everyone from being saved?

In addition, Universalists believe that the sovereignty of God also lends support to their position. In Rob Bell's book Love Wins, he asks: "How great is God? Great enough to achieve what God sets out to do, or kind of great, great most of the time, but in this, the fate of billions of people, not totally great. Sort of great. A little great" (pgs. 97–99).

At the heart of such statements and thinking are verses like, "This is good and acceptable in the sight of God our Savior, who desires all men to be saved and to come to the knowledge of the truth" (1 Timothy 2:3–4) and "The Lord is not slow about His promise, as some count slowness, but is patient toward you, not wishing for any to perish but for all to come to repentance" (2 Peter 3:9). If God is totally sovereign, and no purpose of His is ever thwarted, and He wants everyone to be saved, then according to Bell, God will get what He wants (pp. 102-3).

The presentation below looks at the various verses in Scripture that are used by Universalists to support their position and highlights statements made by Bell to show what he believes on the subject. You'll see that it takes a careful study of God's Word to refute the positions of Universalists like Bell and others.

We should remember that the first doctrine to be denied in Scripture is judgment. The Bible records Satan saying to Eve, "You surely will not die!" (Gen. 3:4). Unfortunately, many Universalists feel the same way and deny that an eternal separation from God is a reality for anyone who refuses Christ as their savior.

But simply put, once a thorough study of Scripture is made, it becomes apparent that those who reject Jesus Christ in this life will have their request honored also in the next.





---
Rob Bell and "Love Wins," The Series
Part 1: Truth loses when 'Love Wins'
Part 2: What really happens after death?
Part 3: Universalism and the truth about hell
---
comments powered by

Disqus
Published 11-22-12