CULTURE & ENTERTAINMENT
Art: Of Worship and Memory


By KJM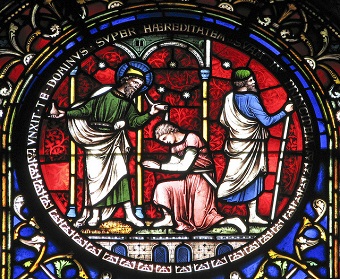 In my shared office, there is a picture of a bridge that is important to my coworker. It holds many memories for her, and is a beautiful picture to boot. This coworker also has pictures of family, Colorado, and steam punk octopuses — things she loves.

A few months ago I was visiting friends in Chicago and called this coworker from my favorite place in the Windy City. By the time I got back from my trip, there was a new picture in the office: that favorite park and its unorthodox view of the Chicago skyline. It was a lovely gift from her, and I love to look at it while I'm working, recalling all of the memories I made there.

On that same trip to Chicago, I stopped in at my former church — a beautiful stone building with stained glass windows made and shipped across the ocean from Germany well over 100 years ago. There are two main images in the church. One of the nativity, and the other a conglomeration of the crucifixion and resurrection. It thrilled my soul to sit in the pews for just a few minutes and reflect on those images which had been my weekly accompaniments in worship when I lived there.

Why all the anecdotes? So there are some pictures in my office, and the stained glass was nice at my old church...

The anecdotes are important because they are about memories. The picture of my friend's bridge isn't just that, it's a portal to her memories. The stained glass is the same thing — a way to remember something important.

For some reason it has become a discussion whether art is important in our churches. I understand why expense has something to do with it. After all, there are many things that deserve monetary attention in a church — art just doesn't make the cut too often. So why, over 100 years ago, did the then-parishioners of my Chicago church decide it was worth the incredible expense of having German-made windows shipped to them?

I think the answer is memory and beauty. Beauty is a simple reason — God created humanity to desire and appreciate beauty, whether that be in God's creation or the stick-figure drawing a child hands to us — or pictures of beautiful places we used to visit often.

But what I think is more important is memory. The pictures in my office are beautiful, but without the memories attached to them that is all they are. What makes them so special is remembering. That is also what made the stained glass windows so important: not only were they beautiful, they reminded me every week of arguably the three most important events in history. They also connected images to my memories of the teaching, community, and worship in that church.

I think it is important to recall that one of Jesus' final commands to his disciples was to "do this in remembrance of me" (Luke 22:19). He gave us a corporeal and visual way to keep our memory of Him alive. Again, we see memory and vision and beauty all caught up together in worship.

Images, art, memories — they are all important as we worship the God who made us to desire these things. The artist and artisan may be the most important asset to your worship service, providing the beauty and memory that Jesus encouraged us to keep. May God bless artists as they aid us in worship.


---

Image Credit: Lawrence OP; "David is anointed King"; Creative Commons


---
Tags
:
Christian-Life
Church-Issues
---
comments powered by

Disqus
Published 6-15-15