EXPLORING THE WORD
Discontentment
Alice Trebus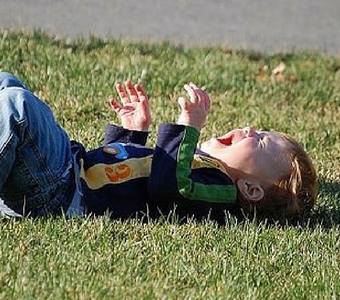 Single Page/Printer Friendly
Continued from Page One




CONTENTMENT MUST BE LEARNED

The apostle Paul learned to be content. His physical circumstances did not determine his attitude or control his emotions. He wrote, "I am not saying this because I am in need, for I have learned to be content whatever the circumstances. I know what it is to be in need, and I know what it is to have plenty. I have learned the secret of being content in any and every situation, whether well fed or hungry, whether living in plenty or in want. I can do everything through Him who gives me strength" (Philippians 4:11-13).

The secret of being content is trusting that Jesus will supply what is sufficient for our needs and will equip us to fulfill His plan for us.

In another familiar passage, Paul pleaded with God three times to remove a physical infirmity that plagued him, but God did not: "Three times I pleaded with the Lord to take it away from me. But he said to me, 'My grace is sufficient for you, for my power is made perfect in weakness!' Therefore I will boast all the more gladly about my weaknesses, so that Christ's power may rest on me" (2 Corinthians 12:8-9). Sometimes God uses afflictions to help us grow spiritually.

WE CAN BE CONTENT BECAUSE GOD'S PRESENCE IS CONSTANT AND HIS RESOURCES ARE INFINITE

God's Word tells us to be content and satisfied with our material resources and physical condition because the Lord is with us: "Keep your lives free from the love of money and be content with what you have, because God has said, 'Never will I leave you; never will I forsake you" (Hebrews 13:5).

Health, money, people and possessions will always let us down. God won't. He promises never to forget, neglect, or abandon us. We are precious to Him.

THE FEAR OF THE LORD BRINGS PEACE

"The fear of the LORD leads to life: Then one rests content, untouched by trouble" (Proverbs 19:23). Fear of the Lord means a loving reverence for God, and that includes submission to His Lordship and His Word.

To be "untouched by trouble" doesn't mean we won't have problems. This is a fallen world, and trouble and suffering are part of life here on earth. What this phrase does mean is that trouble will never touch the inner core of our being, where the Spirit dwells. Trials will give us endurance and maturity, but should not devastate our faith. We can be content, even in our trials, because God is sufficient.

If discontentment pervades one's spirit, gratitude to God for His faithfulness is the solution. Revering God, trusting Him and being content in all circumstances will free our spirits. As the saying goes, we should count our blessings.

CONCLUSION

In John 6, Jesus feeds 5000 people with 5 barley loaves and two fish. The next day, the people sought Him out again — but it wasn't because of the miracle they had witnessed, or because they wanted to worship Him. It was because they wanted a free meal (6:26). Jesus knew this:
"Do not work for food that spoils, but for food that endures to eternal life, which the Son of Man will give you. On Him God the Father has placed His seal of approval." Then they asked him, "What must we do to do the works God requires?" Jesus answered, "The work of God is this: to believe in the One He has sent." So they asked Him, "What miraculous sign then will You give that we may see it and believe You? What will you do?" (John 6:27-30)
These people missed the point of having a Savior entirely, just as the Israelites did. God's purposes aren't focused on providing whatever we want, or only providing what we need — or creating a magic show. If God just handed us whatever we wanted, what kind of relationship would we have with Him? Without having to develop the patience to wait and see what God planned for us, the relationship would be superficial and based on the temporal — that which decays and is ultimately destroyed. A close, personal, spiritual relationship with God is priceless.

Even if we have wandered in our own wilderness for 40 years or more before beginning to understand what it means to commit to Christ and what it means to pursue the eternal rather than the spiritual, we must not let regret hinder our further spiritual development. We can learn to rest in Christ and ultimately be content in all circumstances, because only God can fill the emptiness inside of all of us.
…be content with such things as you have. For He Himself has said, 'I will never leave you nor forsake you.' So we may boldly say, 'The Lord is my helper; I will not fear. What can man do to me?' (Hebrews 13:5-6)
A heart at peace gives life to the body, but envy rots the bones. (Proverbs 14:30)
---

Resources: The Holy Bible
Cathy Horner; "Envy is the Refuse of Discontent
"Uncover the Root of Envy, and How it Breeds Discontentment"
Vickie Kraft"Facing Your Feelings 15: Dwarfed by Discontentment"
"Joshua and Caleb: 'Messiah-in-You'"


Photo credit: timlav; Creative Commons


---
Tags
:
Christian-Life
|
Sin-Evil
---
comments powered by

Disqus
Published 3-3-2014