KEEP WATCH
Social Gospel
Part 7: Too Bad for the Pretenders
Jim Allen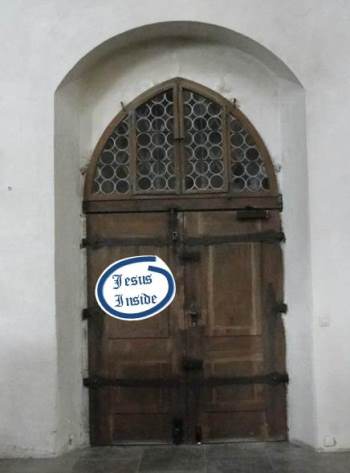 Part 1: Why do Christian liberals loath Christian Conservatives?
Part 2: Does Social Gospel reflect our deepest held values?
Part 3: Did Jesus come to be a world-changer?
Part 4: What is the power of liberal theology?
Part 5: Is the Spirit of Unity Biblical?
Part 6: The End Time Gathering of Souls


The highly admired and beloved Pope Francis said during a recent Mass, "Our Christian identity is belonging to a people — the Church. Without this, we are not Christians. We entered the Church through baptism — there we are Christians." [1] The Pope went on to say anyone professing to be a Christian who is not Catholic is living in a make-believe world stopping them from understanding Christ who has a lasting and rich history in the church.

Of course, hearing this from the Pope is not surprising because the Roman Catholic Church has always held this view; they have always taught that anyone outside its protective walls is an enemy of God, a child of the devil, and destined to hell.

Though the Pope is half right when he says Catholics enter the church through baptism, it is also true there are two baptisms. One is of water (symbolic) and the other is of the Spirit, of which Jesus spoke to Nicodemus (John 3:1-23). The Pope speaks openly and plainly about the first, the physical baptism wherein priests baptize infants into the faith; but then by inference teaches that the holy sacrament of water baptism includes the act of being born again by spirit and the word.

The Pope believes one's salvation is possible only from within the protective covering of the Catholic Church through the administration of the sacraments of grace, the first of which — the gateway to all others — being infant baptism. But, is this the salvation model the Bible would have us follow?

The thief on the cross experienced the reality of salvation apart from the Catholic Church. The criminal, after reflecting upon his unworthiness, turned to Jesus and said, "Lord, remember me when thou come into you kingdom" (Luke 23:42). Jesus heard the thief's remorseful cry (Romans 10:13) and knew faith for him had come alive (John 11:25).

The thief, in that brief moment of dialog, went from lost to saved. It was that quick and it was that simple. There was no protective covering of the Catholic Church. There were no sacraments of grace to save him. The thief believed on Jesus (as Lord and Savior) and was saved. That to me is absolutely amazing; and, that is how Jesus saves today (Malachi 3:6).

Moreover, the Bible is very clear on one point. Those who worship God will worship Him in spirit and in truth (John 4:24); and, they will do so without the shackles of organized religion and the heavy hand of the ruling clergy. God is revealing this truth to teach one overall lesson:
The overall lesson about worshipping the Lord in spirit and truth is that worship of God is not to be confined to a single geographical location or necessarily regulated by the temporary provisions of Old Testament law. With the coming of Christ, the separation between Jew and Gentile was no longer relevant, nor was the centrality of the temple in worship. With the coming of Christ, all of God's children gained equal access to God through Him. Worship became a matter of the heart, not external actions, and directed by truth rather than ceremony. [2]
According to the Pope, true worship can only ensue in a church setting regulated by a long history of rich worship guided by holy tradition; and, that this setting can only be the Catholic Church. One inconvenient fact the Pope failed to mention is its long and dark history of abuse and loathing intolerance towards non-Catholics and Catholics alike.

I was baptized into the Catholic faith as an infant. I grew up studying Catholic doctrine and history and felt the heavy hand of discipline when failing to measure up to its ridged creeds of obedience and good works. I was taught that coming to Christ was only possible through the Sacraments of Grace and non-Catholics did not have equal access to God. I was also taught that true worship was the outward display of holy deeds guided by ceremony. I was not saved by any of these teachings and ceremonies.

Little has changed in this institution since the early years of my youth. They still look upon anyone outside their safe harbor of deliverance as misguided and living in a make-believe world, as stated by the Pope. Accordingly and because non-Catholics like us have impaired vision, we cannot possibly know or understand Christ.

The Bible teaches a genuine Christian is the church, not some bureaucratic organization with stone walls wielding biblical half-truths made up by its modern day Pharisees (John 15:5). Jesus is saying to these holy men of God, "Woe unto you, scribes and Pharisees, hypocrites! For you are whitewashed tombs, which indeed appear beautiful outwardly but are within full of dead men's bones, and of all uncleanness" (Matthew 23:27).

In closing, there is no need to disclose the woeful shame of these religious institutions* having perpetrated so much evil on the innocent, which are those having entrusted their fate to such men of religious persuasion. There is no need to list the many heretical teachings that do more to damn than deliver the soul.

Our Christian identity is not in a people called the church or in an institution with a long history. Our identity is in Christ who indwells the true church, a people born of God (1 John 5:4).


---

* With the exception of some biblically sound churches, this article includes non-Catholic churches that have also hijacked the true Gospel by adding their own unique amalgam of error while claiming to have a corner on truth.


1. "Pope Francis Says Christians do not Exist outside the Roman Catholic Church"
2. Got Questions; "What does it mean to worship the Lord in spirit and truth?"


Image Credit: Kersley Fitzgerald


---
The Social Gospel; The Series
Part 1: Why do Christian liberals loath Christian Conservatives?
Part 2: Does Social Gospel reflect our deepest held values?
Part 3: Did Jesus come to be a world-changer?
Part 4: What is the power of liberal theology?
Part 5: Is the "Spirit of Unity" Biblical?
Part 6: The End Time Gathering of Souls
Part 7: Too Bad for the Pretenders
---
Tags
:
Biblical-Salvation
|
Biblical-Truth
|
Controversial-Issues
|
Current-Issues
|
False-Teaching
---
comments powered by

Disqus
Published 5-30-14