CURRENT AFFAIRS
A Godly Church in a Hostile Culture


By Wendyl Leslie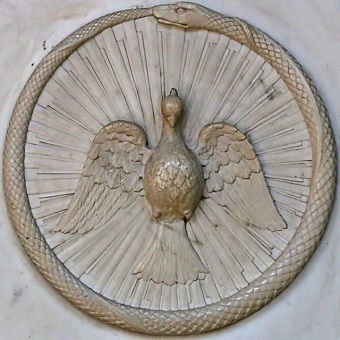 Single Page/Printer Friendly
Continued from Page One




But we must be aware of the fact that the Bible has also made it clear to us is that God sometimes uses evil and wicked people to accomplish His purpose. Sometimes evil people and their actions are permitted to spur His people on, to get their hearts right with Him; even to punish them for not following His commands.

For example, it was God's plan that evil people murder Jesus: "This man [Jesus] was handed over to you by God's set purpose and foreknowledge; and you, with the help of wicked men, put Him to death by nailing Him to the cross" (Acts 2:23). This is a perfect example of God's sovereignty and people's responsibility — both in the same sentence. God's prearranged plan was His will to bring salvation to people through the death and resurrection of Christ. Though God's will is sovereign, He works through people and events of history. Even putting Jesus to death by evil people fulfilled God's plan. The "wicked men" (the Romans) had been involved, but they had been merely "helping."

Pharaoh is another illustration of how God uses evil people to carry out His will: "For the Scripture says to Pharaoh, 'For this very purpose I have raised you up, that I may show My power in you, and that My name may be declared in all the earth'" (Romans 9:17). God had purposely placed that particular Pharaoh in that particular position at that particular time in history so His great power would be displayed (through the miracles witnessed in Egypt and by the incredible release of the Hebrew slaves), and so His name would be known over all the world. God put up with Pharaoh's fickleness and defiance for quite some time, but all for the same purposes. Pharaoh became mired in his own rebelliousness. In fact, part of God's judgment on Egypt was the hardening of Pharaoh's heart. Eventually, those nations who heard what God had done for His people in Egypt greatly feared the Israelites and their God.

But the point I'm driving at is that though God wants us to obey our governing officials, He doesn't condone our disobedience if such laws circumvent His. I'm thinking you'll agree with me when I say that for far too long the church has been slack in preaching against the evils this nation. We have succumbed to the evils of abortion, homosexuality, drugs, false teachings in the church, tolerance of sexual immorality, and on and on. The church no longer stands as a beacon in the night "blameless and pure, children of God without fault in a crooked and depraved generation, in which you shine like stars in the universe" (Philippians 2:15).

In his letter to the church in Philippi, the Apostle Paul explained the importance of the believers' actions — they needed to clean up their act in order to fulfill their mission of spreading the gospel. Paul's advice for their "housecleaning" is summed up in two words: blameless and pure. Anymore, it's difficult to distinguish the church from the world, as its philosophy has changed from "not being of the world" to that of "being like the world." It's like the well-renown Christian apologist and best-selling author Ravi Zacharias said about the decline of the church today: "What we [the church] wins with them, is what we win them to."

First, the church is to be "blameless." This means being beyond reproach, incurring no justifiable criticism. This does not mean sinless perfection; instead, the church is to be beyond the criticism of the unbelieving world.

Second, the church is to be "pure" (also translated "innocent"). The Greek word "akeraioi" — ἀκέραιος — was used to describe wine that had not been diluted or metal that had no weakening alloys. Jesus used the word when He told His disciples to be "innocent as doves" (Matthew 10:16); Paul employed it when he told the Christians in Rome to be "wise about what is good, and innocent about what is evil" (Romans 16:19). There should be nothing within the church that could weaken its strength or contaminate the truth. When a church is filled with disputes, arguments, bickering, and divisions, it cannot be blameless, for those outside the church are the first to spot such problems and to point critical fingers. Nor can such a church be pure, for such problems will undermine its strength. If the church can be blameless and pure, it will be able to fulfill its mission in the world and will conduct itself "in a manner worthy of the gospel of Christ" (Philippians 1:27).

It would only be then that the church would be recognized as the children of God "without fault in a crooked and depraved generation." Paul was quoting from words that Moses used to describe the nation of Israel when it went astray: "They have acted corruptly toward [God]; to their shame they are no longer his children, but a warped and crooked generation" (Deuteronomy 32:5). Moses was describing apostate Israel, but Paul applied the words to the culture surrounding the Philippian church. Without a doubt, the Philippian believers lived in a generation filled with dishonesty and perversion even as our own generation today. But there is great significance to the little word "in."

While believers are rescued out of the present evil age (Galatians 1:4) and are no longer of the world (John 17:16), they are not taken out of the world (John 17:15). They are "in" the world and have been given a commission to go "into" the world with the Good News (John 17:18). The church of Philippi needed to fulfill its mission in the world, and it could best do so by being blameless and pure children of God right in the middle of the depraved culture.

God's will is for the body of believers to remain pure and blameless even living in a godless culture; so much so, that the contrast within their culture is so stark that it's as if they shine like stars. They bring the light of truth into the darkness of depravity, as stars light up the darkness of the night. Indeed, Jesus told those who believe in Him: "You are the light of the world...Let your light shine before others, so that they may see your good works and give glory to your Father in heaven" (Matthew 5:14, 16).


---

Image Credit: Leo Reynolds; "serpent and dove"; Lichfield Cathedral, Stafford-shire, EnglandCreative Commons


---
Tags
:
Biblical-Truth
|
Christian-Life
|
Church-Issues
|
Current-Issues
|
False-Teaching
|
Hardships
|
Sin-Evil
---
comments powered by

Disqus
Published 6-1-2015