SCIENCE & TECHNOLOGY
The Bible and Interplanetary Colonization


By Sally Plemons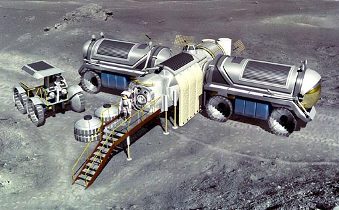 Printer friendly/single page
Part 1


He created it to be inhabited by man. It is man's dwelling place, and no other heavenly body can support the perfect eco-system that is vital to life. Even the sun is placed exactly where it must be, so as not to scorch and/or incinerate life on planet earth. Even though the flood of Noah compromised and altered the environment, topography, geology, and ecology of the planet, God still protected His children from the catastrophic effects of the deluge, and He declares as much in Psalm 104:1-9:
Bless the LORD, O my soul! O LORD my God, You are very great; You are clothed with splendor and majesty, Covering Yourself with light as with a cloak, Stretching out heaven like a tent curtain. He lays the beams of His upper chambers in the waters; He makes the clouds His chariot; He walks upon the wings of the wind; He makes the winds His messengers, Flaming fire His ministers. He established the earth upon its foundations, So that it will not totter forever and ever. You covered it with the deep as with a garment; The waters were standing above the mountains. At Your rebuke they fled, At the sound of Your thunder they hurried away. The mountains rose; the valleys sank down To the place which You established for them. You set a boundary that they may not pass over, So that they will not return to cover the earth.
Dr. Morris understood that man was meant to dwell upon planet earth and nowhere else in the universe. The stars and planets have a purpose, but it is not to sustain man. God has already stated that He placed them in the heavens to be signs that man could understand, so that he could look up and see that his Redeemer was working out His plan, giving him hope for a future, just as He states in Jeremiah 29:11-13:
'For I know the plans that I have for you,' declares the LORD, 'plans for welfare and not for calamity to give you a future and a hope. 'Then you will call upon Me and come and pray to Me, and I will listen to you. 'You will seek Me and find Me when you search for Me with all your heart."
There are many theories regarding the necessity of space travel and exploration, and there is also the theory that the entire universe is a hologram — a reflection of a greater reality. But at this particular moment in time, according to God's command, His children are to spend their time trying to reach the lost with His gospel, rather than spending money and time going to places where people do not even exist, and this is the point that Dr. Morris is making. Jesus came once to planet earth, and not to any other planet, star, or heavenly body, and He is coming again — to planet earth alone, for His stated purpose in Luke 19:10: "For the Son of Man has come to seek and to save that which was lost." Only human beings are lost, so God is concerned solely with their salvation.

If there was life — intelligent, sentient life — on another planet, then God would surely have written it in His word — the Bible. God created everything with man in mind, because His only begotten Son, Jesus, delights in human beings, and this is not said about any other beings — only humans — according to Pro 8:22-31:
'The LORD possessed me at the beginning of His way, Before His works of old. From everlasting I was established, From the beginning, from the earliest times of the earth. When there were no depths I was brought forth, When there were no springs abounding with water. Before the mountains were settled, Before the hills I was brought forth; While He had not yet made the earth and the fields, Nor the first dust of the world. When He established the heavens, I was there, When He inscribed a circle on the face of the deep, When He made firm the skies above, When the springs of the deep became fixed, When He set for the sea its boundary So that the water would not transgress His command, When He marked out the foundations of the earth; Then I was beside Him, as a master workman; And I was daily His delight, Rejoicing always before Him, Rejoicing in the world, His earth, And having my delight in the sons of men.
Dr. Morris was not saying that space travel is wrong, only that it is unnecessary and a waste of time and money, so in that regard it is, at its best, bad stewardship, and at its worst, a denial of God's own words as written in Genesis 1. The majority of astronomers, cosmologists, and scientists desire to explore the planets, along with the moon, in order to further their belief in evolution. Many believe in panspermia — the seeding of planet earth by an outside source, namely, an alien life form from another planet and/or galaxy; others believe in the Big Bang Theory, that a nothing particle banged against another nothing particle and something was created. Neither of these theories holds water when weighed against God's own explanation of how, when, and why He created everything, and neither do any of the other evolutionary ideas that have sprung from the depths of man's mind, inspired by Satan, in his quest to be God (Isaiah 14 and Ezekiel 28).

God's focus is on the redemption of mankind — human beings — and He expects His children to carry out His commission on the earth, as commanded in Mark 16:15-16:
And He said to them, 'Go into all the world and preach the gospel to all creation. He who has believed and has been baptized shall be saved; but he who has disbelieved shall be condemned.
After the Millennial reign is over, man can only speculate as to what awaits those who have endured and been found worthy to spend all eternity in the presence of God, as declared in Ecclesiastes 3:11:
He has made everything appropriate in its time. He has also set eternity in their heart, yet so that man will not find out the work which God has done from the beginning even to the end.
---

Image source: NASA


---
Tags
:
Current-Issues
|
Science-Creation
---
comments powered by

Disqus
Published 12-20-13