THEOLOGY & APOLOGETICS
What authority does Jesus have?

By Gary Meredith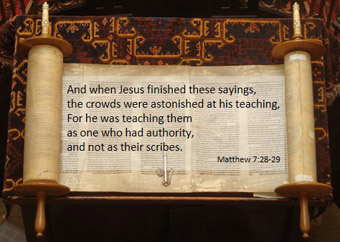 Then Jesus came to them and said, "All authority in heaven and on earth has been given to me. Therefore go and make disciples of all nations, baptizing them in the name of the Father and of the Son and of the Holy Spirit, and teaching them to obey everything I have commanded you. And surely I am with you always, to the very end of the age." Matthew 28:18-20
The above Scripture passage, famously called the "Great Commission," is the only place in the Bible fully stating that all authority in all physical and spiritual reality belongs to Jesus. However, many other passages elaborate on Christ's total authority, or reveal specific parts of it.

Legitimate authority in the Bible is always given by one (higher) person to another. The ultimate source of all authority is God. Because God didn't get his authority from anyone else, no one can demand that He explain what right He has to do anything (Isaiah 45:9; 64:8; Romans 9:20-21). Therefore, anyone who can prove that their authority for what they do comes from God must be obeyed. So it was and is with Jesus.

During his earthly ministry Jesus gave hints of that mystery little by little, gradually revealing the mind-boggling truth of his authority in ways no witness could rationally deny. He began with his teaching, presenting lessons that were new and original (though solidly grounded in the Old Testament). This surprised the people who were used to Bible teachers who cited other human teachers for their authority (Matthew 8:28-29; Mark 1:27).

Jesus next revealed his authority over demons, and over disease (Mark 1:27-34), which He had the authority to give his disciples (Luke 9:1-2; 10:17). He greatly upset religious experts by his authority to forgive sins, which God alone has (Mark 2:5-12). Then he astonished his disciples with his authority over nature when he ordered a storm to be quiet (Mark 4:39-41).

Things really came to a head with the religious experts and leaders in Jesus' final days on earth when, for the second time, He asserted his authority over the Temple in Jerusalem, driving out the merchants and money changers (Mark 11:15-17, 27-28). Jesus had done the same thing at the start of his ministry when, most startling of all, He claimed as future proof for all his other claims the authority to give up his life and take it back again — to die and rise from the dead (John 2:18-19; 10:17-18).

But the religious leaders refused to acknowledge Jesus' authority or its Source many times, even to the point of blasphemy (Matthew 12:24-32), though God made it clear and undeniable to them (John 9:40-41). They did the same after his resurrection (Acts 4:5-7, 16). Their unbelief was in stark contrast to the Gentile Roman centurion who, in simple faith, grasped the truth about Jesus' authority and believed it (Matthew 8:5-13). That is why Jesus so highly praised the man, telling his followers, "Truly I tell you, I have not found anyone in Israel with such great faith" (Matthew 8:10).

When Christians today say we are acting "in the name of Jesus," it is the same as claiming that we are acting under the authority of Jesus Christ — an awesome responsibility never to be taken lightly or flippantly (Exodus 20:7; Acts 19:13-16). All our authority to serve God comes from Jesus Himself (Matthew 28:18-20), because He is the only authority in all heaven and earth to bring people to salvation by faith (John 12:32; 14:6; Acts 4:12), to raise them to eternal life (John 6:39-44, 54), and to judge their entire lives (2 Corinthians 5:10).

One last point: "All authority on heaven and earth" includes good and evil, human and demonic authorities. The authority of evil human rulers comes from God Who gives it and can take it away (Daniel 4:24-26). That includes the authority God gave Pontius Pilate to crucify Jesus (John 19:11), and of all worldly authorities who have governing power over us and all people (Romans 13:1-7). This is also true of the authority God gave Satan to harm Job but not kill him (Job 1:12; 2:6) and to possess all nations in the world until Christ comes again (Luke 4:5-7; James 4:4), authority which Satan delegates to a variety of rulers, authorities and powers of this dark world, and the spiritual forces of evil in the heavenly realms (Ephesians 6:12). At the end of time God will judge every ruler according to how they used the authority He gave them (Revelation 6:15-17). In the end all authorities, good or evil, earthly or heavenly, will acknowledge the ultimate, total authority of Jesus over them (Philippians 2:9-11; Revelation 5:11-14; 17:14), as Jesus in turn "hands over the kingdom to God the Father after he has destroyed all dominion, authority and power" (1 Corinthians 15:24).

So, too, God will judge each of us for how we used whatever authority He gave us, whether little or much (Luke 12:48; Matthew 25:14-28), as, for example, parents, teachers, coaches, mentors or bosses. And so our aim in life should be to use the authority God gives us in such a way that at the end we will hear Him say to us, "Well done, good and faithful servant!" (Matthew 25:21).


---

Image Credit: Lawrie Cate; "Torah"; Creative Commons


---
Tags
:
Biblical-Truth
|
Jesus-Christ
---
comments powered by

Disqus
Published 12-14-2015