THE TAKE AWAY
We Adopted the Kid
...and a whole new way of looking at God

By Kersley Fitzgerald



We were hiking a trail in Waterton National Park in Alberta. Our honeymoon had started in Sooke, on Vancouver Island, and we were making our way through Kamloops, Canmore, and Waterton, back home to Great Falls, MT. It was September, 1995, when the bears would be fattening up for their long winter's sleep.

Which was the only reason I was talking about having kids. I didn't want kids. Not ever. But I also didn't want to be eaten by a grizzly on my honeymoon. We had no bear-bells or mace, so we were talking, loudly, about kids.

"But don't you want a kid who looks like you?" Dev glanced back at me on the narrow trail. "I want someone who looks like both of us."

"You just want someone to pass on the family name," I countered, a bit unfairly. "You may have grown up in Topeka, but you've still got those Iowa farm-boy genes."

He hoisted his pack higher on his shoulders. "Yeah, partly."

"Well, I don't have that choice." I hopped over a puddle in the trail. The boots were new, and I wanted them to last. "My dad's mom had only sisters. Both my mom's parents, their names died out."

Where was this defensiveness coming from? Was I really resentful of Dev? Wasn't I taking the unnatural position? The "anti-quiverful" position?

"Why don't you want kids?" He stopped and turned to face me, but I pushed past him.

"I don't know. I never have. I've never wanted to be pregnant. I have no desire to create another being with my genetic flaws—my allergies." I didn't want a kid. But I had a very strong feeling God had other plans. Maybe I could still have my way…somewhat. "But if I did, I'd want to adopt."

"Adopt?" He jogged to catch up with me.

"Yeah. My cousins are adopted. My grandma's brother was adopted. Grandma's husband adopted three or four. It's a family tradition."

I reached the end of the trail. A picture-perfect lake reflected the tall pine trees and the blue, cloud-scattered skies. If I was a bear, I'd live here.

Dev stopped next to me and took in the view. "Well, I'd want at least one that looked like us."

That sounded fair. "One of each?"

"One natural and one adopted?"He took a drink from the water bottle and offered it to me. "I could go for that."

The "natural" never came. In February of 2003, we went to Bangkok to pick up JT, our lone little arrow for our quiver. (We were later to learn he is not an arrow. He's a rocket-launcher.) We brought him to our then-home in Alabama where he spent the next nine months crying. Immediately, the spiritual lessons began. Every other phrase to him, I'd get a picture of God with one raised eyebrow—"Yes?…" He'd seem to say. "I wonder how that applies to you…" I'd heard all the platitudes about how adopting a child is like God adopting us, but getting the Creature gave me more insight into God's perspective than I thought possible.

The first lesson happened the first night home. Alabama is off Bangkok time by eleven hours. That's hard to adjust to. JT had slept in a family bed with his foster family, and wasn't used to a crib. I stayed with him all night, rubbing his back, trying to get him to calm down and stop crying.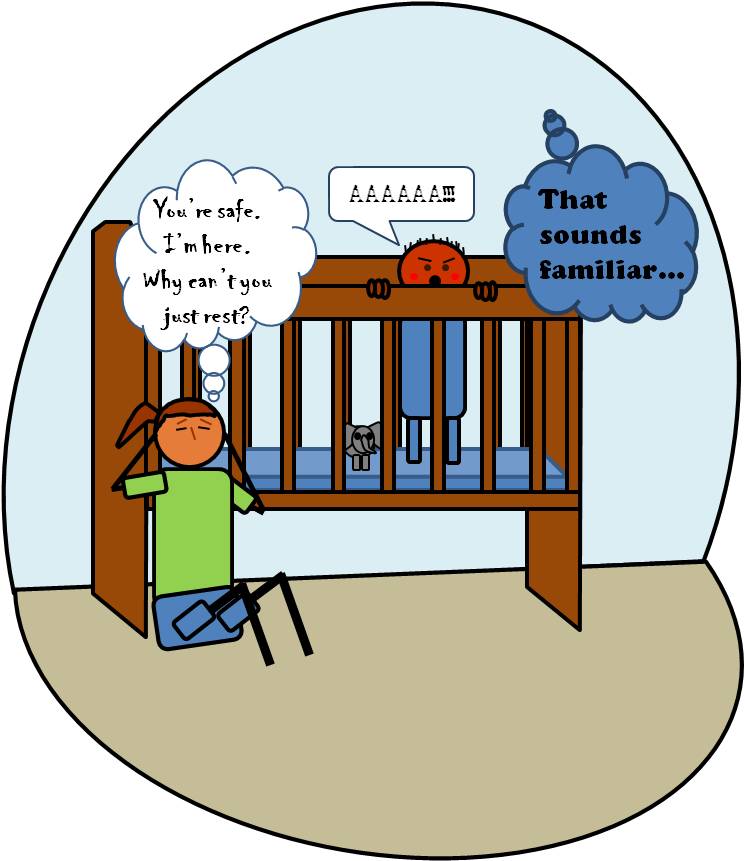 "I just want you to rest!" I said. "If you rest, you can get up and go tomorrow. Conquer the world."

I almost heard God's laugh. "How many times have I told you that?"

How many times had He given me opportunity to rest and prepare for the next big thing, and I'd filled my day with stuff, instead? JT didn't get to sleep that night until around six in the morning, but I learned to look out for God's rest much more closely.

Throughout the years, we've learned a whole lot more about our relationship with God and how it so perfectly reflects our adoption of JT. Some of it from the point of view of an abandoned child, looking for a home. Some from just the over-all concept of adoption.

But the first lessons were about Father-God and how He sees us. And how we must drive Him to distraction.


---
Adoption, The Series
Part 1:
Adopting a New Way to Look at God
Part 2:
Adopted by Father-God
Part 3:
Adopting a New Life
Part 4:
A Whole New World
Part 5:
Adoption is Forever
---
Tags
: |
Christian-Life
|
Family-Life
|
Personal-Life
|
Personal-Relationships
---
comments powered by

Disqus
Published 4-20-11