THE TAKE AWAY
No Excuse
2 Corinthians 6 and the Wide-Open, Spacious Life


By Kersley Fitzgerald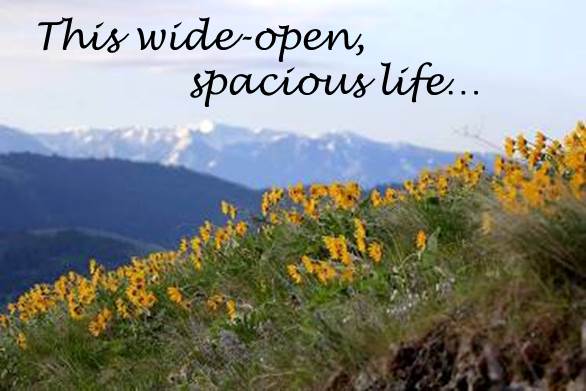 Companions as we are in this work with you, we beg you, please don't squander one bit of this marvelous life God has given us. God reminds us,

I heard your call in the nick of time;
The day you needed me, I was there to help.

Well, now is the right time to listen, the day to be helped. Don't put it off; don't frustrate God's work by showing up late, throwing a question mark over everything we're doing. Our work as God's servants gets validated—or not—in the details. People are watching us as we stay at our post, alertly, unswervingly . . . in hard times, tough times, bad times; when we're beaten up, jailed, and mobbed; working hard, working late, working without eating; with pure heart, clear head, steady hand; in gentleness, holiness, and honest love; when we're telling the truth, and when God's showing his power; when we're doing our best setting things right; when we're praised, and when we're blamed; slandered, and honored; true to our word, though distrusted; ignored by the world, but recognized by God; terrifically alive, though rumored to be dead; beaten within an inch of our lives, but refusing to die; immersed in tears, yet always filled with deep joy; living on handouts, yet enriching many; having nothing, having it all.

Dear, dear Corinthians, I can't tell you how much I long for you to enter this wide-open, spacious life. We didn't fence you in. The smallness you feel comes from within you. Your lives aren't small, but you're living them in a small way. I'm speaking as plainly as I can and with great affection. Open up your lives. Live openly and expansively!
2 Corinthians 6:1-13, The Message

Second Corinthians is a letter written by Paul to the church in Corinth. The church in Corinth had a special place in Paul's heart. It may be the only church he avoided because he was too tempted to wring the members' necks. He loved them, but there were times he wanted to smother them in their sleep.

Second Corinthians 6 starts with Paul giving his credentials — again. False teachers had bad-mouthed him to the point that his message — the Gospel of Christ — was getting lost. The last half of the chapter is the more well-known passage on being unequally yoked. It strikes me how much we like simple rules; entire books have been written about the dangers of a Christian marrying a non-Christian. Maybe because it's easy to identify and therefore easy to judge. Or maybe because being married to an unbeliever can bring such real and immediate struggle to your life.

But the beginning of chapter 6 is much tougher. It's more demanding, really. And easier to ignore.
Companions as we are in this work with you, we beg you, please don't squander one bit of this marvelous life God has given us. 6:1
I sat in my house and listened to my young neighbors out the window. "I'm going to go now and get my paycheck. He's going to call, then I'm going to go and pick up the hash." It isn't unusual for them and their friends to sit in the basement, passing around a joint or the hose of a hookah. One of the reasons we bought our air conditioner was because of the fumes that rolled through our open windows. I've wasted a lot of time in my life — although never in a smoke-filled ring of friends a la That 70s Show. I know I sound like a curmudgeon, but the older I get and the busier I get, the more I want to get done. But I don't think keeping busy is quite the same thing as not squandering your life.
I heard your call in the nick of time;
The day you needed me, I was there to help.

Well, now is the right time to listen, the day to be helped. Don't put it off; don't frustrate God's work by showing up late, throwing a question mark over everything we're doing. Our work as God's servants gets validated—or not—in the details. 6:2-4a
The ESV says:
"In a favorable time I listened to you,
and in a day of salvation I have helped you."
Behold, now is the favorable time; behold, now is the day of salvation.
Galatians 5:1 says, "It is for freedom that Christ has set us free." Salvation is about freedom. Verses 11-13 in 2 Corinthians agrees:
Dear, dear Corinthians, I can't tell you how much I long for you to enter this wide-open, spacious life. We didn't fence you in. The smallness you feel comes from within you. Your lives aren't small, but you're living them in a small way. I'm speaking as plainly as I can and with great affection. Open up your lives. Live openly and expansively!
The ESV says, "You are not restricted by us, but you are restricted in your own affections" (vs. 12). My neighbors believe freedom is being able to legally smoke recreational pot. "Affections" here is the Greek splagchnon. It means bowels, intestines, including the heart, lungs, and liver. It referred to the seat of the emotions, both violent and tender. The ancients considered internal organs the seat of emotion because it's our gut or our chest that clinches when we experience fear or pounds when we're excited. In the end, though, undiscerning emotion and desires rule when we refuse to live "this wide-open, spacious life." And the smell of it drifts into my kitchen window.

What does the "wide-open, spacious life" look like, then? Paul described it to the Corinthians in three different contexts: our circumstances, our character, and our relationships. No matter what our circumstances, and no matter what our relationship is with others, we have no excuse: our character should always show the Holy Spirit within us.




The Series
2 Corinthians 6 and the Wide-Open, Spacious Life
Responsibilities and Circumstances
The Character of Freedom
Freedom in Relationships
---

Image Credit: Jean Edmonds; By Permission


---
Tags
:
Biblical-Truth
|
Christian-Life
|
Personal-Life
|
Personal-Relationships
---
comments powered by

Disqus
Published 7-28-2014