CHRISTIAN LIFE & GROWTH
And on the eighth day...coffee?
By Dennis Cooper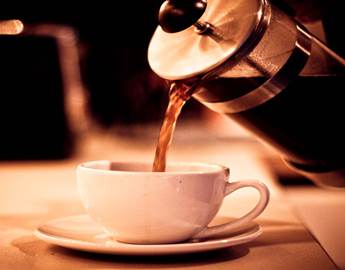 After six long days of making, well, everything, and a solid day of well-deserved rest, one could assume with humor and light-hardheartedness in mind that on day eight, the first Divine cup of coffee was poured. While there is no literal mention of this heavenly rite in the Bible, it is clearly implied to the very discerning and somewhat far-reaching mind. His word speaks of the following:

Matthew 24:42 — "Stay awake..." (Coffee does this.)
Zechariah 12:2 — "Behold, I will make Jerusalem a cup of trembling unto all the people round about..." (This connection is indisputable.)
Psalm 119:148 — "I stay awake through the night..." (Been there, done that — with coffee.)
1 Peter 5:8 — "Stay alert, watch out for your enemy the Devil..." (Can coffee help resist temptation? You decide...)


And finally, the most direct connection can be found in very name of the book itself — "He-brews". I rest my case.

Our creator does want us to feel awakened, anew and ready for our day. Our mornings prepare us for our purpose — the sanctifying of his Holy name.

Imagine though, really considering how much more we can be used for His glory if we start our days with the view that we have an opportunity ahead of us, and not just an occupation. Life will always find us having plenty to do, but The Life will always find us having plenty to do in the work of the Lord (1 Corinthians 15:58). The Psalmist writes in Chapter 59:16 "But as for me, I will sing about your power. Each morning I will sing with joy about your unfailing love..." I once worked with a girl who was so full of energy in the mornings, to be quite frank, it irritated me to the core. The potent combination of coffee and Christ was a bit much at the time, especially for a man who was being driven by a "5 o'clock somewhere" lifestyle. In retrospect, her happiness and energy were a reflection of her joy for a life that was solidly founded in her love for our Lord, and a reflection of what God's Spirit can do for our soul. We are friends to this day. More importantly, she is now my Sister.

I believe we can impact the world, friends, in total silence (Matthew 7:16). People in our paths notice our attitude, our countenance and our ethic. Because of who we represent in our walk, we are judged by the name we carry: Christian. A positive attitude and outlook on life are intangible, but the effects can be eternal to one being drawn to God through Jesus. Our co-worker may be having a terrible day, a rotten week, and an empty life. It may be on their worst of days that our spirit motivates them enough to approach us and ask, "What makes you so happy?" A perfect response...

"Let's go grab a coffee, I'd love to tell you all about it..."


---

Image Credit: Luz Bratcher; Creative Commons


---
Tags
:
Christian-Life
|
Personal-Relationships
---
comments powered by

Disqus
Published on 4-22-14