CHRISTIAN LIFE & GROWTH
Knowing Why


By Rosemary Cross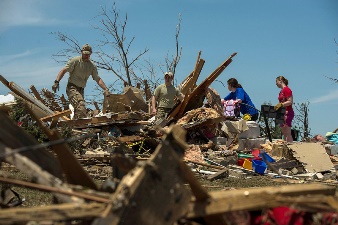 Do you struggle with situations, hard situations, that you don't understand? Do you ever wonder why God doesn't just take care of things — or at least explain what's going on?

At the Last Supper Jesus performed the most menial of tasks, that of washing the feet of his disciples, a task that would normally be performed by a servant. Peter wanted know why He was doing this and Jesus' answer was "You do not realize now what I am doing, but later you will understand." (John 13 verse 7). He knew that with his human mind Peter would not be able to understand the answer, but that when he had joined Him in heaven, then all would be made clear to him. It is the same with us today. Just as an earthly father, on being asked by his three-year-old son how an aeroplane stays up in the sky, has to say to him "you will understand when you are older", so God cannot always explain the things that we would like to know.

When it is possible for us to understand, God is always happy to explain to us why a situation has occurred. However, even then it is not possible for us to understand fully what is in the mind of God for, as the prophet Isaiah says (Isaiah 55 verses 8 and 9), "My thoughts are far beyond your thoughts, and my ways past understanding. As the heavens are higher than the earth, so are my ways far beyond your ways."

The Apostle Paul also knew this, and says in his letter to the Corinthians (1 Corinthians 13 verse 12) "Now we see things imperfectly, like puzzling reflections in a mirror, but then [meaning when we die and go to heaven] we will see everything with perfect clarity. All that I know now is partial and incomplete, but then I will know everything completely, just as God now knows me completely."

God is our heavenly Father and He loves each one of us more dearly than we can ever know. He loves to walk and talk with us and to help us to understand what is going on in our lives, so far as our limited human minds can understand what He is saying to us. That is why, when it was time for Jesus to leave the earth and go to during his Father in heaven, God sent His Holy Spirit to be with us in His place (1 Thessalonians 4 verse 8b).

Have you ever thought deeply about this most wonderful and amazing Holy Spirit of God? He is the means by which God guides our prayers, helps us to understand, and reflects Jesus back to us as a model of what we should be in our Christian walk. He also is the bridge by which we communicate with God and He with us. The Holy Spirit is always with each one of us, hovering at our shoulders as it were, but He longs for a more intimate relationship with us than that. What He wants is to actually dwell within us alongside our human spirits (John 14 verses 15-17) so that we can be more sensitive to his nudges and His still, small voice when He wants to guide and direct us (Psalm 32 verse 8). Notice that in the last part of verse 17 Jesus says "He lives with you and will be IN you." However, being the perfect gentleman, the Holy Spirit will never gatecrash. He will only come and dwell within you, alongside your own human spirit, when He is expressly invited to do so.

May I suggest that you find a quiet moment in a quiet corner and give Him this invitation? You will be amazed at what will happen if you do. For a start, you will begin to find that you are being given glimpses of light on situations in your life that puzzle and worry you, or alternatively, you will find yourself becoming content simply to leave them in God's hands for an explanation later on, either in this life or the next. Also, like the true friend and wholly trustworthy guide that He is, the Holy Spirit will also begin to show you where you are going wrong in your life and how to put things right, give you the strength to overcome the temptation to sin, and most importantly of all, He will start showing you how to see situations as God sees them and how to start building a personal relationship with Him. As this happens you will find your whole life being transformed as you learn to walk more and more closely with God with every day that passes.


---

Image Credit: USAF; Moore, OK, tornado wreckage; Creative Commons


---
Tags
:
Hardships
|
Witnessing-Evangelism
---
comments powered by

Disqus
Published on 2-26-14