CHRISTIAN LIFE & GROWTH
Praying Enough


By Denise Baum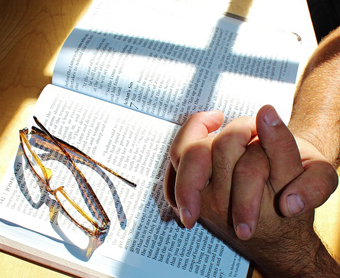 How much is enough prayer? The Bible says we are to pray without ceasing (1 Thessalonians 5:17). What does that really mean?

Even Jesus' most intimate disciples struggled with focused, prolonged prayer time. Remember, in Gethsemane, when Jesus was agonizing over his imminent separation from the Father? We can follow the account in Matthew 26:38ff: Jesus asked the disciples to stay awake with him. My soul is very sorrowful, even to death; remain here, and watch with me. But, the disciples could not conquer the weariness of their flesh. Jesus was grieved. So, could you not watch with me one hour? Watch and pray that you may not enter into temptation. The spirit indeed is willing, but the flesh is weak. If Peter, James, and John found difficulty in staying awake to pray, with Jesus physically present just yards from their position, we can expect challenges too.

It is important to be aware of our inclination toward legalism, especially in the disciplines of our Christian walk. Worrying that we don't pray enough exposes this tendency. Remember that we can never do enough. How could we? Jesus did it all. He continues to do it all. Yes, we consecrate our lives as living sacrifices to do his will (Romans 12:1-2), and we spare no effort in pleasing the Lord through worship and prayer: The prayer of a righteous person has great power as it is working (James 5:16). But even our prayers are empowered by the Holy Spirit. Rest under the authority and power of the Holy Spirit while you work in prayer.

This reminds us of the key role of the Holy Spirit in our prayer lives:
Likewise the Spirit helps us in our weakness. For we do not know what to pray for as we ought, but the Spirit himself intercedes for us with groanings too deep for words. And he who searches hearts knows what is the mind of the Spirit, because the Spirit intercedes for the saints according to the will of God. Romans 8:26-27
We see how the Spirit works in us as we pray, illustrated in the flight of the eagle. Isaiah 40 speaks of the magnificent power and authority of God in creation. Then he writes to you and me very personally:
Have you not known? Have you not heard? The Lord is the everlasting God, the Creator of the ends of the earth. He does not faint or grow weary; his understanding is unsearchable. He gives power to the faint, and to him w ho has no might he increases strength. Even youths shall faint and be weary, and young men shall fall exhausted; but they who wait for the Lord shall renew their strength; they shall mount up with wings like eagles; they shall run and not be weary; they shall walk and not faint. Isaiah 40:28-31
Even in prayer, our strength comes from the Father.

Jesus offers hope to those of us who feel inadequate and insecure. Come to me, all who labor and are heavy laden, and I will give you rest. Take my yoke upon you, and learn from me, for I am gentle and lowly in heart, and you will find rest for your souls. For my yoke is easy, and my burden is light (Matthew 11:28-30). Pulling in the yoke with Jesus is as freeing as floating up on the wind like an eagle. With our eyes on him, we soar in prayer into the presence of our Savior.

I encourage you to focus, not on your own expectations of prayer and your own personal effort, but on the Lord himself. Schedule your prayer times with this in mind. Remind yourself that prayer is not just an activity, but communion with God. As you well know, this communion happens throughout the day and continues subconsciously in our sleep. However, Jesus took times away from people and activity to commune with the Father, and we imitate him. We are encouraged in this "work" by Paul in 1 Corinthians 15:57-58: But thanks be to God, who gives us the victory through our Lord Jesus Christ. Therefore, my beloved brothers, be steadfast, immovable, always abounding in the work of the Lord, knowing that in the Lord your labor is not in vain.

I pray that you encouraged by these Scriptures as they have encouraged me as we struggle with the same disciplines.


---

Image Credit: Counselling; untitled; Creative Commons


---
Tags
:
Biblical-Truth
|
Christian-Life
---
comments powered by

Disqus
Published on 4-4-16