THE TAKE AWAY
Human Trafficking 5
Freedom for the Captives

By Kersley Fitzgerald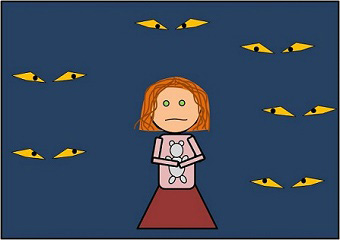 Human Trafficking: The Series
Statistics and Definitions
Labor Trafficking
Sex Trafficking
Selling Eve
Freedom for the Captives
The Church's Response
The Girls
Recovery
Prevention



Note: This series is on human trafficking, including sex trafficking. Terms are plain, although situations are not explicit. Still, reader discretion is advised.

Freeing the captives is usually the purview of Hollywood. It's a universal theme that can be used in any setting. The latest example I've seen is Cowboys vs. Aliens. We forget, though, that God was the One who came up with the idea to free the captives. He got the Israelites out of Egypt, He sent an angel to free Peter from prison (Acts 12), and He sent Jesus to save everyone who would believe in Him. He is, and always has been, in the business of freeing the captives.

God is very clear on how He feels about the captives and the hurt and the enslaved. He spent the entire Old Testament trying to teach people how to treat each other, and the New Testament living it out. His words in that book are just as relevant today as they were for the Jews. It's so easy to gloss over them, but taken as direct statements about trafficking, they are so powerful.
Blessed are those who act justly, who always do what is right. — Psalm 106:3
For I, the LORD, love justice; I hate robbery and wrongdoing." — Isaiah 61:8
How do we forget this? How do we forget God's heart for justice?
The Spirit of the Sovereign LORD is on me,
because the LORD has anointed me to proclaim good news to the poor.
He has sent me to bind up the brokenhearted,
to proclaim freedom for the captives and release from darkness for the prisoners" — Isaiah 61:1
These are the words Jesus used to open His ministry. Park on that for a little bit. Jesus announced the beginning of His ministry by explaining His job was to take care of the poor and the brokenhearted, and free the captives and the prisoners. Doesn't that suddenly make life a whole lot simpler?
God's Message came to me: "Son of man, prophesy against the shepherd-leaders of Israel. Yes, prophesy!... "'God, the Master, says: From now on, I myself am the shepherd. I'm going looking for them. As shepherds go after their flocks when they get scattered, I'm going after my sheep. I'll rescue them from all the places they've been scattered to in the storms. I'll bring them back from foreign peoples, gather them from foreign countries, and bring them back to their home country. I'll feed them on the mountains of Israel, along the streams, among their own people. I'll lead them into lush pasture so they can roam the mountain pastures of Israel, graze at leisure, feed in the rich pastures on the mountains of Israel. And I myself will be the shepherd of my sheep. I myself will make sure they get plenty of rest. I'll go after the lost, I'll collect the strays, I'll doctor the injured, I'll build up the weak ones and oversee the strong ones so they're not exploited. "'I'll appoint one shepherd over them all: my servant David. He'll feed them. He'll be their shepherd. And I, God, will be their God. My servant David will be their prince. I, God, have spoken. "'I'll make a covenant of peace with them. I'll banish fierce animals from the country so the sheep can live safely in the wilderness and sleep in the forest. I'll make them and everything around my hill a blessing. I'll send down plenty of rain in season—showers of blessing! The trees in the orchards will bear fruit, the ground will produce, they'll feel content and safe on their land, and they'll realize that I am God when I break them out of their slavery and rescue them from their slave masters. "'No longer will they be exploited by outsiders and ravaged by fierce beasts. They'll live safe and sound, fearless and free. I'll give them rich gardens, lavish in vegetables—no more living half-starved, no longer taunted by outsiders. "'They'll know, beyond doubting, that I, God, am their God, that I'm with them and that they, the people Israel, are my people. Decree of God, the Master: You are my dear flock, the flock of my pasture, my human flock, and I am your God. Decree of God, the Master.'" - Ezekiel 34, The Message
Did you catch that? "No longer will they be exploited by outsiders and ravaged by fierce beasts. They'll live safe and sound, fearless and free." The metaphorical implications are obvious, but in Uganda, one of the regular causes of deaths for orphans is hyenas.

This is God's heart for the captives — He wants them free. If we have the Holy Spirit, we are a new creation with a heart of flesh. We are retrofit to express God's heart. It is our nature. Sometimes that nature is young and easily confused. We get distracted by thoughts that it's too big, or there's nothing we can do to help. By the grace of God, that's not true. He has specifically designed us to help. We can speak freedom for the captives. We have the freedom to make a difference. And we are already members of the #1 commando unit God has chosen to lead the assault: the church.


---

Next: Trafficking and the Church: We hear about the girls and think, "Where is God?" He's right there with them, saying, "Where is My church?"


---
Links to check out:
Ransomed Heart Ministries
God's View of Women
The Samson Society
---
What to do if you suspect someone is being trafficked:
If the situation is urgent, call 911.
If there is no immediate threat, call the non-emergency number, often 311.
Call your local anti-human trafficking organization.
Call the national hotline—1-888-3737-888.
(Hotlines will not necessarily be able to provide emergency assistance, but they will track activity to better aid the FBI and other law enforcement in determining where and how to act.)
---
comments powered by

Disqus
Published 8-17-11