KEEP WATCH
The True Gospel Part 4
Going to the Cross

By Jim Allen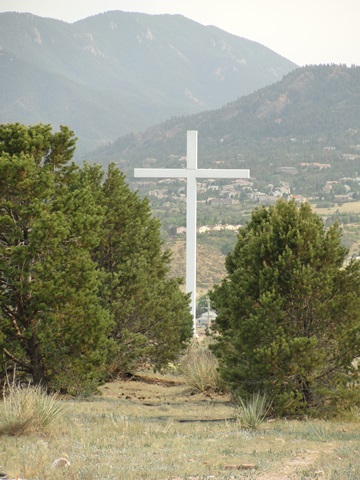 The True Gospel: The Series
Part 1: Recognizing One's Depravity
Part 2: Acknowledging Sin and Law
Part 3: Continuing in the Word
Part 4: Going to the Cross
Part 5: Believing Unto Salvation
Part 6: Examining Our Faith
Part 7: Walk in the Spirit
Part 8: Reviewing the True Gospel



Then Jesus said to His disciples, "If anyone desires to come after Me, let him deny himself, and take up his cross, and follow Me. For whoever desires to save his life will lose it, but whoever loses his life for My sake will find it" (Matthew 16:24-25). Jesus' ministry required taking up a heavy wooded cross, dragging it to Golgotha, and then freely giving up his life (blood) for our redemption (Ephesians 1:7). The ministry work of Jesus meant disowning and renouncing all earthly possessions, interests, and behaviors that would keep him from going to the cross. Jesus makes it very clear that there is a price to pay when you take up your cross, and that one should count the cost before doing so (Luke 14:27-28).

Taking up your cross includes all the stuff that goes along with following Christ (Philippians 4:11-13). If you recall, Jesus prayed morning and night for strength to bear the troubles and difficulties of the day. The way some preachers tell it, you would think Jesus never had a bad day in His life. Jesus came under ridicule, rejection, temptation, and intense spiritual warfare. Jesus overcame spiritual and physical obstacles by faith and endured spiritual and physical abuse beyond imagination. He encountered weariness of mind and body from long journeys and hours of endless teaching and healing. Surly he felt disappointment from teaching depraved multitudes lacking faith and understanding. Unlike today, the stench of unwashed humanity, sickness and disease came forth from the crowds upon the Savior who reached out to touch and heal the infirmed (Luke 5:15).

Taking up your cross also means placing God before all else no matter what else. Some believers in foreign counties, and occasionally here in the United States, paid the ultimate price through martyrdom. They gave up a life they could never keep for one they could never earn. One of my favorite verses in the Gospel of Matthew is where Jesus said, "But seek first the kingdom of God and His righteousness, and all these things shall be added to you" (Matthew 6:33). If we give our life to God and seek His will, then most assuredly He promises to fulfill our needs. On the flipside of this same coin is our free will to keep our own personal kingdom, giving into temptation and enjoying once again the sin and pleasures of this world. To insist on keeping the old life is to deny Christ as did Judas, one of the twelve apostles (John 18:5).

So then, while the "cross" is a symbol of death to one's depraved nature, the "open tomb" is a symbol of new life from God." The apostle Paul said of these metaphors, "For if we have been united together in the likeness of His death, certainly we also shall be in the likeness of His resurrection" (Romans 6:5). How is one united with the crucifixion and resurrection of Jesus Christ? Paul answered by saying, "Therefore we conclude that a man is justified by faith apart from the deeds of the law" (Romans 3:28). Although salvation is by faith alone in Christ alone, there is the ever present matter of going to the cross. How then is it possible for believers to go to the cross without adding to their salvation?

While taking up your cross may be a tricky concept to handle, it is equally difficult to attempt the task without God's help. With God, all things are possible (Matthew 19:26). Fortunately, there is a powerful truth at work on our behalf whereby God will give us the power to do what needs to be done, which is to believe the gospel (John 6:29)! So then, it is by faith alone and in Christ alone that we have the power to take up our cross and mortify the deeds of the flesh. The apostle Paul captured this underpinning truth when he wrote, "Walk in the Spirit, and you will not fulfill the lust of the flesh" (Galatians 5:16; Romans 6:12).

Of course, all the challenges that go along with being a disciple still apply. There will be the occasional difficulties of the day followed by ridicule, rejection, temptation, and spiritual warfare.

In my next post I will write about what it means to be born again.


---

Image Credit: Kersley Fitzgerald


---
comments powered by

Disqus
Published 1-24-12