KEEP WATCH
The True Gospel Part 6
Examining Our Faith

By Jim Allen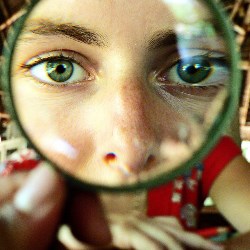 The True Gospel: The Series
Part 1: Recognizing One's Depravity
Part 2: Acknowledging Sin and Law
Part 3: Continuing in the Word
Part 4: Going to the Cross
Part 5: Believing Unto Salvation
Part 6: Examining Our Faith
Part 7: Walk in the Spirit
Part 8: Reviewing the True Gospel



Although the Lord knows every believer who belongs to Him (2 Timothy 2:19), do you and I know for sure we belong to him? Today, the church is overflowing with people who think they belong to the Lord, but do not. One search on the Internet using the words "false conversions" will link you to testimonies from people who were once false converts and did not know it; in fact, they actually thought they were born again and told others of their salvation. Several years later, these former false converts realized they were still lost in their sin, the direct result from not knowing what the Bible teaches about becoming a child of God. These former false converts posted their heart-wrenching testimonies online as a warning to others about the danger of vain faith and in particular the salvation prayer. As a safeguard against false conversions, the Bible instructs professing believers to examine themselves according to 2 Corinthians 13:5, wherein the apostle Paul wrote: "Examine yourselves as to whether you are in the faith. Test yourselves. Do you not know yourselves, that Jesus Christ is in you?"
The apostle Paul asked the preceding question because he knew that we would know if Christ abided in us. Of course, we agree a Christian is not simply one who joins a church or one who adheres to a certain moral standards in life. Nor is a Christian one who consistently reads the Bible. A true Christian is someone in whom Christ dwells. The person in whom Christ dwells will be different, possessing certain inescapable traits of behavior that mark the person as a changed person. Paul, then, is merely suggesting that we ask ourselves what evidence do we see in our life to suggest Jesus Christ lives in us? (Paraphrased from Ray Stedman; The Power of His Presence)
First, believers undergo a change when they become children of God. As new creatures in Christ, they draw near to God much in the same way a moth draws near to light. God is light and born again believers prefer the light of the gospel to the darkness of the world (Ephesians 5:8-14). Those who are "born again" will know it because the indwelling presence of God bears witness with their spirit they are the children of God (Romans 8:16). We can also affirm our born again status by watching old, sinful behaviors pass away, one by one. As the apostle Paul writes, "Therefore, if anyone is in Christ, he is a new creation; old things have passed away; behold, all things have become new" (2 Corinthians 5:17). Second, genuine believers are new-born babes in Christ, eager for the pure milk of the word (1 Peter 2:2). Born again believers thirst for truth and search the scriptures daily as did the Bereans in Acts 17. Born again believers show love, joy, peace, longsuffering, kindness, goodness, faithfulness, gentleness, and self-control" (Galatians 5:22). They live holy lives dedicated to God, casting off bad behavior, ungodly attitudes, and unprofitable worldly pursuits (Romans 8:13-14). Thirdly and most importantly, born again believers have a "first love" and His name is Jesus the Christ, who is Lord and Savior (Mark 12:30 and Revelation 2:4). Moreover, Jesus set us free from the power of sin, guilt and condemnation, having given us peace-of-mind and an enduring faith.

Lastly and as a footnote to the preceding evidence, born again believers reach out to lost humanity adrift on the churning seas of a world gone mad. These lost souls live amidst confusion and deception with little if any hope of rescue from the darkness. Within the church today are untold numbers of professing believers who think they are born again but for some reason fail to exhibit the evidence of changed lives. To allow this multitude of lost souls to continue in their slumber (thinking they are born again) is an awful prospect, and yet that is exactly what many evangelicals do week after week when they teach false gospels promoting easy believism and easy salvation. The Bible's warning to all who bear the name of Christ is to look deep within using the magnifying glass of God's word (2 Corinthians 13:5).


---

Image Credit: Premasagar Rose; "Window to the Soul"; Creative Commons


---
comments powered by

Disqus
Published 2-7-12