Theology & Apologetics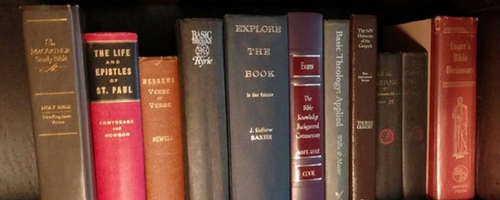 Why do Christians believe what they do? Why do they choose the God of the Bible over any other religious following? Learn about the person of God and why His followers choose Him through Christian theology and apologetics articles by various Blogos contributors.

For more apologetics articles, see Compelling Truth and Keep Watch.


---



Salvation and Doctrine | Aug 1, 2017
What do you have to believe to be saved? Does salvation require perfect doctrine? Is perfect doctrine even possible?

Read more... | John Copper



Genetics, Determinism, and Free Will | Aug 1, 2017
Deterministic atheists claim everything we do is a result of nature and out of our control. The Bible says we have free will. Which is right? Are we responsible for our actions?

Read more... | Gary Meredith



Was Jesus black? | Aug 1, 2017
Was Jesus black? Where do some people get the idea that Jesus was black? Does the color of Jesus' skin matter?

Read more... | S. Michael Houdmann



Can secular morality save a person's soul? | Jul 25, 2017
The way of salvation for almost every religion is good works. Can secular morality save a soul? Or is salvation beyond our human grasp?

Read more... | Jeffrey Gante



Witnessing to New Agers | Jul 19, 2017
How can a Christian witness to New Agers? No cohesive belief system, no objective truth...Strangely enough, like the gospel, it begins with Jesus.

Read more... | Beth Hyduke



Tota Scriptura | Jul 10 2017
Sola scriptura is Latin for "only the Bible" — our theological beliefs should only come from the Bible. But they should come from all of the Bible — tota scriptura.

Read more... | Bill Brenner



Gender Roles According to the Bible | Jul 3, 2017
The Bible describes men and women as equal in value but imbued with different strengths and responsible for different roles. When we resist this, we resists God's intent for our lives.

Read more... | Anthony Barbato



The Ethical Ramifications of the Wholesale Annihilation of the Undead | Jul 3, 2017
What are Zombies? Is it ethical to kill them? What role does the concept of self-defense play? Does the Bible speak to the issue of killing zombies?

Read more... | Jeff Laird



Reality, the Matrix, and Rene Descartes | Jun 26, 2017
Rene Descartes didn't mean to send a generation on a existential crisis, questioning reality itself. But how do we know we're not in the Matrix?

Read more... | Adam Davis



Satan, Father of Lies | Jun 19, 2017
In John 8:44, Jesus calls Satan the "father of lies." Knowing how Satan lies is a tremendous tool of defense against sin and a faulty worldview.

Read more... | Anthony Barbato



The Last Reformation | Jun 14, 2017
Torben Sondergaard's movement The Last Reformation is spreading quickly across the world, baptizing and healing people. But signs and wonders mean nothing with a biblical view of salvation.

Read more... | Jim Allen



Do I really have to be born again to go to heaven? | May 30, 2017
Being "born again" is a strange image with a controversial meaning. But it's true and simple: the only way to go to heaven is to trust in Christ and be born again.

Read more... | Dr. Ron Tardif (D.Div. C.C.)



Did God create sin? | May 30, 2017
God is the creator. He created the planet, the stars, the trees, and us. Did He create sin? Or is sin something that wasn't created?

Read more... | Rhonda Maydwell



Saved by Grace | May 22, 2017
Almost every religion requires extensive works to be saved except Christianity. The Bible teaches salvation is only by grace; there is nothing we can contribute.

Read more... | Mark King



Do Christians really have a biblical worldview? | May 15, 2017
Barna recently did a survey to discover the real worldviews of practicing Christians. What they found is that we're more influenced by the world than we should be.

Read more... | Kersley Fitzgerald



Was Christ's suffering unique or common? | May 8, 2017
Crucifixion was a common form of execution in the Roman Empire. Does that take signficance away from Jesus' experience? How was Christ's suffering unique?

Read more... | Jeff Laird



Saving Faith vs. Intellectual Assent | May 8, 2017
Jesus is the Son of God. He died for our sins, and rose again. Can you believe this and still not be saved?

Read more... | Justin Tilghman



Can Satan read our minds? | Apr 24, 2017
Sometimes doubts and temptations pop up in a way that makes us think Satan can read our minds. Can he? Or is he just very clever?

Read more... | Rhonda Maydwell



Hank Hanegraaff's Conversion to Eastern Orthodoxy | Apr 18, 2017
How should Evangelical Christians respond to Hank Hanegraaff's embrace of Eastern Orthodoxy? Is a conversion to Eastern Orthodoxy a denial of the essentials of the Christian faith?

Read more...



Being Perfect | Apr 17, 2017
Perfection isn't an ideal to strive for, but an essential qualification for entering into God's perfect presence. How can fallen us ever hope to qualify?

Read more... | Beth Hyduke



The Mosaic Law and the Jewish Messiah | Apr 13, 2017
The Jewish Messiah will bring universal peace, a worldwide knowledge of God, and the fulfillment of the Abrahamic Covenant. How does Jesus fit this?

Read more... | Lesley Mitchell



It's a miracle! | Apr 13, 2017
God does still do miracles in our lives. But not every unusual blessing can be categorized as such.

Read more... | Mark King



Heaven in Judaism | Apr 4, 2017
God's covenants with the Jews were corporate — they applied to the nation as a whole. Heaven wasn't mentioned much in the Old Testament. But that doesn't mean Jews today don't believe in heaven.

Read more... | Lesley Mitchell



The Midnight Cry | Mar 27, 2017
The pope's call for ecumenicalism doesen't mean Catholicism will be the one-world religion, but it does serve as a warning that the end times are coming.

Read more... | Jim Allen



Scotism | Mar 27, 2017
John Duns Scotus was a Fransiscan scholar and philosopher whose work had great significance on Catholic theology. Too bad his ideas were completely wrong.

Read more... | Adam Davis



The Unforgiveable Sin | Mar 27, 2017
What is the unforgiveable sin? If Jesus and the Holy Spirit are both God, how can God forgive blasphemy against one and not the other?

Read more... | Dr. Christopher Plumberg



Subjective Moral Reasoning is Absolutely Wrong | Mar 20, 2017
Subjective moral reasoning says that right and wrong is determined through human opinion. So what if human opinion varies? Is there an absolute truth?

Read more... | Matt Long



God and the President | Mar 6, 2017
God is sovereign over all human affairs. Does that mean He chooses national leaders like presidents? Why would He choose a bad leader?

Read more... | Fredric A. Carlson



Jesus: The Only Way | Feb 28, 2017
Jesus is unique in history. No other religious leader is so respected by other religions. But no other religious leader claimed to be the only way to salvation.

Read more... | Dennis Cooper



Atonement and Abraham Lincoln | Feb 13, 2017
Abraham Lincoln once intimated that God extended the Civil War in proportion to the evils of slavery. Maybe, but we do know Jesus' suffering was in proportion to our sin.
An Overview of Atonement
National Judgment and Personal Suffering

Start Here | Christopher Schwinger



Scripture and Skepticism | Feb 6, 2017
The Bible is adamant that believers and skeptics alike should challenge the Scriptures, seriously consider whether they are true. No other religion demands such examination of itself.

Read more... | Jeff Laird



Heavenly Rewards | Feb 6, 2017
Nothing we're awarded on earth will follow us past this life. But we can — and are encouraged to — earn heavenly rewards that will last for eternity.

Read more... | David Tai



Is God human? | Jan 23, 2017
As humans, we tend to define God in human terms — and then judge Him as such. But He is not human, and we are not His judge.

Read more... | Gary Meredith



The Icon Controversy | Jan 23, 2017
Icons — images and statues of biblical and religious characters — have been a tool for the illiterate for generations. But they can also lead to idolatry.

Read more... | Paul Shunamon



Beyond Redemption | Jan 18, 2017
Jesus promises to forgive all your sins if you accept Him as your savior. Is there a limit to His forgiveness? Can you sin so much Jesus can't save you?

Read more... | Lamar Hayes



Blind Faith | Jan 17, 2017
Christians are called to believe the unseeable, unknowable, unproveable. That doesn't mean we're called to have blind faith.

Read more... | Justin Tilghman



The Mosaic Law in Modern Life | Jan 17, 2017
God gave Israel rules to govern their religion, morality, and civil behavior. Do these laws have anything to do with us?

Read more... | Cory Carwile



The Sovereignty of God | Jan, 2017
Is God good? Is He sovereign? Then why do we experience hardships?
Hardships and the Pool of Siloam
Luck and Chance

Start Here | Christopher Schwinger



James, Paul, and Justification | Dec 19, 2016
Paul says salvation is by grace, through faith. James says faith without works is dead. How can two New Testament theologians be so at odds?

Read more... | Cory Carwile



Christian Dominionism and John 14:12 | Dec 19, 2016
In John 14:12, Jesus says His followers will do greater work than He. Are Christian dominionists right that this mean Christians will take over the world?

Read more... | Dr. Christopher Plumberg



Relationships in Heaven | Dec 19, 2016
Is there justice in heaven? Will our troublesome relationships on earth be covered over in heaven, or will people understand how they hurt others?

Read more... | Christopher Schwinger



God's Wrath and Christmas Wrappings | Dec 19, 2016
God's wrath is driven by His holiness and righteousness. It is complete and demands justice. And it is the reason we have Christmas.

Read more... | Bill Brenner



The Miracle of Christmas | Dec 12, 2016
Soon we will celebrate the birth of Jesus Christ, God Incarnate. But do we believe it? What is the real miracle of Christmas?

Read more... | Mark King



Should we celebrate different religious ceremonies? | Dec 6, 2016
Some of us converted to Christianity from another religion. Others have friends and family who are not Christians. Should we celebrate other religion's holidays?

Read more... | Gary Meredith



Order and Chaos | Dec 6, 2016
The belief that the universe is defined by the equal powers of order and chaos or good and evil is a common one in world religions. The Bible teaches something completely different.

Read more... | Dr. Christopher Plumberg



The Roles of the Trinity | Dec 6, 2016
We cannot recognize false gods without first knowing the true God and the three persons of the Trinity. And we cannot understand the Trinity if we do not understand the roles of each Member.

Read more... | Bill Brenner



Finding God in the Wilderness | Dec 1, 2016
Church doesn't appeal to everyone; many people perfer to find God in the wilderness. But are they really finding God or a god built on their image?

Read more... | Steve Webb



How about a spiritual hug? | Nov 28, 2016
Is there anything wrong with the Pope saying, "How about a spiritual hug?" After all, are we not supposed to love one another?

Read more... | Jim Allen



Why doesn't God draw more? | Nov 28, 2016
If God draws those who are saved, why doesn't He draw more? Why doesn't He draw everyone? Why does He draw anyone?

Read more... | Beth Hyduke



Does the Qur'an accurately describe embryology? | Nov 21, 2016
There are a couple of passages in the Qur'an that Muslims claim give accurate descriptions of embryology. If it's the case, it could prove the Qur'an was inspired.

Read more... | Joe Ford



Confession and Salvation | Nov 9, 2016
The confession that leads to salvation is not a magic spell; it doesn't include specific words that are absolutely necessary. It's what's in the heart that matters.

Read more... | Dr. Christopher Plumberg



Cheating on God | Nov 1, 2016
Did God give Adam and Even enough information about the consequences of eating from the tree? What was the real choice?

Read more... | Kersley Fitzgerald



Submitting to Authorities | Oct 31, 2016
Romans 13:1 says that Christians are to submit to civil authorities. How does this apply to ungodly or even abusive governments?

Read more... | Paul Shunamon



The Comparison of God | Oct 24, 2016
Does God compare us to others? Does God set other people as an example of how we are to act and serve Him? If so, who?

Read more... | Denise M. Kohlmeyer



The Holy Spirit and Salvation | Oct 24, 2016
The Bible teaches that Jesus' sacrifice saves us, and that God both sent Jesus and accepted His sacrifice, thus providing the way of salvation. But what role does the Holy Spirit play?

Read more... | Jeffrey Gante



The Holy Spirit and the Tribulation | Oct 18, 2016
During the Tribulation, what will the role of the Holy Spirit be? Will He indwell new believers as in the church age, or merely regenerate them as with the Israelites?

Read more... | Craig Simons



Praying in Jesus' Name | Oct 17, 2016
Praying in Jesus' name doesn't mean tacking on a signature to your prayer. It means relying on your relationship with Christ for your relationship with God.

Read more... | Mark King



Renewing the Mind | Sep/Oct, 2016
Paul mentions the doctrine of renewing the mind. What does that mean to the believer; and how do we renew the mind?
Part 1: "It is finished"
Part 2: The Mind of the Spirit
Part 3: Our Highest Priority
Part 4: Don't Live in the Past

Start Here | Jim Allen




Who tempts us? | Oct 10, 2016
Who tempts us? Is it Satan? Other demons? God? Or our own sin nature? How to determine what is tempting us, and if the temptation is an attack or an opportunity.

Read more... | Beth Hyduke



Slavery and Gay Marriage | Sep 27, 2016
Nearly 200 years ago, America's view on slavery changed. Now, the view of gay marriage is changing. Are the changes due to Scripture or societal forces?

Read more... | Mark King



What's in a name? | Sep 12, 2016
Adversary, temptor, destroyer — Satan's names reflect his character as the enemy of God and God's followers. But Jesus' names also reflect His character as our helper, light, and savior.

Read more... | Denise M. Kohlmeyer



Misunderstood Teachings of Jesus | Aug/Sep, 2016
Part 1: Reconciliation with God and Man
Part 2: The Prodigal and his Brother
Part 3: Blasphemy and Forgiveness
Part 4: Application

Start Here | Christopher Schwinger



Our Position in Christ | Sep 6, 2016
How can we be in fellowship with Christ one minute and in a squabble the next? How is it possible to switch back and forth between two natures with such ease? Can we truly be a new creation in Christ?

Read more... | Jim Allen



Show Your Work | Sep 6, 2016
Anyone who's taken math knows to show their work. It helps you know how you got the answer and find your mistakes. The same advice is crucial for faith, as well.

Read more... | Jeff Laird



Roman Catholicism and the Rapture | Aug 29, 2016
The Roman Catholic teaching of the Rapture is very different than that of fundamentalist evangelicals. How false theologies inform the Catholic end times views.

Read more... | Sally Plemons



Good Christian Sex, Bad Christian Teaching | Aug 29, 2016
Bromleigh McCleneghan's new book claims sex outside of marriage is healthy, necessary, and holy. Although she's a pastor, her reasoning is less biblical and more Orwellian.

Read more... | Jeff Laird



Getting God's Best | Aug 23, 2016
Do you want God's best? Do you want the ultimate blessings God can bestow on your life? Do you know what "God's best" really is? Or what to do with it once you have it?

Read more... | Beth Hyduke



Who created sin? | Aug 23, 2016
Everything that is had a creator. God created all things. So did God create sin? Or is sin a "thing"?

Read more... | Dr. Christopher Plumberg



Why do some people so passionately hate Calvinism? | Aug 18, 2016
Why do some people so passionately hate Calvinism? What is it about Calvinism that causes some people to react so negatively?

Read more... | S. Michael Houdmann



God and Time | Aug 16, 2016
We say that God lives outside of time, but what does it mean? And what does it say about His nature, creation, and eternity?

Read more... | John Ruiz-Bueno



God in the Old and New Testaments | Aug 9, 2016
In the Old Testament, God seems to be strict and demanding. In the New Testament, Jesus exemplifies grace. How can the same God act so differently?

Read more... | Gary Meredith



The Accuracies of Bible Translations | Aug 9, 2016
Textus Receptus, Codex Sinaiticus, Majority Text, King James, New American — How can we trust the Bible when it's gone through so many translations? Is it still God's Word?

Read more... | Paul Shunamon



The Omnipresence of God | Jul, 26 2016
God is omnipresent — He exists outside of space and therefore inhabits every place. What does that mean for us? What does it mean for the Trinity?

Read more... | Lesley Mitchell



John 6:44 and the Fairness of God | Jul 4, 2016
John 6:44 says that no one can come to Jesus unless God calls them. If God chooses some and not others, how is that fair?

Read more... | Beth Hyduke



Daniel's Seventy Weeks | Jun 27, 2016
Sometimes biblical prophecy is only understood in hindsight. With Daniel's seventy weeks, we can see how it pointed to Jesus' crucifixion, but also our own future.

Read more... | Bob Lowry



Do we become angels after we die? | Jun 20, 2016
It's a popular image — a human, died and gone to heaven, sitting on a cloud with a harp and angel wings. But is it true? Do we become angels when we die?

Read more... | Dillon Burroughs



The Consequences of Willful Sin | Jun 20, 2016
There's a lot of confusion about willful sin, grieving the Holy Spirit, and committing the unpardonable sin. Fortunately, the Bible has the truth.

Read more... | John Ruiz-Bueno



Can an LGBTQ person be saved? | Jun 13, 2016
Can an LGBTQ person be saved? Will they go to heaven when they die? Absolutely! If they trust in Jesus for their salvation and are indwelt by the Holy Spirit.

Read more... | Denise Baum



God's Total and Unconditional Love | Jun 7, 2016
To have assurance of God's total love, believers need to see the difference between conditional love and unconditional love. A love based on God, not our performance.

Read more... | Jim Allen



Leaning Against the Gates of Hell | Jun 7, 2016
Focusing on evangelism is good, but the problem with the common evangelical soul-winning methodology used today is that it makes converts but not disciples.

Read more... | Evan Plante



What does it mean that God is with us? | Jun 2, 2016
Jesus is Immanuel, or "God with us." What does it mean that God is with us? Is He still with us now that Jesus ascended to heaven?

Read more... | Stephanie Ismer



God and Favoritism | Jun 2, 2016
The Bible says that favoritism is sin. But throughout history, God has shown favor on individuals and group over others. What's the difference?

Read more... | Don Strand



Why did God bless Ishmael? | May 11, 2016
The descendents of Abraham's first son, Ishmael, harassed Israel for years and even now threaten the world with their radical Islam. If God knew this would happpen, why did He bless Ishmael in the first place?

Read more... | Beth Hyduke



Unruly or ruling? Hosea 11:12 | Apr 25, 2016
The King James Version of Hosea 11:12 reads "But Judah yet ruleth with God." The New American Standard translates the same line as "Judah is also unruly against God." Which is right?

Read more... | Fredric Carlson



Led by the Holy Spirit | Apr 18, 2016
What does it mean to be led by the Holy Spirit? How does the work of the Holy Spirit in our lives give us assurance of our salvation?

Read more... | Adam Davis



Proof of God | Mar 21, 2016
God gives us the proof of His existence that He chooses — not necessarily that we ask for. Is that enough?

Read more... | Dr. Christopher Plumberg



Archaeopteryx | Apr 18, 2016
Some say the feathered dinosaur archaeopteryx is birds' evolutionary missing link while others say it doesn't mean anything. Is archaeopteryx proof or is this fossil for the birds?

Read more... | Jeff Laird



God, Miracles, and the Laws of Nature | Apr 12, 2016
How do miracles mesh with the laws of nature? Does God break His own law? Perform science so advanced it looks like magic? Or is He sovereign over all?

Read more... | Beth Hyduke



Adam, Eve, and the Knowledge of Sin | Apr 4, 2015
There's an argument that Adam and Eve chose sin because they didn't have knowledge of good and evil. Strangely enough, this argument is made by people who know of good and evil — and still sin.

Read more... | Kersley Fitzgerald



Crucified with Christ | Apr 4, 2016
What does it mean to be crucified with Christ? How can we be dead to sin when we still sin?

Read more... | Beth Hyduke



Does Satan possess people? | Apr 4, 2016
The Bible says that Judas was possessed. Does Satan possess people? What does he do to us?

Read more... | William Stewart



"Better never to have known..." | Mar 21, 2016
The Bible says it's better to have never known the gospel than to know and then reject it. Does this mean sinning can make you lose your salvation?

Read more... | Tim White



God and Math | Mar 21, 2016
Is math real? How does math so perfectly describe creation? What does math have to do with God? Is math evidence for God?

Read more... | Dr. Christopher Plumberg



Resurrection Power and the Abundant Life | Mar 11, 2016
Jesus' resurrection promises us abundant life. But is that life here on earth now? Or waiting us in heaven?

Read more... | Laurel J. Davis



Blasphemy against the Holy Spirit | Jan/Feb, 2016
Part 1: How Confusion Thwarts Holiness
Part 2: Interpreting Context
Part 3: Significance without Fear
Part 4: Identifying a Hard Heart
Part 5: Hope in the Journey to Freedom
Part 6: Resolving Fear by Understanding Grace

Start Here | Christopher Schwinger



How do you know if you're saved? | Feb 9, 2016
Many people struggle with assurance of their salvation. Is there a way to know for sure? Signs that you are really saved.

Read more... | Joshua M. Spaulding



Witnessing to the Agnostic | Feb 3, 2016
How do you share the love of Christ to someone who doubts God's existence? How can an agnostic person see their need for God? Thoughts on witnessing to agnostics.

Read more... | Beth Hyduke



Demon Possession and Exorcisms | Jan 18, 2016
Casting out demons was a regular occurrence for Jesus and an ability continued by His disciples. Are Christians today called to perform exorcisms? How should we react to demon possession?

Read more... | Brian Marcum



Jesus: Dead and Buried — and Raised | Jan 18, 2016
Did Jesus really die? How could God die? And who raised Him again? Questions about the crucifixion.

Read more... | Robert LeClair



There and Back Again | Jan 11, 2016
Several books have come out over recent years about people claiming they've gone to heaven (or hell) and returned. Interesting stories, but is the concept biblical?

Read more... | Beth Hyduke



Which view is right for you? | Dec 29, 2015
Calvinism and Arminianism are two major branches of Protestantism that follow separate theological views, pulling the true Gospel apart into two camps of faith. Which is right?

Read more... | Jim Allen



Is sinlessness possible? | Dec 29, 2015
Is sinless perfection / entire sanctification possible? In the Christian life, is it possible to achieve permanent sinlessness?

Read more... | S. Michael Houdmann



What does it mean to do something in Jesus' name? | Dec 14, 2015
"In Jesus' name" is a phrase recited at baptisms and tacked onto the end of prayers. But what does it really mean to do something "in Jesus' name"?

Read more... | S. Michael Houdmann



Three Things Every Christian Should Know | Dec, 2015
Abraham's Faith: How could a man with no law be considered righteous?
How Sanctification Works: Who sanctifies us? For what purpose?
Who Leads the Church: Is it a pastor or Christ?

Start Here | Stephanie Ismer



What authority does Jesus have? | Dec 14, 2015
What kind of authority does Jesus have? Who gave it to Him? What does Jesus' authority mean for us?

Read more... | Gary Meredith



A Reason to Believe | Dec 8, 2015
The Bible says God is real but people doubt what the Bible says because it's confusing. Is there a reason to believe?

Read more... | Jim Allen



The Righteousness of God | Dec 7, 2015
How can we seek the righteousness of God? Is it even something we can find? How we will never be worthy of God's righteousness — and how He'll give it to us, anyway.

Read more... | Brian Marcum



Earning God's Favor | Nov 30, 2015
We are completely unable to please God or earn His favor with our own actions. So why obey? Why attempt to do good if we can't?

Read more... | Beth Hyduke



Deuteronomic Theology | Nov, 2015
Part 1: Reward and Punishment; Learning what God wants
Part 2: Why Bad Things Happen; A more complicated relationship

Start Here | Christopher Schwinger



God's Will | Nov 23, 2015
What is God's will? Can we derail God's will with our sin? How do we know what God's will is?

Read more... | Bill Brenner



The Human Condition | Nov 18, 2015
Why is it so important to have a biblical understanding of the human condition? What are the consequences of misunderstanding the human condition?

Read more... | S. Michael Houdmann



Soul, Heart, Spirit | Nov 16, 2015
Materialists say that we are all just matter and energy. The Bible says we are much more. How the heart, spirit, and soul make us who we are.

Read more... | Adam Davis



Faith vs. Works: Is Faith Really All God Requires? | Nov 10, 2015
What is the relationship between faith, works, and salvation? Do we need to earn salvation? Do we need to work to keep it?

Read more... | Stephanie Ismer



The True Danger of Preaching False Conversion | Nov 9, 2015
Not teaching about sin can lead to a false conversion. But not teaching about grace can lead to hopelessness.

Read more... | Gary Meredith



Is the God of the Bible true? | Oct/Nov, 2015
God vs. gods The ancients believed mighty men were the sons of gods. Were they?
The Redeemer Job shows that the One True God is also our redeemer.

Start Here | Stephanie Ismer



God in the Old Testament | Nov 2, 2015
Paul warned Titus against foolish controversies, genealogies, dissensions, and quarrels about the law. How can such inconsequentials cause lasting damage to the church?

Read more... | Denise Baum



Hinduism and the Trinity | Nov 2, 2015
Christianity has the Father, the Son, and the Holy Spirit. Hinduism has Brahma, Vishnu, and Shiva. What are the similarities and differences between the Hindu and Christian trinities?

Read more... | Gary Meredith



The Hound of Heaven | Oct 28, 2015
Thompson compared God's pursuit of man to a hound, relentlessly, tirelessly chasing a hare. Does God pursue us like a dog?

Read more... | Bill Brenner



Bible Errors and Losing Faith: Common Sense | Oct 28, 2015
Snakes don't talk. The sun can't go backward. People don't rise from the dead. "Common sense" reasons people reject the Bible.

Read more... | Dr. Christopher Plumberg



Raising Kids without God | Oct 28, 2015
The culture says that God is not necessary to live a moral life. But where does morality come from? Is it possible to raise a truly moral child without God?

Read more... | Adam Davis



What Makes a Christian a Christian? | May 2, 2012; Revised Oct 22, 2015
What makes a Christian a Christian? According to the Bible, there is only one thing that makes a person a Christian, and that is faith in Jesus Christ. But what does that mean?

Read more... | Stephanie Ismer



Bible Errors and Losing Faith: Young Earth Creationism | Oct 20, 2015
Does the Bible have errors? If young earth creationism is wrong, should we dismiss the whole Bible? Can our faith stand if the Bible is not inerrant?

Read more... | Dr. Christopher Plumberg



Is the Bible true? | Sep/Oct, 2015
An Introduction to The Question
The Sheep Hear the Shepherd
Words of Eternal Life

Start Here | Stephanie Ismer



Prayer: a Pseudo-Pseudo-Science | Sep 28, 2015
Controlled studies have found no measurable benefit to praying. Does this mean prayer is a useless pseudoscience?

Read more... | Jeff Laird



Secular History and the Slaughter of the Innocents | Sep 24, 2015
Why doesn't secular history give an account of the slaughter of the innocents by Herod in Bethlehem? Shouldn't such a tragic event be noted outside the Bible?

Read more... | Anthony Barbato



Is the book of Exodus historically accurate? | Sep 14, 2015
There are no obvious references to the Jewish exile in Egypt. Is the book of Exodus made up? Or are the mentions more subtle?

Read more... | Adam Davis



The Moral Outrage of the Unbeliever | Sep 9, 2015
It's not uncommon for an unbeliever to be a moral person. But if there's no law of God written on our hearts, where does that sense of right and wrong come from?

Read more... | Robin Schumacher



Jesus the Jewish Messiah | Aug-Sep, 2015
Part 1: The messenger of Abraham, a rod of Jesse, and a baby born of an alma.
Part 2: The Suffering Servant of Isaiah 53
Part 3: The Salem of Melchizedek

Start Here | Rabbi Robert



Homosexual Feelings and Security of Salvation | Aug 31, 2015
Will a Christian who struggles with homosexual feelings lose their salvation? Will any of us who struggle with sin?

Read more... | Jeffrey Gante



Is There Biblical Evidence for a Pre-Tribulation Rapture? | Apr 4, 2012; Revised Aug 27, 2015
What are some good arguments for the pre-tribulation rapture of the church? Is there any reason to believe it will happen? Or is the book of Revelation a symbolic text? Should we be looking forward to a rapture?

Read more... | Stephanie Ismer



Kingdom of Heaven | Aug 20, 2015
Christianity is more than doing all the right things just to go to heaven. It is all about living according to the rule of Christ, the kingdom heaven within you.

Read more... | Jim Allen



What will it be like to meet Jesus? | Aug 12, 2015
How will we react when we finally meet Jesus? Will we treat Him like a long-lost friend or fall on our faces in awe?

Read more... | Jim Allen



Opinions and Accountability: from Here to Eternity | Aug 5, 2015
"Christians are mentally ill," George Carlin said. He surely felt convicted of his opinions, but did he understand what it would mean if he were wrong?

Read more... | Laurel J. Davis



Why should we be punished for sin when sinning is our nature? | Aug 3, 2015
If we are born with a sin nature, why are we punished for sinning? How is it fair to be punished for what we can't help?

Read more... | Gary Meredith



Is it wrong to call God a "higher power"? | Jul 29, 2015
What does it mean to call God a "higher power"? Is the AA practice appropriate?

Read more... | Tim White



Detecting False Prophets | Jul 20, 2015
What differentiates a false prophet from a prophet sent by God? A case study, using the Nigerian 'prophet' TB Joshua.

Read more... | Gary Meredith



A Message to Muslims About Jesus | Jul 20, 2015
What does the Qur'an say about Jesus? How does it compare to the Bible and historical records? A respectful letter to Muslims about Jesus.

Read more... | Robin Schumacher



The NIV, Zondervan, HarperCollins, and Missing Verses | Jul 14, 2015
Recent reports say the NIV has missing verses, and its publishing company also prints The Satanic Bible. Should Christians stop using the New International Version of the Bible?

Read more... | Kersley Fitzgerald



Photons Be Free: Free Will vs. Determinism in Star Trek | Apr 25, 2012; Revised Jul 6, 2015
Free will vs. determinism is an age-old debate. The Doctor on Star Trek Voyager is a character from a future society whose technology gives us a new look into the ins and outs of free will. What exactly is it that makes us free?

Read more... | Stephanie Ismer



Faith, Works, Salvation, and Rewards: The Basics | Jun 29, 2015
What do works have to do with salvation? How can a believer earn heavenly rewards? Why will Christians be judged by Jesus? The basics of Christian salvation.

Read more... | Lesley Mitchell



Miracles of Healing | Jun 29, 2015
Does God use miracles to heal Christians? How does God use miracles to reach us?

Read more... | Steve Webb



Do all Christians have a "salvation moment"? | Jun 22, 2015
Do you have to have a specific conversion moment to be a Christian? Or can salvation be a longer, gentler experience, only realized in retrospect?

Read more... | Beth Hyduke



Aliens: Extra-Terrestrials or Demons? | Jun 22, 2015
Many claim that aliens have met with us, offering new truth and promising peace. But why do messages from ETs sound so similar to those of demons in the Bible?

Read more... | Gary Meredith



The Dangers of Identity Bending | Jun 19, 2015
Bruce Jenner believes he's a woman; Rachel Dolezal believes she's and African American. What does the Bible — and logic — say about identity bending?

Read more... | Robin Schumacher



What is the role of the Holy Spirit in a believer's life? | Jun 16, 2015
We weren't meant to live the Christian life on our own power. The role of the Holy Spirit is to help us along the way.

Read more... | Mauvreen Hamilton



Knowing God Before Abraham | Jun 15, 2015
Why did God wait until Abraham to reveal Himself? How did God expect people to worship Him when no one knew about Him? How do biblical genealogies leave no excuse?

Read more... | Kersley Fitzgerald



Testing our Faith: The Purpose of Trials | Jun 15, 2015
Why does God test our faith if He knows everything about us? If we fail a trial, are we still saved?

Read more... | Julio Cotto



Changing the Gospel: Behind the Protestant Catholic Conflict | Jul 7, 2011; Revised Jun 3, 2015
The Protestant Catholic conflict has been in existence for ages. But is there any real reason for it? Don't Catholics and Protestants believe the same thing? When it comes to the gospel, the truth is, they don't.

Read more... | Stephanie Ismer



Did the devil make you do it? Possession vs. Oppression | Jun 1, 2015
Often, people caught in sin will say they have a "spirit of" that sin. But more often than not, we don't need deliverance, we need repentance.

Read more... | Susan Lockhart



Who is Jesus? | May 28, 2015
People may know many Bible stories but when asked, "Who is Jesus," they struggle to define him beyond the usual clichés.

Read more... | Jim Allen



How Could a Loving God Send People to Hell? | May 16, 2012; Revised May 18, 2015
How can we reconcile God's love with the reality of hell? Many people, believers and non-believers alike, struggle with this question. For many, it is the reason why they feel that God cannot exist. Is there any way to resolve this tricky issue?

Read more... | Stephanie Ismer



Time and Determinism | May 4, 2015
Physics theories say all of time exists now. The Bible says God sees all of time at once. What does this say about free will vs. determinism?

Read more... | Dr. Christopher Plumberg



How to Unmask a Hardened Skeptic | Apr 20, 2015
Seekers, agnostics, atheists, cultists — there's a long list of people we should witness to. But there is one the Bible tells us to walk away from.

Read more... | Robin Schumacher



God as Author: What Fiction Tells Us About Free Will | Mar 6, 2012; Revised Apr 6, 2015
God as author? Analyzing the process of writing a fiction story tells us something about the way God interacts with us, His creatures. Can the characters of a story act in a way that is contrary to their nature? Can we?

Read more... | Stephanie Ismer



What if No Resurrection? | Apr 1, 2015
The entirety of Christianity depends on the resurrection of Jesus. What would it mean if there where no resurrection?

Read more... | Robin Schumacher



Evidence of the Resurrection | Mar 30, 2015
Did the resurrection of Jesus really happen? The minimal facts arugment says there is more evidence that it did than it didn't.

Read more... | Mark King



Timeless: A Picture of Salvation | Jun 21, 2012; Revised Mar 30, 2015
Salvation means an alternate timeline for those who believe. Jesus Christ died on the cross to take away the consequences of Adam's mistake. No wonder we love stories about temporal paradoxes.

Read more... | Stephanie Ismer



Have a Slice of Pi: Drowning in the Molten Sea | Mar 13, 2015
It's Pi Day! In celebration: an explanation of the seeming discrepancy between the diameter and circumference of the molten sea in 2 Chronicles 4:2-5.

Read more... | Jeff Laird



What's in your wallet? Of Works and Faith | Mar 9, 2015
Using works to buy salvation is about as useful as using foreign currency to buy lumber. It's pretty, but it's not going to work.

Read more... | Beth Hyduke



Saints, Sin, and Satan's Mousetrap | May 13, 2011; Revised Mar 3, 2015
Is right and wrong an archaic idea? Are good and evil simply defined by pleasure and pain? Or is there more to it? Where do we get our definitions of good and evil?

Read more... | Stephanie Ismer



Free Will and God's Sovereignty | Mar 5, 2015
Do we have free will? Do we have the capability to derail God's plan?

Read more... | Mark King



Why did God ordain stoning as a punishment in the Old Testament? | Mar 3, 2015
Why did the Mosaic Law command homosexuals to be stoned? Why was God so violent in the Old Testament?

Read more... | Tim White



If we sin, do we lose our salvation? | Feb 24, 2015
Do Christians sin? Can we sin our way out of Jesus' gift of salvation?

Read more... | Beth Hyduke



Sin Nature | Feb 2, 2015
From the smallest child to the worst murderer, we are all born with a sin nature. Only Jesus can return that part of us to the image of God.

Read more... | Robin Schumacher



The Doctrine of Purgatory | Jan 26, 2015
Catholics assume that the doctrine of purgatory is true, but the Bible says that all our sins are eliminated on the cross. What was the point of Jesus' death if we have to continue to pay for our sins after we die?

Read more... | Stephanie Ismer



Why doesn't Christianity include more laws? | Jan 19, 2015
The Old Testament is filled with laws, but the New Testament only has two: love God and love each other. Why the differece?

Read more... | Maggie Peil



Jesus on Trial: A Review | Jan 7, 2015
David Limbaugh's book Jesus on Trial uses juridical apologetics to prove logically that Jesus exists and is Who He claims to be.

Read more... | Dan Barkman



Eichenwald, Newsweek, the Bible, and the Wrong Target | Jan 7, 2015
Eichenwald claims his article is an unbiased refutation of the Bible. But behind it is a gross misunderstanding of the Bible, God, and religion.

Read more... | Robin Schumacher



How do Jesus' two genealogies show He is the Messiah? | Jan 6, 2015
Jesus' genealogies in Matthew and Luke split at King David. How do the two different lines give evidence that He is, in fact the Messiah?

Read more... | Rabbi Robert



Picking on Pathogens: Why doesn't the Bible say more about germs? | Jan 6, 2015
Germs have killed millions over the years. Why didn't God tell us about germs in the Bible so we could protect ourselves?

Read more... | Jeff Laird



Newsweek, Eichenwald, and the Misunderstood Bible | Dec 30, 2014
What is GotQuestions.org's response to the Newsweek article - "The Bible: So Misunderstood It's a Sin" written by Kurt Eichenwald?

Read more... | S. Michael Houdmann



The Misunderstood Bible: Not News; Just Weak | Dec 29, 2014
Newsweek Magazine recently published an article by Kurt Eichenwald about how Christians do not understand the Bible very well. And proves that he doesn't understand the Bible at all.

Read more... | Jeff Laird



Why Care About the Virgin Birth? | Dec 17, 2014
Does the virgin birth matter? Could Jesus be the Messiah without the virgin birth?

Read more... | Robin Schumacher



Accepting Christ: What you don't need to believe to become a Christian | Dec 16, 2014
What do you have to believe to be a Christian? What don't you have to believe?

Read more... | Kersley Fitzgerald



Good and Evil in Degrees | Dec 9, 2014
Are there degrees of good and evil? Are all sins the same, or are some worse than others?

Read more... | Robin Schumacher



The Atheist Fairy Tale | Dec 8, 2014
Atheists accuse Christians, and other theists, of believing in fairy tales. Is atheism truly any different? How would an atheist fairy tale read?

Read more... | S. Michael Houdmann



Hang it up, already! | Nov 19, 2014
The "telephone game" analogy says our version of the Bible was handed down with all the accuracy of a secret told by eight fifth-graders. It's an argument atheists use when they want to phone it in.

Read more... | Jeff Laird



Religion, Good Works, and Salvation | Nov 12, 2014
Why are good works valued in every culture? Evolution doesn't explain it. And they don't bring salvation. So why are good works integral to who we are as humans?

Read more... | Don Strand



Kabbalah and Messianic Judaism | Nov 12, 2014
What do Messianic Judaism and Kabbalah have in common? Just a root in Judaism. One is the completion of God's promises to Abraham. The other is sorcery and witchcraft.

Read more... | Rabbi Robert



Jesus and the Jewish Messiah | Oct/Nov, 2014
Part 1: The History of Jews, Jesus, and Christians
Part 2: Revealing the Jewish Messiah

Start Here | Rabbi Robert



The Un-Intelligent Design of Atheists | Nov 4, 2014
While atheists deny the existence of God, they cannot refute intelligent design. What argument are they promoting to explain away God?

Read more... | Jim Allen



Can salvation be lost? | Oct 29, 2014
If salvation can be lost, can it also be re-found? What sins result in salvation being lost? How can I know if I need to be re-saved, or if I just need to confess my sin and repent

Read more... | S. Michael Houdmann



A Ghost Story | Oct 22, 2014
Are ghosts real? Do people come back from the dead to haunt us? Or are we visited by something far more dangerous?

Read more... | Robin Schumacher



My "Lifeboat" Eschatology | Oct 21, 2014
Eschatology is a legitimate field of study. But it's more important to know where you stand with Christ than to know the details of His return.

Read more... | Jeff Laird



Is the doctrine of eternal Sonship biblical? | Oct 8, 2014
Has Jesus always existed as God and the Son of God? Or was He created?

Read more... | Gloria Small



How the Microbe got his DNA | Sep 29, 2014
How did the microbe really get his DNA? Every theory of abiogenesis includes a significant episode of "it just happened...somehow," without any plausible reason to believe it actually could happen.

Read more... | Jeff Laird



What does the Bible say about eternal security? | Sep 24, 2014
Does the Bible say Christians can lose their salvation? Can you lose your salvation if you don't go through the sanctification process? What does growing in faith have to do with going to heaven?

Read more... | Gloria Small



Does God ever feel discouraged with us? | Sep 24, 2014
Given all the evil, wickedness and suffering on this planet, one could be forgiven for thinking the extent of human sin might make God feel discouraged, even grieved. Does God get discouraged with us?

Read more... | Lesley Mitchell



Was Jesus wrong? | Sep 17, 2014
Michael Gungor and Mike McHargue call into question the character and integrity of Christ. Was Jesus wrong about creation? Did He lie to accomodate His audience? Or is the kenosis of Christ more complicated than that?

Read more... | Robin Schumacher



You're not the boss of me! Why is blasphemy a sin? | Sep 9, 2014
No responsible parent would let a child speak at them with insults and vulgarities. So why do people think it's okay to use blasphemy against God?

Read more... | Jeff Laird



Evidence of Exodus | Sep 3, 2014
Many critics claim there is no evidence of large slave populations in Egypt — as usual, those claims have no basis in fact, and there is substantial archaeological evidence which fits nicely with the Biblical Exodus.

Read more... | Jeff Laird



Yes, Christians Can Believe in a Pre-Tribulation Rapture | Sep 3, 2014
The timing of the Rapture is a common debate among Christian scholars. Robin Schumacher explains why a pre-trib rapture is not only possible, it's the viewpoint best supported by the Bible.

Read more... | Robin Schumacher



Was the story of Jesus written to seemingly fulfill Old Testament prophecies? | Aug 27, 2014
Was the New Testament written to make Jesus fulfill Old Testament prophecy? What literary criticism tells us about Jesus.

Read more... | Maggie Peil



Who do you think I think you are? Why the Imposter Theory Doesn't Work | Aug 20, 2014
The imposter theory supposes that someone else pretended to be Jesus between His burial and ascension. Why this makes about as much sense as Mystique impersonating Rogue.

Read more... | Jeff Laird



Faithless Fairy Tales | May-Aug, 2014
Introduction: How science pioneers relied on the Bible as much as their microscopes.
Part 1: The real story of Galileo — Faith, science, and his relationship with the Church.
Part 2: The Scopes Trial — A smear campaign against Christianity? Or a movie about McCarthyism?
Part 3: The Crusades — Calling the Crusades a war against poor, defenseless Muslims is an insult — to the Muslims!
Part 4: The Spanish Inquisition — Not what you expected.

Start Here | Jeff Laird



Argument From Reason | Aug 6, 2014
Naturalists say that reason is a part of evolution. But is reason even possible for physical stuff? Or is it proof there's something more in the universe?

Read more... | Jeff Laird



The Top Three Turn-Offs of Christianity | Jul 1, 2014
Most atheists claim they reject God because of logic. Further discussion, however, will reveal questions about evil in the world, unanswered prayer, and the behavior of so-called believers — issues Christians should wonder about, too.

Read more... | Robin Schumacher



Fallacy and Logic | Jul, 2014
Christian apologetics is a noble cause, but logic is sometimes a rare commodity. How to argue truth without falling into fallacy.
Part 1: Straw Men, False Causes, and Bandwagons
Part 2: Genetic Origins, No True Scotsman, and the Texas Sharpshooter
Part 3: Appeal to Authority, Personal Incredulity, and the Slippery Slope

Start Here | Kersley Fitzgerald



British Israelism and the Ten Lost Tribes | Jun 25, 2014
Replacement theology is an unbiblical teaching that says the church has replaced Israel in God's blessings and promises. British Israelism goes a step further, claiming that Great Britian is descended from the Ten Tribes of Israel. Meg Tisdale discusses why this belief is grounded not in Scripture but anti-Semitism.

Read more... | Meg Tisdale



Reincarnation and Christianity | Jun 24, 2014
Many Christians are falling into the false belief that the Bible is compatible with eastern reincarnation. Beth Hyduke discusses how reincarnation is completely contrary to Christian beliefs as expressed in the Bible.

Read more... | Beth Hyduke



Grasping the Thorns: Prosperity Theology | Jun 24, 2014
Is healing based on faith? Does wealth come from prayer? Jesus' call to His followers was to reject worldly things and expect hardships. How prosperity theology gets theology all wrong.

Read more... | Jeff Laird



Jesus and "Self-Fulfilling Prophecies" | Jun 14, 2014
Was Jesus' fulfillment of Old Testament prophecy self-fulfilling? Or is Jesus really the Messiah promised by God to the nation of Israel?

Read more... | Jeff Laird



The Gospel of Barnabas | May 22, 2014
Is the Gospel of Barnabas really over 1500 years old? Why a Muslim-friendly account, filled with cultural anachronisms, can't be the true story of Jesus.

Read more... | Jeff Laird



Deepak Chopra: Exchanging God's Glory | May 21, 2014
Deepak Chopra combines western medicine, Eastern mysticism, and Christianity into his own personal philosophy, then sells that philosophy to others. Does he help people? Or is he merely professing to be wise and exchanging the glory of God for an image of corruptible man?

Read more... | Sally Plemons



What were they smoking? | May 16, 2014
Did the apostles hallucinate Jesus' appearance after the resurrection? Or did Jesus really come back to life? Why the hallucination theory goes up in smoke.

Read more... | Jeff Laird



Answering the Question "Which God Exists?" | May 15, 2014
"Which god exists? Odin? Thor? Allah? There are countless gods to choose from so why I should I believe in the one you're talking about?" It's actually a very valid matter to discuss. Is there a reasonable way to determine what kind of supernatural deity or deities really exist?

Read more... | Robin Schumacher



Without Four Legs to Stand on | May 7, 2014
Does Leviticus make mistakes in describing animals? Rabbits don't chew their cud. Bats aren't birds. Grasshoppers don't have four legs. Does Leviticus 11 prove the Bible is in error?

Read more... | Jeff Laird



Peter Boghossian and the Atheist Definition of Faith | May 7, 2014
Peter Boghossian's A Manual for Creating Atheists claims that faith means pretending to know things that you don't know. Why this doesn't make any sense, spiritually or etymologically.

Read more... | Robin Schumacher



Bart Ehrman and the Divinity of Jesus | Apr 28, 2014
Bart Ehrman's new book, How Jesus Became God, gives evidence that Jesus is not and didn't claim to be God. Does he have a point? Or is it old arguments, rehashed for a new book?

Read more... | Robin Schumacher



Jesus' Twin Brother and the Truth About Easter | Apr 18, 2014
Robert Greg Cavin claims it is statistically more likely that Jesus had a twin brother who took His body and then took His place than that God raised Jesus from the dead. Does his argument destroy Christianity? Or is it another wild goose chase?

Read more... | Robin Schumacher



Blood out of a (Moon) Rock | Apr 15, 2014
Are upcoming lunar eclipses a precursor to fulfilled prophecy? Is something significant about to happen to Israel? Or are blood moons just astronomical anomalies?

Read more... | Jeff Laird



The Heart of Slander | Mar 24, 2014
The rule when debating a Christian seems to be "when you can't defeat the issue, attack the speaker"; what the Bible says about slandering others.

Read more... | Robin Schumacher



Joel Osteen | Mar 17, 2014
For the saved, Osteen's teachings are like the hollow candy shell: empty calories, better spent on something more nourishing. For the unsaved, Osteen's ministry isn't just a problem, it's a flat-out obscenity.

Read more... | Jeff Laird



Why You Either Believe Or Reject The Bible | Mar 17, 2014
Some people accept the Bible as God's word. Others completely reject what it says. What you believe about the has nothing to do with textual criticism and historical apologetics and everything to do with the Holy Spirit.

Read more... | Robin Schumacher



Mormonism and The Pattern of all False Religions | Mar 10, 2014
False prophets, false scripture, and false savior — how Mormonism fit into the pattern of false religions.

Read more... | Robin Schumacher



Why It Matters What You Believe | Feb 25, 2014
Does it matter what you believe? One falsehood about Mark 16:17-18 cost a man his life — how much more will those who disbelieve the entire Bible lose?

Read more... | Robin Schumacher



What do you have to believe to be saved? | Feb 17, 2014
Young earth/old earth, rapture/no-rapture, free-will/predestination — what do we really have to believe to be saved?

Read more... | Robin Schumacher



The Best Christians Are Thinking Christians, Not Doubting Christians | Feb 11, 2014
Are the best Christians those who doubt their faith? Or those who think through their faith?

Read more... | Robin Schumacher



What about the Christian and the Law? | Feb 6, 2014
Do Christians have to obey the Old Testament Law? Does God expect New Covenant believers to submit themselves to the laws of the Old Covenant?

Read more... | S. Michael Houdmann



Is religion the cause of most wars in the world? | Jan 16, 2014
Part 1: Religion isn't the problem
Part 2: People are the problem
Part 3: The Bible says be nice to each other

Start Here | Maggie Peil



A 30 Second Argument for God | Jan 21, 2013
A quick argument for the existence of God: How can you be here if He doesn't exist?

Read more... | Robin Schumacher



Why bawl at Paul? | Jan 15, 2014
Many believe that Paul's theology contradicted Jesus'. Is this true? What does the Bible say?

Read more... | Jeff Laird



How the Qur'an Affirms the Bible | Jan 6, 2014
It is common for Muslims today to argue that the Bible has been corrupted over the ages. But what if the Qur'an's own words actually affirm the Bible?

Read more... | Gary Meredith



Apologetics: The Most Important Vaccine | Dec 20, 2013
We vaccinate our children against small pox, polio, and the flu. But how can we vaccinate them against the world's deadliest disease—false-teaching?

Read more... | Jeff Laird



Why Isn't Everyone a Christian? | Dec 13, 2013
Does God want everyone to be saved? If so, why isn't everyone a Christian?

Read more... | Robin Schumacher



Ho, ho, how ridiculous: Atheism and Santa | Dec 3, 2013
What do Santa and God have in common? Atheists say both are fanciful figments of our imagination. But does the Santa Claus argument really disprove the existence of God? Or does it just make people think they sound smart?

Read more... | Jeff Laird



Proof That God Chooses Who Will Be Saved | Dec 2, 2013
Does God choose who will be saved or does He offer His grace to everyone for them to accept or reject? Can we choose God on our own?

Read more... | Robin Schumacher



How to Witness to Atheists | Nov 18, 2013
How do you witness to atheists? With love, humility, patience, and prayer. In short, with the same attitude we should have in all our encounters.

Part 1: Attitude
Part 2: Resources

Start Here | Maggie Peil



Truth, John MacArthur, and Strange Fire | Nov 18, 2013
John MacArthur's conference Strange Fire featured several speakers that insisted the signs gifts are not common in the current church age. Are they right? Are "gifts" like tongues actually "strange fire"?

Read more... | Robin Schumacher



Tripping over the Trinity | Nov 18, 2013
How can a monotheistic God be the Trinity? How can Jesus be God if He prayed to God? How can one God live in hierarchy with Himself?

Read more... | Jeff Laird



Were Paul and James false prophets? | Nov 12, 2013
Both Paul and James seem to have prophesied that Jesus would return within the lifetime of their audiences. Jesus didn't. Does that mean they are false prophets?

Read more... | Bill Brenner



Neuroscience and Free Will | Nov 11, 2013
Current neuroscience theory says all of our actions are determined by outside stimuli and we have no free will. Very few know to take this to its logical conclusion: are we responsible for our actions?

Read more... | Jeff Laird



Milk and Meat | Oct 16, 2013
Every Christian should learn apologetics, but first we must know our own faith. We must have milk before meat.

Read more... | Kersley Fitzgerald



Was Jesus a covert Messiah to subdue Israel with a message of peace? | Oct 14, 2013
Was Jesus invented by the Romans in an attempt to put an end to the conflict in 1st century Israel? Did the Romans invent a covert Messiah who emphasized peace to solve their problems with constant Jewish rebellion?

Read more... | S. Michael Houdmann



Immortal and Moral | Sep 19, 2013
Why did God make us with an immortal soul? Why did He give us free will to choose our immortal destiny?

Read more... | Kersley Fitzgerald



Review: Zealot: The Life and Times of Jesus of Nazareth | Sep 3, 2013
A review of Reza Aslan's Zealot: The Life and Times of Jesus of Nazareth. Was Jesus a failed revolutionary or the Savior of the world?

Read more... | Dan Barkman



Adoption | Aug 6, 2013
How is adopting a child similar to God adopting us?

Read more... | Gwen Sellers



Is Atheism the Reason Millennials are Leaving the Church? | Aug, 2013

Part 1: The Friendly Atheist
Part 2: A Response to the Friendly Atheist

Start Here... | Robin Schumacher



Why do we have to live this life? Life as a bridal preparation. | Jul 30, 2013
Why do we have to live our lives? Why can't God just take us now? Is it possible that we're on earth for a reason?

Read more... | Gwen Sellers



The Essentials of Apologetics Slideshow 1: Why Apologetics? | Jul 29, 2013
In collaboration with apologetics315.com, Robin Schumacher presents a series of slideshows for churches and teachers on Christian apologetics.

Read more... | Robin Schumacher



Should Christians today give a first fruits offering? | Jul 17, 2013
Many churches today encourage their congregation to give a 'first fruits' offering. What is it, and does it belong in the church?

Read more... | Compelling Truth



Dr. Bart Ehrman and the Agnostic Argument against Christianity | Jun 10, 2013
The agnostic scholar Dr. Bart Ehrman has studied Christianity extensively and arrived at conclusions uncomfortable for Christians. Some of these conclusions are wrong--but some are right.

Read more... | Robin Schumacher



The Gift of Tongues: The Series | May 22, 2013
There is a great deal of confusion in the Christian community regarding the spiritual gift of tongues. To understand its role today, we must first understand it's role in the Bible.

Part 1: Tongues in the Bible
Part 2: The Gift and Fact of Tongues Today

Start here... | Robin Schumacher



Should Christians Study Other Religions? | May 21, 2013
Is it dangerous or beneficial for a Christian to study other religions? How studying the basics of other faiths can strengthen our own beliefs.

Read more... | Dillon Burroughs



Do All Religions Basically Worship the Same God? | May 14, 2013
Our increasingly pluralistic society often suggests that all religions basically worship the same God. Is this true?

Read more... | Dillon Burroughs



Sometimes the truth is easy to find, but that doesn't mean we'll believe it. | May 14, 2013
From the Holocaust to the existence of Jesus, it's possible to find truth if we really look. So why, despite all the evidence, do people refuse to believe truth?

Read more... | Robin Schumacher



Why Study Apologetics? | May 7, 2013
Why should we study apologetics? Isn't enough to know what we believe without worrying about the evidence that supports our belief?

Read more... | Dillon Burroughs



The Spiderman Fallacy | Apr 24, 2013
The Spiderman Fallacy is committed any time the discovery of a mundane element from a myth, legend, or story is taken to mean that ALL other parts of that story, even the supernatural, are also true. Robin Schumacher explains why atheists should not use the Spiderman fallacy argument to try and support their skeptical position on the Bible and/or whether Jesus actually existed.

Read more... | Robin Schumacher



What Does Islam Teach about the Death of Jesus? | Mar 19, 2013
Christianity is built on the foundational belief that Jesus died and rose again on the third day (1 Corinthians 15:3-4). The Qur'an frequently mentions Jesus, calling Him a messenger of Allah or one of the prophets (Sura 5:75). What does Islam teach about the death of Jesus?

Read more... | Dillon Burroughs



Does God violate our free will? | Mar 19, 2013
The thought that God never violates what people want to do and the choices they make is something that gets repeated so often that a lot of Christians simply accept it as a biblically-supported fact. But is it?

Read more... | Robin Schumacher



Do Muslims Believe in the Virgin Birth of Jesus Christ? | Mar 14, 2013
Christmas is a Christian holiday that celebrates the birth of Jesus. New Testament accounts state that Jesus was born of a virgin named Mary. Did you know that the Qur'an, the holy book of Islam, also speaks about the birth of Jesus (Isa)?

Read more... | Dillon Burroughs



Why are Atheists so angry? | Mar 14, 2013
No one argues that our society today encourages us to respect everyone's beliefs and be "tolerant" of worldviews that may or may not agree with our own. However, the spirit of tolerance that is supposedly such an integral part of the philosophical pluralism that pervades our culture hasn't found its way into the new atheist movement.

Read more... | Robin Schumacher



The Top Five Misconceptions of Calvinism | Mar 5, 2013
Robin Schumacher sorts out the top five incorrect stereotypes and misconceptions about Calvinism using the T.U.L.I.P. acronym to further explain the five points of Calvinism.

Read more... | Robin Schumacher



Are You a Christian Only Because of Family? | Feb 19, 2013
A common charge atheists make against Christianity is that those who profess to be Christians are only doing so because they were raised in a Christian household. If those same people were raised in a Muslim or atheist home, they'd sport that particular belief system instead. Their conclusion is that Christianity is just a cultural trend and not truly valid.

Read more... | Robin Schumacher



Raising Children With or Without God | Feb 12, 2013
CNN's iReport recently carried a blog post entitled "Why I Raise My Children Without God" by an atheist Texas blogger on her site, "Kids Without Religion," a blog all about "raising kids as independent, logical thinkers." Robin Schumacher works through each her arguments to explain why he has decided to raise his children with God.

Read more... | Robin Schumacher



When the Natural Meets the Supernatural | Feb 4, 2013
What happens when a naturalist meets the supernatural in a way they didn't expect and can't refute? Does their naturalistic worldview instantly collapse into ruin as they are forced to acknowledge that there is something beyond the physical? Not necessarily...

Read more... | Robin Schumacher



Why Should We Study Apologetics? | Jan 30, 2013
Apologetics is the area of Christian theology that deals with providing evidence or reasons for why we believe. But why should we study it? How can apologetics be useful in day-to-day life?

Read more... | Dillon Burroughs



A Look at Two Common Atheist Arguments | Jan 22, 2013
Science can be misused by human beings to cause great suffering and harm in the same way that evil people can either erroneously or deliberately distort a religion to get whatever end result they are after. Robin Schumacher explores two common atheist arguments which purports that "everyone is an atheist" and science is the only real truth.

Read more... | Robin Schumacher



Do Christians and Muslims worship the same God? | Jan 16, 2013
It is a common statement in today's pluralistic society to hear someone say, "We all worship the same God." But is this true? A brief look at the God of the Bible and Allah in the Qur'an offers two conflicting views of God that indicates that these two deities cannot represent the same being.

Read more... | Dillon Burroughs



Why the "Born This Way" Argument Fails | Jan 16, 2013
Whether someone is born a homosexual or not is a debate that continues to rage. But when the "born this way" argument extends to pedophilia as a sexual orientation, will it still hold up? Just because a person is born with a particular inclination towards a behavior, that does not make it moral and good in the eyes of God.

Read more... | Robin Schumacher



Why All Roads Do Lead to God | Jan 9, 2013
Critics of Christianity are almost universal in their complaint of Christians being narrow-minded, arrogant, and intolerant where other beliefs are concerned. How can Christians think their way is the only way, and their road is the only one that leads to God? Yet it's absolutely true that all roads do lead to God — no matter what you believe.

Read more... | Robin Schumacher



Tis the Season for Christian Reason | Dec 18, 2012
Nothing threatens an atheist's worldview quite like the celebration of Jesus' birth and resurrection, so to help ease their anxiety, they erect billboards and other such signage that is aimed at telling Christians how ignorant they are to believe in things these groups consider to be superstitions and myths. How do we defend something "unreasonable"?

Read more... | Robin Schumacher



Missing it on Morality | Nov 14, 2012
The oftentimes heard assertion, "You can't impose your morality on someone else" is a fallacy. Such thinking misunderstands, first, that every law has a moral basis to it in some form or fashion. Second, someone's morality will always be imposed on others; it's just a question of whose morality it will be.

Read more... | Robin Schumacher



Unpacking Atheism | Nov 7, 2012
Part 1: Dr. William Lane Craig: Unpacking Atheism
Part 2: The Artist and the Lawyer: Dr. Holly Ordway and Randall Niles
Part 3: Reaching Atheists: How to share Jesus without scaring friends and family

Start here | Kersley Fitzgerald



Can the Gospels be trusted? | Oct 31, 2012
Many questions are often raised regarding the reliability of the Gospels in the Bible. Why were Matthew, Mark, Luke, and John written so long after Jesus' ministry? Who were these authors, and how can we be sure that they knew what really happened in the life of Jesus? Blogos author Dan Barkman uncovers whether or not the Gospels are historically accurate.

Read more... | Dan Barkman



What Would Change Your Mind about Christianity? | Oct 23, 2012
If you're a Christian, what would it take to convince you that the atheists are right? If you're an atheist, what would move you to believe that Jesus is who He claimed to be and that God created everything, including you?

Read more... | Robin Schumacher



The Problems with Moral Relativism | Sep 26, 2012
Moral relativism is a philosophy that asserts there is no global, absolute moral law that applies to all people, for all time, and in all places. But when you bury God's moral law along with Him, what will take His place?

Read more... | Robin Schumacher



Are Atheists Smarter than Christians? | Sep 17, 2012
Are unbelievers really smarter than Christians or other people of faith? Or is there something else at work? No one denies that throughout all of history there have been brilliant men and women who have believed in God and there have also been equally intellectually equipped individuals who have denied the existence of any gods. Why is that?

Read more... | Robin Schumacher



Should you be agnostic? | Sep 4, 2012
Agnostics state that it is difficult to hold any truth with certainty or that they simply do not know if God exists. How can the claims of the New Testament and its account of Jesus Christ hold up against agnostic fact-checking criteria?

Read more... | Robin Schumacher



What don't you like about Jesus? | Aug 28, 2012
Part 1 | Part 2
So you don't like Christians? Okay, but let's talk about Jesus. What don't you like about Him? Robin Schmacher addresses two common arguments against Jesus in this two part series.

Start Here | Robin Schumacher



Mormonism Fails the Belief System Test | Jun 21, 2012
Many decades ago, Christian theologian and philosopher Dr. John Edward Carnell proposed a systematic method for testing any belief system to determine its validity. How do Mormons' beliefs stand up under Carnell's test?

Read more... | Robin Schumacher



Extraordinary Claims, Extraordinary Evidence, and Belief in God | Jun 7, 2012
If an archaeologist can walk into a cave and ascertain from a few scratches on the wall that an intelligent source was there, it seems to me that with all the information surging through our bodies, we have some pretty extraordinary evidence for the claim of a supernatural Creator.

Read more... | Robin Schumacher



What evidence will satisfy hard core unbelief? | Jun 7, 2012
Eventually, when all has been said and done and argued, we cannot talk a person into accepting the Kingdom of God. We have to rely on God, who is the only one that can break through the barrier of unbelief.

Read more... | Robin Schumacher



Where is the historical evidence for Atheism? | May 30, 2012
Does atheism make sense in light of history? What does the evidence of the life of Jesus of Nazareth do to the atheists' arguments? Is there any historical evidence for atheism? How do history and atheism work together?

Read more... | Robin Schumacher



Does religion cause war? The Myth That Religion is War's #1 Cause | Apr 25, 2012
Does religion cause war? You might be surprised to learn that all faiths combined – minus Islam – have caused less than 4% of all of humanity's wars and violent conflicts. Further, they played no motivating role in the major wars that have resulted in the most loss of life.

Read more... | Robin Schumacher



Hating God: Profile of a Hatetheist | Apr 25, 2012
I have no problem talking to atheists. But when a person is hating god and hating Christians, their words become hurtful. Although we disagree on theological matters, I've found atheists to be respectful, smart, and understanding in many of our discussions.

Read more... | Robin Schumacher



Unlimited or Limited Atonement? Easy Answers | Mar 6, 2012
Unlimited atonement vs. limited atonement. Which one is correct? Is it even possible to know, or is the knowledge too high for us? Can the Bible and plain logic give us an answer?

Read more... | Robin Schumacher



Seven in Heaven and The Insecurity of Atheists | Jul 15, 2011
Atheists protest the Seven in Heaven street sign because it mentions Heaven. Why don't they protest agains other things that don't match reality, like Santa Claus or the Valhalla golf course? Why is the religion so offensive to them?

Read more... | Robin Schumacher



The Best Arguments Against Christianity | Jun 27, 2011
Part 1: The best arguments and how to refute them
Part 2: Some depressing Christian statistics
Part 3: Our spiritual transformation problems
Part 4: The bad business ethics of christian ministry
Part 5: The marks of true christianity
Part 6: Unbelievers in the pews
Part 7: Being different is the best defense

Start Here | Robin Schumacher



What is Faith? | May 16, 2011
Part 1: What is faith?
Part 2: Defining faith
Part 3: Faith that and faith in — an important distinction
Part 4: What it takes to have faith
Part 5: The biblical concept of faith

Start Here | Robin Schumacher



Rob Bell and "Love Wins" | May 2, 2011
Part 1 Truth loses when Love Wins: Hopeful gospel or dangerous heresy?
Part 2 What really happens after death?: Does the Bible really say?
Part 3 Universalism and the truth about hell: Is everyone saved?

Start here... | Robin Schumacher



What is the importance of the sign of Jonah? | Apr 26, 2011
Has God given us a sign that authoritatively bridges the gap between history and faith where Jesus is concerned? What is the sign of the prophet Jonah in Matthew 12:39?

Read more... | Robin Schumacher



How do we know that the story of Easter is really true? | Apr 18, 2011
Can the account of Jesus' death and resurrection be historically verified? Why should I believe that there is any truth in the story of Easter?

Read more... | Robin Schumacher
---

Image: Kersley Fitzgerald